The Atlantic Daily: The Simmering Question
What did Benjamin Netanyahu's speech reveal about the future of the Iran deal? Plus the controversy over the White House Correspondents' Dinner, what it means to be a "reality-show president," and more.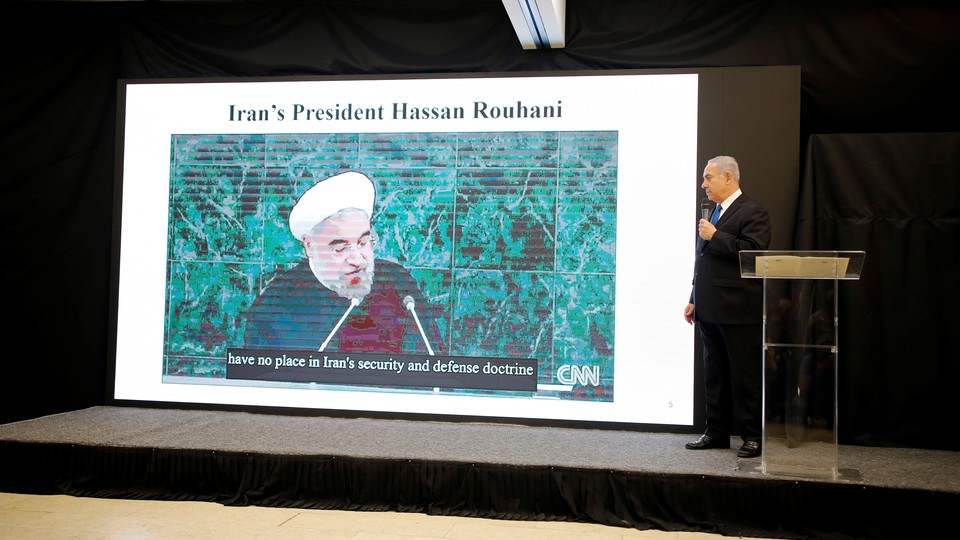 What We're Following
Deal or No Deal: Israeli Prime Minister Benjamin Netanyahu claimed that Iran was cheating on the international agreement to limit its nuclear activities, yet the PowerPoint presentation he delivered at a news conference on Monday contained no smoking-gun evidence for that accusation. Krishnadev Calamur unpacks what Netanyahu did and didn't say. President Trump has threatened to withdraw from the agreement, known officially as the Joint Comprehensive Plan of Action, unless Iran makes significant new concessions by May 12. However, the U.S. may already be violating the terms of the deal.
Dinner Conversation: In a controversial performance at the White House Correspondents' Dinner on Saturday, the comedian Michelle Wolf mocked a wide range of White House and media figures, including Press Secretary Sarah Huckabee Sanders. The White House Communications Director described the jokes about Sanders as "shameful,"despite Trump and his surrogates' having made many similar comments, David Frum writes. After a long history of complex tensions between presidents and the press, the dinner may have outgrown its purpose.
The Two Koreas: Last week's historic meeting between the North Korean leader, Kim Jong Un, and South Korean President Moon Jae-in follows a period during which Kim has evaded all diplomatic efforts. His sudden pivot toward greater engagement could indicate that he's attempting to manipulate the world. Meanwhile, South Koreans are attempting to spread Christian messages across the northern border through an illicit radio station. And a new documentary follows a South Korean violinist's attempt to stage a peace concert at the demilitarized zone.
---
Snapshot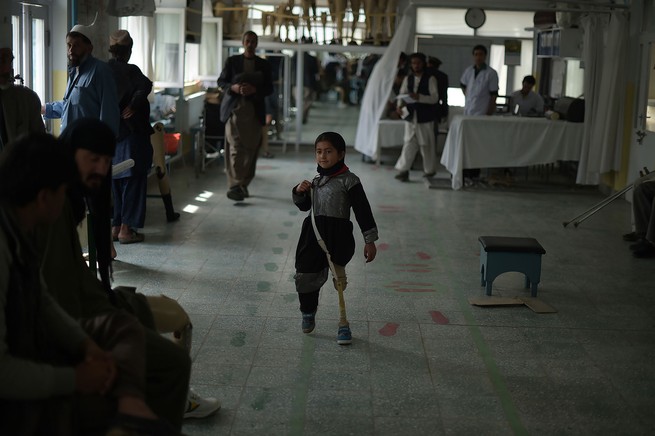 ---
Who We're Talking To
John Donoghue, a theoretical physicist, explains the meaning of the multiverse and makes the case for studying it.
Ronan Farrow, the author of War on Peace: The End of Diplomacy and the Decline of American Influence, discusses the danger of conducting foreign policy with a limited State Department staff.
Patrick Frey, one of several writers critical of Donald Trump, whose contracts were terminated at the conservative website RedState on Friday, reacts: "It seems like the message of the firings is very clear: … We won't tolerate strong criticism of this president."
---
Evening Read
Lucas Mann on what descriptions of Trump as a "reality-TV president" miss:
At its core, what makes reality TV compelling is the tension between opportunism and risk, the simmering question of what somebody will be willing to offer in the way of personal pain or embarrassment for the chance to gain something new—more money, more screen time, a prize. NBC's The Apprentice franchise utilized this formula to incredible success …

But the emotional crescendo of each episode, which involved offering up intimacy and vulnerability to hook the viewer, was provided by everyone on the show but Trump … And though Trump's senior policy adviser, Stephen Miller, claims that his boss "revolutionized" the genre, the president was really just plugged into one of the most common archetypes of its early boom: the judge.
Keep reading, as Mann explains what that archetype reveals about Trump and his connection to the reality-TV genre.
---
What Do You Know … About Education?
While teaching the same curriculum year after year can make it easy to get comfortable with the status quo, some American educators are working hard to try something new. A new research center at Columbia University will explore how failure can help lead students toward future success—a concept that's left out of current test-score-focused metrics for achievement. And preschools across the country are reimagining what the earliest years of education could look like by taking kids out of the classroom to explore the world outside.
Can you remember the other key facts from this week's education coverage? Test your knowledge below:
1. Last week, journalists uncovered that Drew ___________, the supposed founder of a frequently cited student-loan information website, is not a real person, but a pseudonym.
Scroll down for the answer, or find it here.
2. Colleges and universities are bound by ____________ law to compete with one another in ways the government deems fair.
Scroll down for the answer, or find it here.
3. A recent report on Texas's criminal-justice system found that the state offers ____________ different job-certification programs for men, compared with two for women.
Scroll down for the answer, or find it here.
---
Look Back
In our March 1978 issue, Tracy Kidder reported on the experiences of America's Vietnam War veterans:
I remember flying home from Vietnam on the so-called "freedom bird." It was a Flying Tiger Lines commercial jet … The boy in the seat beside me slept with a grin on his face. We flew so far, first to Japan and then to Travis Air Force Base, and life seemed to be proceeding so normally at home, that I thought the war had vanished. But last winter, when I traveled around to find some of the men who had gone as boys to Vietnam, the war did not seem to have ended after all. In fact, it seemed obvious that no war ends until all the people who have participated in it have died or lost their memories.
Read more, share this story, and find more articles from our archives.
---
Reader Response
For our May issue's Big Question, we asked: What item would you put in a time capsule to help people of the next century understand our current moment? Michael Martin Mills of Philadelphia suggests:
Ten full tax returns, each representative of a decile of income in the United States.
Sara Walker of Cedar Rapids, Iowa, is on the same page:
I would put in hospital bills for typical ER visits, along with paycheck stubs for the people who incurred the bills. I'd like the future to know how much health care costs as a percentage of our income in 2018. I hope that in 100 years, bankruptcies from health care will be a forgotten relic.
For our next Big Question, we want to know: What book or article would you make required reading for everyone on Earth? Email your answer to bigquestion@theatlantic.com, and you may see your response in our July/August issue.
---
Adjectives
Cheery radicalism, outsize outcry, secret archives, vanishing cabinet.
---
Time of Your Life
Happy birthday to Joyce's mom, Katherine (a year younger than pop-up toasters); to Ryan's father (a year younger than The Cat in the Hat); to Jonathan (twice the age of the iTunes Store); to Richard's love (the same age as the first handheld mobile call); and to Cheri (twice the age of The Oprah Winfrey Show).
From yesterday, happy birthday to Carla's niece Lucy (a year younger than Wikipedia); to Anastasia (twice the age of Twitter); to Nicolette's father (a year younger than the Miss America pageant); to Marian's son (a year younger than VCRs); to Kathy's husband, Edgar (twice the age of Game Boys); to Reuben (a year younger than Pokémon); and from Rebekah to Angelo (a year younger than Shark Week).
Do you or a loved one have a birthday coming up? Sign up for a birthday shout-out, and explore the Timeline feature for yourself.
---