The Atlantic Daily: A New Urgency
North and South Korea pledged to end their decades-long war. Plus Scott Pruitt's congressional hearing, autonomous robots, and more.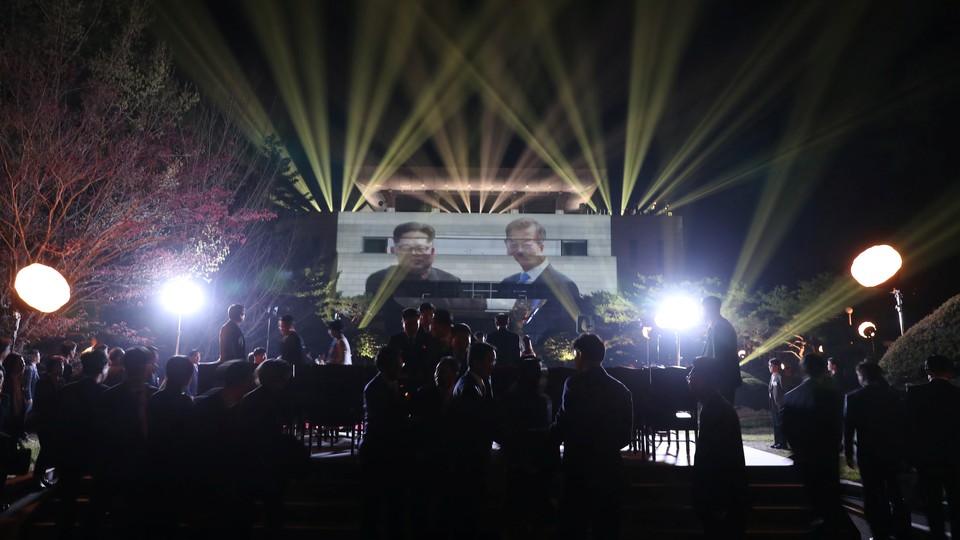 What We're Following
Peace on the Peninsula? At a summit on the south side of the border dividing their two countries, North Korean leader Kim Jong Un and South Korean President Moon Jae-in made a historic pledge not only to officially end the Korean War by the end of this year, but also to remove all nuclear weapons from the Korean peninsula. Here are the diplomatic challenges they'll need to overcome. After President Trump's many controversial statements about North Korea's nuclear program, does the promise of a Korean peace treaty mean that he's achieved a major foreign-policy success or that he's falling into a familiar trap for U.S. leaders? David Graham lays out the case on either side.
Administrative Difficulties: Scott Pruitt, the administrator of the Environmental Protection Agency, admitted before Congress on Thursday that he had sidestepped White House instructions to give raises to two favored aides, as The Atlantic first reported. Pruitt had initially denied knowing about the raises, and his changes to his story parallel other cover-up scandals from the Trump administration. Pruitt also defended a proposed rule that would require the EPA to publish all the data behind the studies that guide its regulations, expressing an attitude toward science that might be described as DIY analysis.
Cosby and Character: Before the actor and comedian Bill Cosby was convicted of sexual assault on Thursday, he was seen as a model of morality—but he may have taken that role too far in a 2004 speech that helped accelerate the backlash against him. In court, his lawyer attacked the characters of the witnesses who testified against him, illustrating the heavy cost of coming forward with allegations of sexual assault.
---
Snapshot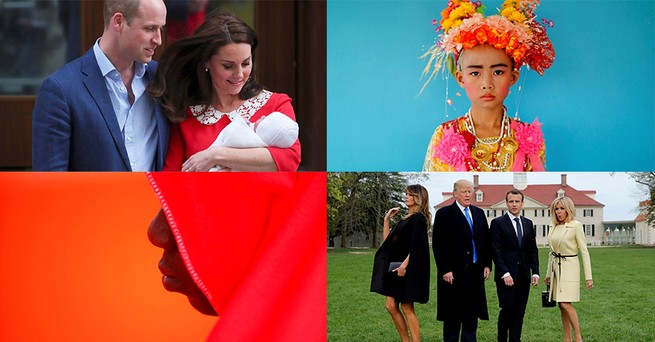 ---
Who We're Talking To
Bill Gates, the founder of Microsoft and a philanthropist, explains why a global pandemic may be the most serious threat of the next few decades.
John Dickerson, the former host of Face the Nation, discusses how America broke the presidency on the latest episode of Radio Atlantic.
---
Evening Read
Caroline Lester on a fleet of robots built to defuse bombs:
The more they proved their worth to the military, the more the military adapted them to their own ends, until [the roboticist Helen] Greiner would have to face an unexpected question: What happens when the robots you built to save lives become weapons themselves?

With the expansion of autonomous weapons across the globe, the question has taken on a new urgency. Robots aren't just being put on the offense. They're learning to pull their own trigger.
Keep reading, as Lester describes the complex consequences of autonomous robots.
---
What Do You Know … About Culture?
Injustices against women have been at the forefront of America's cultural conversation this week, whether they played out in the news or on the screen. The comedian Bill Cosby was found guilty of sexual assault after a trial in which the women who had come forward with allegations against him faced vicious character attacks. The verdict marks a shift in attitudes accomplished in part by the #MeToo movement, but already, many other women's claims against powerful men are beginning to be forgotten.
In the realm of fiction, the second season of The Handmaid's Tale walks a fine line between provoking viewers' empathy and exploiting its grueling depictions of women's suffering. And the Amy Schumer film I Feel Pretty reinforces certain negative ways of thinking about women's attractiveness—even as it tries to spread a message of self-confidence.
Can you remember the other key facts from this week's culture coverage? Test your knowledge below:
1. ____________ movies comprising the Marvel Cinematic Universe have been released in the past 10 years.
Scroll down for the answer, or find it here.
2. In the past, NFL players have been fined for wearing the wrong color of ____________.
Scroll down for the answer, or find it here.
3. Sofia Coppola's film The Virgin Suicides is based on the 1993 novel by ____________.
Scroll down for the answer, or find it here.
---
Poem of the Week
From our January 1957 issue, "Pursuit" by Sylvia Plath:
Read the full poem from our print archive on Instagram.
---
Reader Response
In our May issue, James Fallows describes an optimistic future in the small towns of middle America. William Whitney in Aurora, Nebraska, says that's true to his experience:
I think the so-called millennials have an energizing effect. Life is still hard for people, and improvising is a critical ingredient, but the rural Nebraska towns and small cities, such as Aurora (pop. 4,500) or Kearney (pop. 35,000), have life.

Regarding conservation, we recently attended a very good conference in Kearney related to ecotourism on the Plains. There is a refreshing view that there is something neat about the whole region, which many people are discovering for the first time in this culture. People outside are looking in with interest.
Read more, and write to us at letters@theatlantic.com.
---
Adjectives
Drab romance, free shipping, illegal solutions, cosmic fireflies.
---
Time of Your Life
Happy birthday from Nan to Peter (a year younger than Sesame Street); to Eileen's love, Alycia (twice the age of Google); to Fran's husband, David (a year younger than T-shirts); to Elizabeth and Rebecca's father, Patrick (nine years older than the moon landing); from Sheiby to Kyle (a year younger than Apple); to Jasprit's daughter Madeleine, who at 11 is too young for the Timeline, but just the right age to write a letter to a presidential candidate; and to Ruth's granddaughter Kelsey and Whitney's son, both of whom are also too young for the Timeline, but just old enough to go to college.
Tomorrow, happy birthday from Jerry to Magda (the same age as Earth Day); to Missy's brother Phil (18 years older than the Ford Mustang); from Bill to Debbie (the same age as Ben Bernanke); to Aimee's husband, Fred (a year younger than NASA); and to Nicolette's father, Chic (a year younger than the Miss America pageant).
Do you or a loved one have a birthday coming up? Sign up for a birthday shout-out, and explore the Timeline feature for yourself.
---