The Atlantic Daily: Here's What You're Getting Yourself Into
Between changes to his Cabinet, President Trump gave a wide-ranging interview to Fox and Friends. Plus Bill Cosby's conviction, Kanye West's MAGA hat, and more.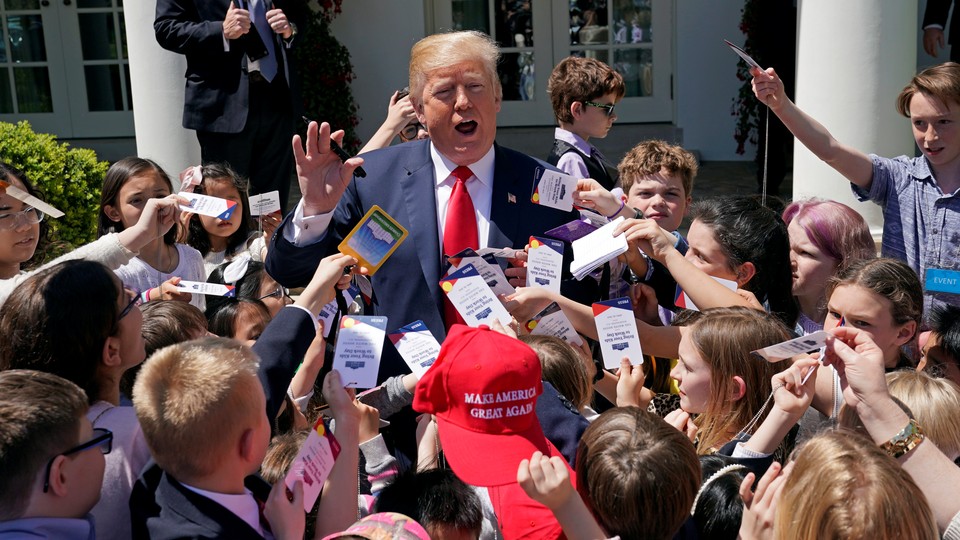 What We're Following
The President and Friends: The Senate confirmed former CIA Director Mike Pompeo as the new secretary of state hours after Ronny Jackson, the White House physician, withdrew himself from consideration to lead the Department of Veterans Affairs. In between, President Trump called in to Fox and Friends for a wide-ranging interview in which he discussed his relationship with the lawyer Michael Cohen and criticized the Justice Department. Overall, the interview illustrated Trump's freewheeling communication style, something he shares with the rapper Kanye West, who surprised his fans on Wednesday with a series of tweets supporting the president.
Health Care: A forthcoming rules change from the Trump administration is expected to extend access to short-term health-insurance plans, which currently expire after three months and are subject to few regulations. Here's what that means for consumers. Senate Democrats are developing a range of plans to add a government-run "public option" to the insurance market. Meanwhile, Puerto Rico is still struggling to solve the health crises caused when Hurricane Maria decimated its infrastructure (and the next hurricane season is only a few months away).
After #MeToo: The actor and comedian Bill Cosby was found guilty on three counts of aggravated indecent assault against a woman who had accused him of drugging and then raping her. Though a hung jury on the same case had resulted in a mistrial a year earlier, a wave of revelations about sexual misconduct committed by powerful men may have changed the cultural understanding of sexual assault and contributed to the verdict. At the same time, some of the men disgraced by such revelations appear to be mounting a tentative comeback, which raises troubling questions about what kind of behavior the public may be willing to forgive.
---
Snapshot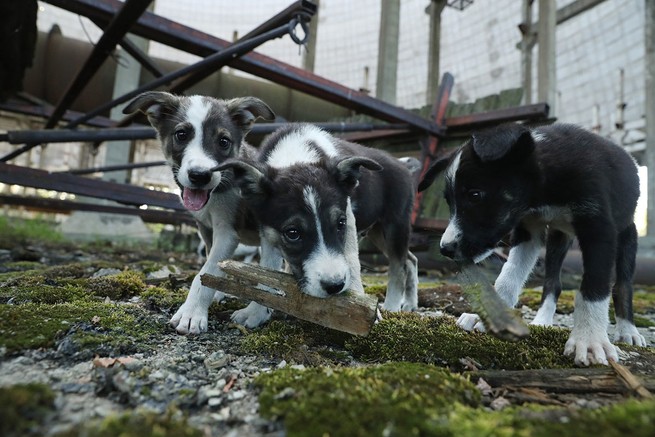 ---
Who We're Talking To
Pete Souza, the former White House photographer, describes what it was like to document Barack Obama's presidency on the latest episode of The Atlantic Interview. Check out some of his most memorable photographs while you listen.
Missy Cummings, the director of Duke University's Humans and Autonomy Lab, discusses how she made the transition from serving as one of the first female fighter pilots to being a professor.
Le Minh Chau, who was born with severe birth defects as a result of American troops' use of Agent Orange in the Vietnam War, shares how he overcame his disabilities to become an artist in a short documentary.
---
Evening Read
Rachel Donadio reviews the highlights of French President Emmanuel Macron's state visit to Washington, D.C.:
There was the moment Trump pretended to brush dandruff off Macron's shoulder during an Oval Office photo shoot. There was the unforgettable, amused, I-can't-believe-this-is-happening look on Macron's face when Trump said the Iran deal was terrible, end of story. There was the press conference where Trump, in television-game-show-host mode, said he might withdraw from the Iran deal, or might not and instead offer "a very large deal, maybe deal, maybe not," and anyway stay tuned for his May 12 decision deadline. There was the weird photo of the two presidential couples planting a tree, and Melania Trump's white, wide-brimmed hat.

And then there was the rousing, full-throated yet cool-headed speech Macron delivered Wednesday before a joint session of the United States Congress. During some 50 minutes interrupted by multiple standing ovations, he offered the most direct, sustained, here's-what-you're-getting-yourself-into takedowns of Trump's worldview yet delivered on planet Earth by the leader of an allied country.
Keep reading, as Rachel unpacks the speech and its calls to action.
---
What Do You Know … About Global Affairs?
On Monday, Armenian Prime Minister Serzh Sargsyan resigned after his attempt to circumvent a two-term limit sparked 11 days of protests. Sargsyan, who served as president for 10 years before becoming prime minister, had sought changes to the constitution that would transfer presidential powers to his new role. And in Cuba, some believed that the transfer of power from General Raúl Castro to the newly elected president, Miguel Díaz-Canel, would also mean a major regime change in the island nation. However, as Ana Quintana explains, Díaz-Canel is likely to remain closely tethered to his predecessor's ideals.
Can you remember the other key facts from this week's global coverage? Test your knowledge below:
1. In the past two years, amid bitter dissent over issues such as immigration and national identity, Germany has embraced a new, apolitical trend: ____________.
Scroll down for the answer, or find it here.
2. ____________ is the unofficial language of Guadeloupe.
Scroll down for the answer, or find it here.
3. Caribbean migrants who came to the United Kingdom in the aftermath of World War II are known as the ____________ generation.
Scroll down for the answer, or find it here.
---
Urban Developments
Our partner site CityLab explores the cities of the future and investigates the biggest ideas and issues facing city dwellers around the world. Gracie McKenzie shares today's top stories:
For more updates like these from the urban world, subscribe to CityLab's Daily newsletter.
---
Reader Response
In the wake of the Cambridge Analytica scandal and other revelations about data-privacy protections on social media, we're wondering: How much do concerns about privacy lead you to censor yourself online? One reader writes:
I have scaled back a lot on Facebook especially. I post about things happening at work (I am a theatre professor, so I post our shows, etc.), and that's about it. After the 2016 presidential election, I tried reaching out to people with whom I disagreed politically to try to have reasoned dialogue. They mostly stopped responding, and since then, I rarely post anything at all and don't often log on. I would delete my account, except that it is handy for work things.
How much do you trust Facebook and other social-media platforms? Share your response in our survey—it's open for one more day.
---
Nouns
Dreamy angst, outdoor preschool, fictional expert, sanitized slur.
---
Time of Your Life
Happy birthday to Sundar (a year younger than the Super Bowl) and Susan (twice the age of The Oprah Winfrey Show).
Do you or a loved one have a birthday coming up? Sign up for a birthday shout-out, and explore the Timeline feature for yourself.
---