The Atlantic Daily: Right and Wrong in Art and Science
Mick Mulvaney may have been too honest about the way Washington, D.C., works. Plus the rise of cohabiting couples, the second season of The Handmaid's Tale, and more.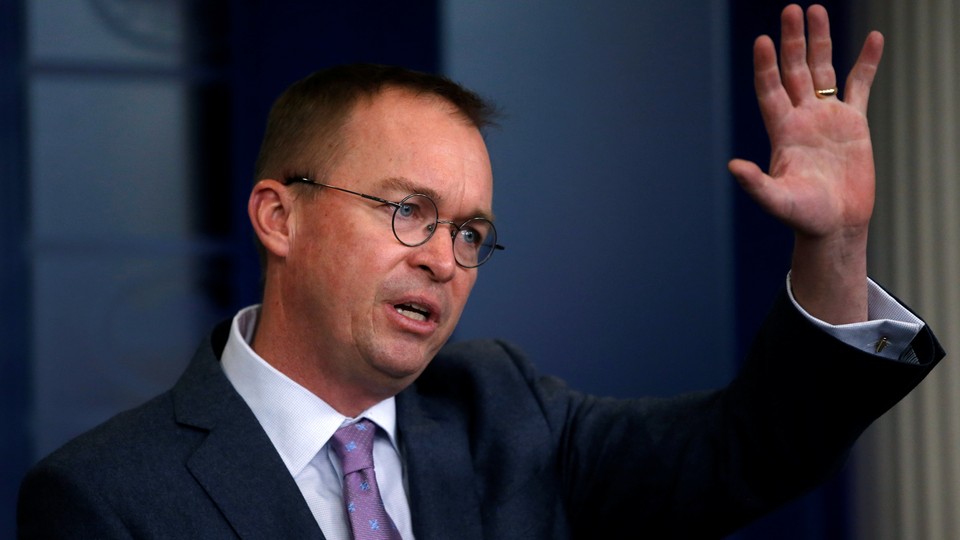 What We're Following
Too Much Transparency? A new rule proposed by Environmental Protection Agency Administrator Scott Pruitt would require the agency to publish all the scientific data that informs its clean-air and clean-water rules. Because of privacy laws surrounding medical data, many long-running studies on the health effects of pollution wouldn't meet the proposed standards for regulators' consideration. And Mick Mulvaney, the head of the Consumer Financial Protection Bureau, told members of the American Banking Association that policy makers pay attention to lobbyists who give them money—a widely acknowledged truth of the Washington "swamp" that most officials are reluctant to publicly condone.
Family Matters: A new report finds that more and more unmarried parents in the U.S. are living together with their children, a sign of a shift in social values as well as economic stability. And lawmakers recently voted unanimously to allow babies on the Senate floor. Behind this step toward accommodating working parents is a congressional culture that's long been slow to welcome female members.
Entertainment Ethics: After its adaptation of The Handmaid's Tale won critical acclaim, Hulu is launching the series' second season. The early episodes dwell on women's suffering at the expense of the show's more-subtle messages, Sophie Gilbert writes. The Netflix documentary Wild Wild Country is carefully evenhanded in its portrayal of the so-called cult of Rajneeshpuram, but a writer whose mother was one of the cult's members recalls some aspects of the story that this approach leaves out.
---
Snapshot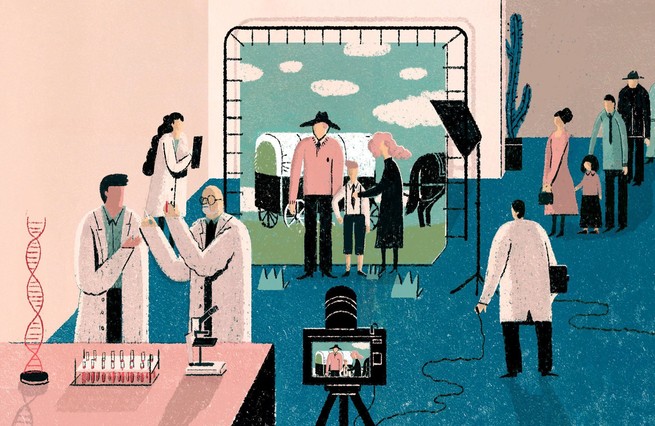 ---
Evening Read
Megan Garber looks back on a running joke from the sitcom Friends:
The Fat Monica thing is an easy joke—which is to say, it is a lazy joke—but it doubles, as so many lazy jokes do, as an insight. When Friends, looking for reliable LOLs, put the skinny-even-by-Hollywood-standards Courteney Cox into cheek-jowls and body-lumps—and then proceeded to suggest that the physical change would alter Monica's very personality—the show neatly channeled the way American culture itself treats fatness, by default: as a flaw not just of appearance, but of character. As an aesthetic failing that doubles as a moral one.
Keep reading, as Megan reflects on Hollywood's latest manifestations of beauty as an ethical consideration.
---
What Do You Know … About Science, Technology, and Health?
New advances in the study of brain organoids—essentially, lab-grown chunks of human-brain tissue—have led some ethicists to wonder whether a future version of these blobs could be conscious. If so, they've asked, would it be right to experiment on them at all?
We don't have to look to a science-fictional future to find moral dilemmas in science. Hans Asperger, a pioneering autism researcher in World War II–era Austria, was recently revealed to have helped the Nazis murder disabled children. The DNA-testing company 23andMe risks a kind of scientific colonialism by offering free collection kits to U.S. researchers as an incentive to supply its database with more African and Asian DNA. And a geneticist's recent op-ed in The New York Times caused controversy when it used sloppy language to talk about the tricky relationship between race and genetics research.
Can you remember the other key facts from this week's science, technology, and health coverage? Test your knowledge below:
1. An Indian politician made waves last week when he said that ancient Hindus invented ____________.
Scroll down for the answer, or find it here.
2. In 1930, the franchise ____________ sponsored a study claiming that a child could develop normally on a diet of nothing but water and the franchise's own hamburgers.
Scroll down for the answer, or find it here.
3. The 2019 Subaru Ascent will boast the greatest number of cup holders ever included in a mass-market vehicle: ____________.
Scroll down for the answer, or find it here.
---
Look Back
In our July 1974 issue, Fred Harris described conditions in the coal-mining hub of Harlan County, Kentucky:
It is beautiful in Harlan County, as pretty as any place in the world. Here, too, are some of the richest natural resources in the country—and some of the poorest people. In the year of "the energy crisis," Coal is King again at $30 a ton. But what of the people of Harlan County? I look at the government statistics once more. There are nearly 40,000 people in the county, a drop of 36 percent since 1960. The median family income is $4600 a year. Only 23 percent of those in the county over the age of twenty-five have completed high school. Forty percent of the county's dwellings lack some or all of plumbing, water, or toilet facilities. Thirty percent of the families lack automobiles. More than twenty-four babies out of a thousand die before they are one year old, and the expenditure per child in the public schools is one-half the national average. The unemployment rate in the county is 7 percent; that doesn't count those who have long since given up looking for the scarce or nonexistent jobs.
Read more, share this story, and find more articles from our archives.
---
Reader Response
Every Wednesday, Lori Gottlieb helps readers solve their dilemmas in our Dear Therapist column. David in Sydney, Australia, has a partner whose quick judgments "cause havoc with our friendships":
He insists that when he writes someone off for an infraction that he sees as unforgivable (but that I probably didn't even notice, or brushed off as an everyday misunderstanding), I should support him by also cutting ties. In our early days I complied, but after a while I could see how much it was affecting my life …

I'm struggling because I want my partner to feel I have his back, but at least on this issue, he doesn't. I can keep doing this forever, but at times it's very difficult. Do you have any advice?
Read Lori's advice, and write to her at dear.therapist@theatlantic.com.
---
Nouns
Senate babies, fossilized footprints, adventurous botanist, conscious blobs.
---
Time of Your Life
Happy birthday to Robert (a year younger than George Orwell's Nineteen Eighty-Four); to Christine's son Dominic (a year younger than Wikipedia); and to Doug (twice the age of The Oprah Winfrey Show).
Do you or a loved one have a birthday coming up? Sign up for a birthday shout-out, and explore the Timeline feature for yourself.
---