The Atlantic Daily: Adapt to the Sunlight
What James Comey's memos reveal, the legacy of a 50-year-old anti-immigration speech, a cannabis conference in Silicon Valley, and more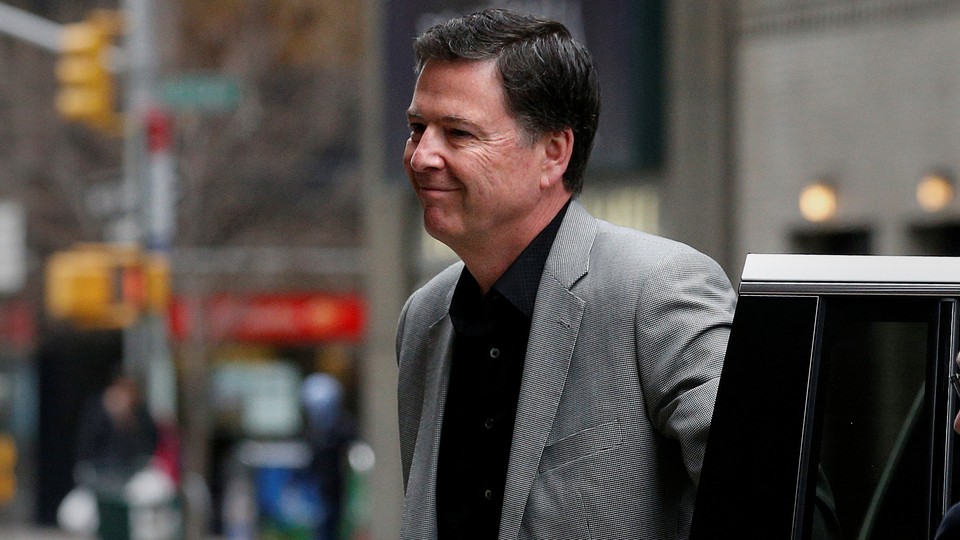 What We're Following
Memo Highlights: Copies of the memos written by former FBI Director James Comey about his conversations with Donald Trump—both before and after the president took office—were leaked to the press after the Justice Department released them to Congress. Here are their four key revelations. While some of the president's supporters had hoped the memos would vindicate him of any appearance of wrongdoing, David Frum writes that the memos "have enhanced James Comey's testimony, and left Trump looking guiltier than ever." Now, however, Comey and his former deputy, Andrew McCabe, are attacking each other's credibility—which could end up hurting Special Counsel Robert Mueller's case, even if the memos won't derail it.
Bias in Britain: As Starbucks prepares to close its company-owned U.S. stores for a day of racial-bias training after the arrest of two black patrons for trespassing caused outrage, customers in London say they can't imagine a similar incident occurring in the U.K. Still—particularly in the aftermath of the Brexit referendum—Britain continues to suffer from its own racial tensions, which are illustrated in the legacy of a controversial, racist anti-immigration speech from 1968.
Tech Scandals: The online retail giant Amazon is facing multiple lawsuits from brands that say it's allowing too many counterfeiters to sell knockoff versions of their products. And amid the fallout from the Cambridge Analytica scandal, Facebook is teaching "digital skills" to local business owners on a "Community Boost" tour of the U.S. Has the news about data leaks at Facebook changed your social-media habits? We'd like to hear from you—take this survey to share your thoughts.
---
Snapshot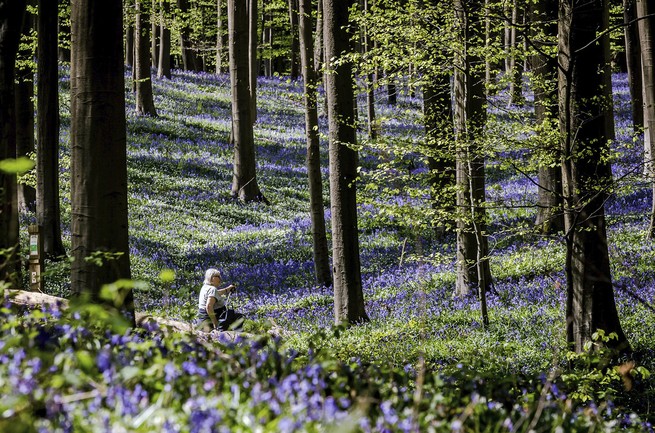 ---
Who We're Talking To
Philip Glass, the renowned composer, shares how he got his start in music while driving taxis to make ends meet.
Maynard James Keenan, the vocalist for A Perfect Circle, discusses the social criticism on the rock band's latest album: "As an artist, as much as we might want to trick ourselves into thinking we're talking to somebody else, we're talking about ourselves. It's not a judgment of others. It's a call to yourself to pull your head out of your ass."
---
Evening Read
Chanan Tigay attends a Silicon Valley cannabis conference:
No fewer than 20,000 cannabis businesses operate today in the United States. Marijuana is expected to generate as much as $40 billion by 2021. Citing research by analysts at the Arcview Group, Sumit Mehta—CEO of Mazakali, which provides business-support services to cannabis companies—said marijuana is now the second-fastest-growing large industry in American history, behind only the internet. "The only thing Americans might want more than their cannabis is Wi-Fi," he said.

But as Silicon Valley's hyperactive investment culture moves into a business that has for decades been quarantined in the shadows, the success of this odd coupling—and the future of start-ups like the ones addressing the conference—hinges on whether pot companies can adapt to the sunlight.
Keep reading, as Tigay describes how cannabis culture is going mainstream.
---
What Do You Know … About Culture?
Two events this week rocked the music world, and highlighted the contributions of black artists to the industry. First, Beyoncé's performance at the Coachella music festival pulled from the traditions of historically black colleges and universities to emphasize the singer's ethos of collective improvement. Then, Kendrick Lamar became the first non-jazz or classical musician to win the Pulitzer Prize for Music: an overdue recognition of hip-hop that may signal a shift in what gatekeepers consider high culture. Elsewhere, the TV show Scandal came to an end, returning in its final season to many of the race-based themes it explored early on via its African American, powerhouse-woman protagonist, Olivia Pope.
Can you remember the other key facts from this week's culture coverage? Test your knowledge below:
1. When a movie is released in theaters in France, ____________ years must pass before it can appear on streaming platforms.
Scroll down for the answer, or find it here.
2. In all three of the films Lady Macbeth, The Beguiled, and Phantom Thread, women use poisonous ____________ against the men who antagonize them.
Scroll down for the answer, or find it here.
3. The new play The Inheritance is an adaptation of E.M. Forster's 1910 novel ____________.
Scroll down for the answer, or find it here.
---
Poem of the Week
From our February 1994 issue, Irving Feldman's "The Celebrities":
their faces, whether puffy, sleek, or wrinkled,
are faces we cannot imagine anyone
gazed at with love ever—because they are angels
burned to fierce neutrality by the billion stares
that make them immortal
---
Reader Response
Last week, Sigal Samuel asked a variety of moral philosophers about the most ethical actions the U.S. could take in Syria. Some readers weighed in too, including Kern Beare of Mountain View, California:
We need to ask deeper questions; we need to examine our assumptions and where they come from. For example, why do we feel it's important to punish bad behavior, when the consequences will not stop the killing but exacerbate it? Why is it so hard to give up on the "punishment" paradigm when it clearly is not helpful? Probably because we've been conditioned to believe that punishing evil is necessary to ensure our survival. But Syria—and every other conflict on the planet right now—requires that we rethink what is required for survival because everything we are doing under the "punishment" paradigm is only making matters worse. (If it worked, the Middle East should be a paradise by now.)
Read more responses, and find out how the Syrian crisis came to be on the latest episode of Radio Atlantic.
---
Verbs
Spleens studied, message muddled, salaries separated, empathy embraced.
---
Time of Your Life
Happy birthday to Jane's sister (a year younger than the first text message); to Maury's spouse, Susan (the same age as Ben Bernanke); to Gregg's wife, Jen (the same age as Apple); to Wayne (a year younger than color-TV broadcasting); to Bryan (twice the age of Pokémon); to Mike (a year younger than the Golden Gate Bridge); and to Lauri's daughter Amanda (twice the age of the International Space Station).
Tomorrow, happy birthday to Michi's son Brendan (twice the age of Twitter); to Anca (a year younger than the computer mouse); from Dave to Jane (the same age as Singin' in the Rain); to Cyndi (twice the age of The Oprah Winfrey Show); to Paul's brother Kevin (a year younger than Disneyland); from Daniel to Adati (the same age as Keira Knightley); and to our newsletter editor Rosa's grandfather Jim (three-fifths the age of The Atlantic).
Do you or a loved one have a birthday coming up? Sign up for a birthday shout-out, and explore the Timeline feature for yourself.
---