The Atlantic Daily: Move the Story Forward
Trump's outburst against Mexico, the civil-rights-era plan to end poverty, Holy Week around the world, and more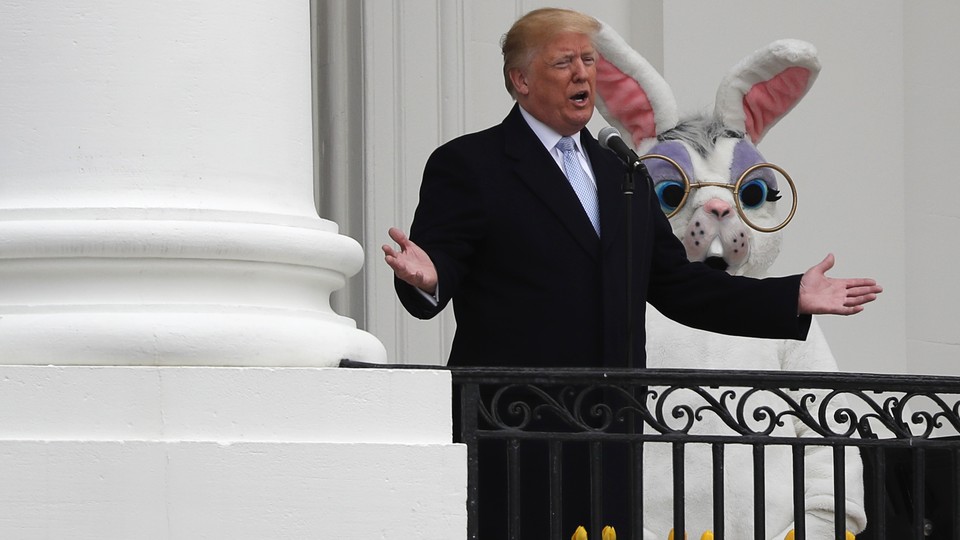 What We're Following
The Mexican Border: President Trump expressed his frustration with U.S–Mexican trade and immigration policies in a series of tweets that railed against the North American Free Trade Agreement, Democrats, and the Mexican government. Here's what the tirade shows about his worldview and where it diverges from reality. As Congress proves reluctant to fund the president's border-wall project, he's reportedly suggested to advisers that the military should pay for the wall—but legal obstacles may prevent him from carrying out the plan.
Religious Traditions: Over the weekend, the Jewish holiday of Passover coincided with the Christian Holy Week and celebration of Easter. Photos of Holy Week rituals from around the world show traditions such as egg hunts, athletic displays, penitential processions, and more. As the 2,000-year-old Coptic Church expands its following in America, its members must decide which aspects of Egyptian culture the church can leave behind. And a new documentary on the rise and fall of a cult community in Oregon sheds light on the complex constitutional doctrine of religious freedom.
Economic Inequality: In March of 1968, just weeks before his assassination, Martin Luther King Jr. called for 1 million people to rally in the U.S. capital in support of policies that would help the nation's poor. Fifty years later, many of the measures he supported—including fair housing opportunities—are still unfulfilled. An annotated proposal to end poverty, written by the coalition of civil-rights leaders who organized the 1963 March on Washington, shows where the country stands in relation to the leaders' goals of equality.
---
Snapshot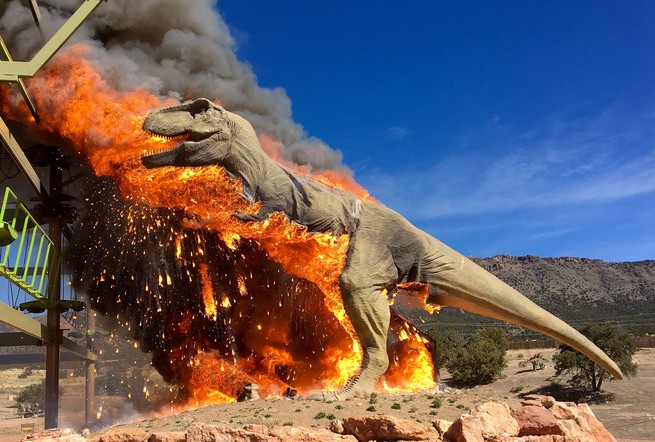 ---
Who We're Talking To
Mohammed bin Salman, the crown prince of Saudi Arabia, discusses human rights and international politics,  including his belief that Iran's supreme leader "is the Hitler of the Middle East." Read Jeffrey Goldberg's full interview with the prince.
The singer John Legend and the actor Jesse Williams reflect on race, art, and activism in America. Watch here.
---
Evening Read
Why, Nina Li Coomes wonders, does Wes Anderson's fantastical new film, Isle of Dogs, take place in a curated parallel-universe version of Japan?
Some have rightly pointed out that this decision is in line with the director's style. As the Los Angeles Times's Justin Chang put it in his review of the movie, "Every one of Anderson's films is an act of imaginative plundering—a crazy-quilt of popular touchstones and personal influences, tailored to a specific milieu." But it's also worth moving beyond the question of appropriation and considering Isle of Dogs's use of Japan as a backdrop. In the film, the country is a plot device that creates a vague sense of unfamiliarity to move the story forward and explain away bizarre narrative elements. It's an approach that relies on a long Western tradition of, intentionally or otherwise, rendering Japan as a mysterious land with an incomprehensible people and culture.
Keep reading, as Coomes unpacks the fraught symbolism of Anderson's Japan.
---
What Do You Know … About Education?
In a March 30 speech promoting his infrastructure plan to an Ohio audience, President Trump said, "We do not know what a community college means." Vocational schools, he implied, would be a more effective way to prepare students for the workforce. Yet community colleges already play a key role in retraining laid-off workers and preparing others for the country's fastest-growing occupations. As the economy continues to evolve, many workers may be seeking education and training throughout their lives.
Can you remember the other key facts from this week's education coverage? Test your knowledge below:
1. Of all the undergraduate students in the U.S., more than ____________ percent are currently enrolled in a community college.
Scroll down for the answer, or find it here.
2. The federal government spends about $____________ billion annually on developing and educating the workforce.
Scroll down for the answer, or find it here.
3. The number of students in American higher-education programs more than doubled from the year ____________ to 2016.
Scroll down for the answer, or find it here.
---
Look Back
In our November 1959 issue, Nora Johnson described the complex and changing sexual mores on American college campuses:
The modern American female is one of the most discussed, written-about, sore subjects to come along in ages. She has been said to be domineering, frigid, neurotic, repressed, and unfeminine. She tries to do everything at once and doesn't succeed in doing anything very well. Her problems are familiar to everyone, and, naturally, her most articulate critics are men. But I have found one interesting thing. Men, when they are pinned down on the subject, admit that what really irritates them about modern women is that they can't, or won't, give themselves completely to men the way women did in the old days.
Read more, share this story, and find more articles from our archives.
---
Reader Response
After Ibram X. Kendi  wrote about the similarities between fraternities and gangs,  Emmett Freedman in New York City said he agreed with the basic comparison, but argued that Kendi takes it too far:
At his article's most extreme, Kendi makes the claim that "the fraternity may be as frequently violent as the 'savage gang MS-13,'" as if any rational person could make the argument that the murders and dismemberments done by the latter group compare in any way to the crimes that fraternity men are committing. His point is valid—stereotypes of gang members too often assume they are as violent as the worst MS-13 members, while stereotypes of their collegiate counterparts focus instead on the best of the bunch. By reaching for such shock value, however, Kendi does nothing more than 1) excite and enrage those readers who are already fully on board with his argument, and 2) turn away readers who are genuinely interested in being made aware of biases they may not have known they had.
Read more reader responses, and write to us at letters@theatlantic.com.
---
Verbs
Sharks surveilled, revolution televised, bitcoin balanced, vowels flubbed.
---
Time of Your Life
Happy birthday to Kay (a year younger than It's a Wonderful Life); to Faith's boyfriend, Ryan (13 years older than Mean Girls); to Lara (a year younger than Sesame Street); from Olen to Connie (twice the age of Microsoft Windows); and to Alan (one-seventh the age of The Atlantic).
From yesterday, happy birthday to Paula, who shares a birthday with Jane (both are a year younger than sunscreen); to Jessica's father, Andrew (a year younger than microwave ovens); to Delphie (the same age as NATO); to Tisha's son Nick (twice the age of the International Space Station); to Kathy (a year younger than the Super Bowl); to Samuel's "darling friend" Eunice (twice the age of Twitter); to Maura's twin sons, Andrew and Jay (both are a year younger than Google); and to Leon's daughter, who at 2 is not old enough for the Timeline, but just the right age to begin understanding scientific concepts.
Do you or a loved one have a birthday coming up? Sign up for a birthday shout-out, and explore the Timeline feature for yourself.
---