The Atlantic Daily: The Bottom Line
Mike Pompeo's meeting in North Korea, damage to the Great Barrier Reef, the people who sell things on Facebook, and more
What We're Following
Pompeo's Plans: President Trump confirmed on Twitter that CIA Director Mike Pompeo met with North Korean leader Kim Jong Un recently in preparation for Trump's planned summit with Kim—a sign that the president is eager to make a big diplomatic statement. As his nominee for secretary of state, Pompeo is opposed by several prominent members of the Senate Foreign Relations Committee, and could become the first State Department head not to be endorsed by the agency's overseers in the legislative branch.
Environmental Damage: A megafire—that is, a wildfire larger than 100,000 acres—has burned more than 260,000 acres in Oklahoma this month, including dozens of homes. See photos here. And a new study quantifies the effects of a massive 2016 coral-bleaching event at the Great Barrier Reef, which—combined with another bleaching last year—caused half of all the coral in the reef to die.
Medical History: New York City is removing a statue of J. Marion Sims, who became known as the "father of gynecology" for experiments he performed on enslaved women, from Central Park. Though doctors have defended Sims's controversial legacy in the past, the decision to move the statue represents a choice to see history "with the clarity it demands," Adam Serwer writes.
---
Snapshot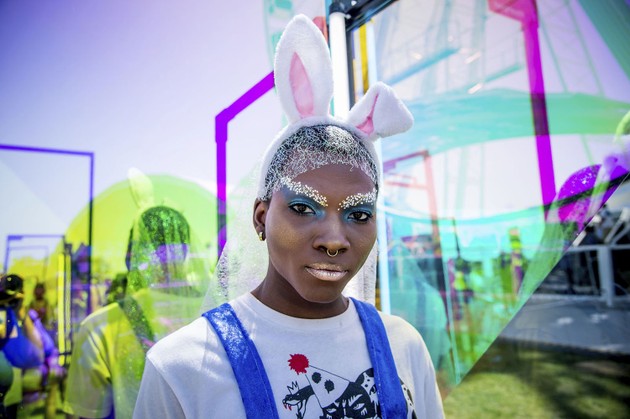 ---
Who We're Talking To
Madeleine Albright, the former secretary of state, discusses the future of democracy—about which, she says, "I am an optimist who worries a lot."
Timothy Naftali, a historian, remembers the afternoon he spent with former First Lady Barbara Bush, who died on Tuesday at the age of 92.
---
Evening Read
Darlena Cunha on the online communities behind the multilevel-marketing operations that use social media to sell a wide variety of products:
The sellers find out about the newly released products and exchange tips to increase sales. They are all working independently, and yet the group also works together as a whole. They are each a cog in the wheel, the wheel is part of a much bigger machine, and the entire setup moves toward one goal: the bottom line. But many of the cogs—the salespeople—don't quite see it that way. For them, being sellers is about more than money. "I compare it to a fandom," [the multilevel-marketing retailer Kristen] Duvall told me. "It's no different when someone loves a particular sports team or Harry Potter, and they talk about it nonstop."

I saw all this firsthand. For nearly a year, I observed Duvall's group—the Sparky Lil Spitfires—and saw women, and a few men, negotiate the ins and outs of life in direct sales.
Keep reading, as Cunha explores the social-media gig economy.
---
What Do You Know … About Science, Technology, and Health?
Attempts to outwit human biology with drugs and quick behavioral fixes not only reveal the hubris of biohackers, but also illustrate how remarkable the body is on its own. Even minute variations in the face you make when you're startled are the product of a long-running evolutionary arms race. In rare cases, a donated heart, liver, or kidney can be transplanted not just once, but twice, helping three different people stay alive. And New York's decision to relocate a statue of J. Marion Sims, who famously performed surgical experiments on enslaved women, honors another important aspect of the body: autonomy.
Can you remember the other key facts from this week's science, tech, and health coverage? Test your knowledge below:
1. In 18th-century Europe, wealthy landowners were fond of installing fake ____________ for decorative purposes.
Scroll down for the answer, or find it here.
2. During the 1890s, critics warned that women who rode bicycles would find it easier to engage in prostitution or ___________.
Scroll down for the answer, or find it here.
3. The "chrome" effect in manicures is accomplished with a powder made by mixing pigment, metal, and ____________.
Scroll down for the answer, or find it here.
---
Look Back
In our May 1971 issue, the Nobel Prize–winning scientist James D. Watson envisioned a future of human cloning:
The growing up to adulthood of these first clonal humans could be a very startling event, a fact already appreciated by many magazine editors, one of whom commissioned a cover with multiple copies of Ringo Starr, another of whom gave us overblown multiple likenesses of the current sex goddess, Raquel Welch. It takes little imagination to perceive that different people will have highly different fantasies, some perhaps imagining the existence of countless people with the features of Picasso or Frank Sinatra or Walt Frazier or Doris Day. And would monarchs like the Shah of Iran, knowing they might never be able to have a normal male heir, consider the possibility of having a son whose genetic constitution would be identical to their own?
Read more, share this story, and find more articles from our archives.
---
Reader Response
Every Wednesday, Lori Gottlieb gives advice on readers' dilemmas in the Dear Therapist column. Matt in New York writes:
I was adopted at birth by two amazing parents who also adopted my younger sister. Whenever people have asked, "Are you interested in meeting your birth family?" I've been consistent with my response: My adoptive family is my only family, and I have no interest in searching out my natural family.

I'm now a 34-year-old man with a young daughter and aging parents. Recently, I stumbled across a box of records in my parents' attic that included the name of my birth mother …

I want desperately to reach out … but this entire situation has thrown me for a loop, and I'm not sure how to get out of it without hurting someone.
Read Lori's advice, and write to her at dear.therapist@theatlantic.com.
---
Verbs
Ruins faked, exorcist filmed, despot swayed, past remembered.
---
Time of Your Life
Happy birthday to Rosa's dad, Mark (a year younger than The Cat in the Hat) and to our staff writer Sophie (one-fifth the age of The Atlantic).
Do you or a loved one have a birthday coming up? Sign up for a birthday shout-out, and explore the Timeline feature for yourself.
---