The Atlantic Daily: The Mess Before Them
Sean Hannity's lawyers, Donald Trump's summit with Shinzo Abe, FBI leaks, and more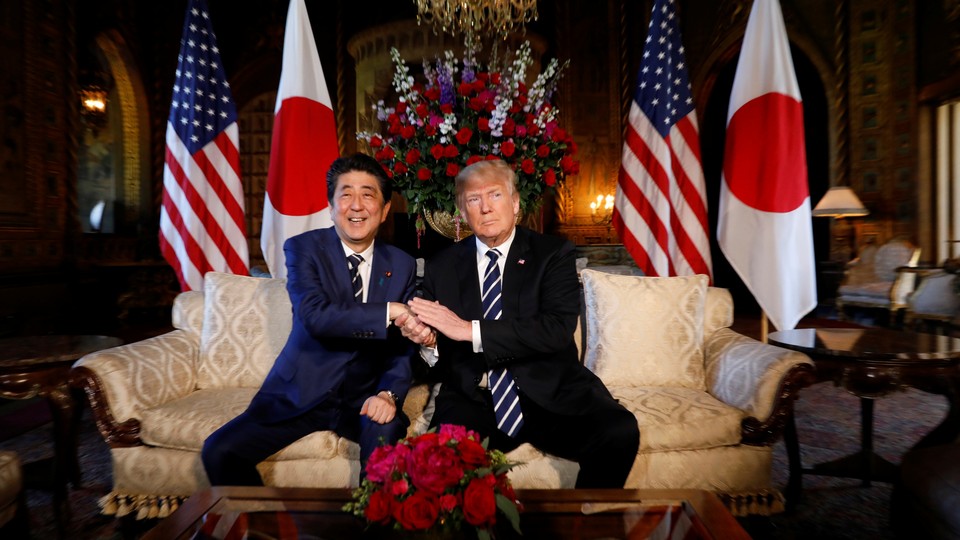 What We're Following
Legal Links: Though the Fox News host Sean Hannity denies he was a legal client of Michael Cohen, a longtime attorney and fixer for President Trump, Rosie Gray reports that Hannity has been represented by two other lawyers connected to Trump. Cohen was ordered to disclose Hannity's name in court on Monday, when a federal judge also denied his lawyers' request to block prosecutors from reviewing materials that were seized from Cohen's home. Here's a guide to the key players in Cohen's complicated case.
All the President's Friends: Japanese Prime Minister Shinzo Abe is visiting Trump's resort at Mar-a-Lago this week to discuss the president's plans to meet with North Korean leader Kim Jong Un—a policy shift that came as a surprise to Japan, in spite of Abe's efforts to cultivate a relationship with Trump. And French President Emmanuel Macron has emerged as an unexpected influence on Trump's Syria policy. Yasmeen Serhan examines the friendship between the two leaders, "who seem to stand shoulder to shoulder while only occasionally seeing eye to eye."
Electoral Issues: Both an internal report on former FBI Deputy Director Andrew McCabe and new statements from former FBI Director James Comey indicate that the officials' decisions to make public information about investigations related to Hillary Clinton in 2016 were influenced by leaks from within the Bureau—and may have affected the presidential election. The political-consulting firm Cambridge Analytica reportedly sought to manipulate racial tensions in its messaging campaigns—illustrating how racism has long been mobilized to undermine democracy.
---
Snapshot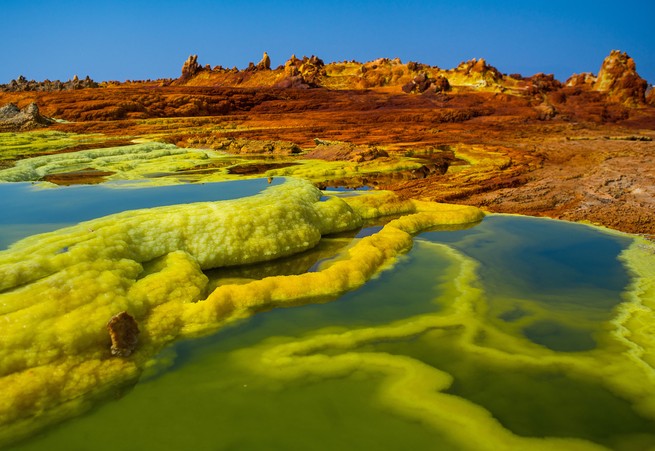 ---
Evening Read
Kea Krause joins a scientific expedition to the Arctic:
Gathered around a white plastic table, four scientists surgically explored a quaking pile of mud, freshly scraped from the bottom of the ocean and spiked with twitching tentacles and antennae. In the persistent dusk of an Arctic October, illuminated only by the navigation lights of their ship, the scientists' orange rubber jumpsuits looked like a collection of traffic cones, bright and reflective against the murky sky. With long tweezers, the researchers organized the mess before them into tidy piles of sponges, starfish, and squirts, delicately picking each out of the morass as if extracting a prized shrimp from a takeout carton of lo mein. I hopped back and forth behind them, trying to stay warm in the biting ocean air and out of range of any sludge flung from the work area. Even in the Arctic, mud is still mud—copious, dirty, and potentially filled with life.
Keep reading, as Krause follows the scientists on their search for compounds and organisms that could produce lifesaving drugs.
---
What Do You Know … About Family?
Earlier this month, Jessica McCrory Calarco examined Utah's new free-range parenting law, arguing it could be subject to interpretations that divide families by race and class. Readers pushed back, including Lenore Skenazy, who popularized the term free-range kids. "When helicopter parenting becomes the only legal way to parent, we all lose—those who choose to give our kids some independence and those who, because of necessity, must," Skenazy wrote. Kids themselves might benefit from fewer restrictions, too: In the first episode of Home School, The Atlantic's new animated series on parenting, the author Julie Lythcott-Haims explores why helicopter parenting becomes less effective as children grow older.
Subscribe to "The Family Weekly" to receive more on American family life in your inbox each Saturday morning.
1. About ____________ percent of 6-to-12-year-old kids have their own personal device.
Scroll down for the answer, or find it here.
2. Until her tenure from 2002 to 2012, the former dean of freshmen at Stanford University said she hadn't heard college students referred to as "____________."
Scroll down for the answer, or find it here.
3. According to a market-research survey, ____________ is "the most powerful brand in kids' lives."
Scroll down for the answer, or find it here.
---
Urban Developments
Our partner site CityLab explores the cities of the future and investigates the biggest ideas and issues facing city dwellers around the world. Gracie McKenzie shares today's top stories:
In the first decades of the 20th century, New York City experienced an unprecedented infrastructure boom. Then it stopped. Here's why—and when, exactly—the city stopped building subways.

After two black men sitting in a Starbucks were arrested for trespassing, the company is planning to close its stores for racial-bias trainings—but what it really needs to change is its philosophy of neighborhood assimilation.

If you're familiar with our work, you know your NIMBYs—and you've probably met their adversaries in the "Yes In My Backyard" movement. But as the debate over a California state bill heats up, a third faction has entered the fray: Meet the PHIMBYs.
For more updates from the urban world, subscribe to one of CityLab's newsletters.
---
Reader Response
In our May 2018 issue, Derek Thompson argues that America needs more fair-weather sports fans. This reader, Seth, makes the case for sticking by your local team:
Ticket revenue is huge for these teams' ability to become greater, especially in baseball, where the gap between so-so pitcher and great pitcher is a chasm that only tens of millions can fill … Fewer bars will pay for expensive sports-channel subscriptions for teams if people stop going to the bars to watch the game. Then property tax is threatened, as well as income and sales taxes. When a local team's support gets low enough, they get vulnerable to being poached by some sunny retirement land, which creates a huge gaping hole for municipal and state tax revenue. Bars and restaurants get slammed, and civic pride declines.

Intangible benefits are a sense of community, shared neighborly experiences, and social capital. The local team is always a safe-for-work conversation topic that can help bring people together and foster friendships and work relationships. Local teams help inspire youth to get involved in sports and drive their own careers. Not to mention all the charity and community-outreach events local teams tend to do.
Join the conversation on Facebook, and write to us at letters@theatlantic.com.
---
Verbs
Depression zapped, domesticity weaponized, corruption probe dramatized, lobster considered.
---
Time of Your Life
Happy birthday from Brexton to Julie (a year younger than The Cat in the Hat) and from Christine to Kourtney (twice the age of YouTube).
Do you or a loved one have a birthday coming up? Sign up for a birthday shout-out, and explore the Timeline feature for yourself.
---