The Atlantic Daily: Righteous Powers
The U.S. strike in Syria, Michael Cohen's clients, the mobster who bought a hockey team, and more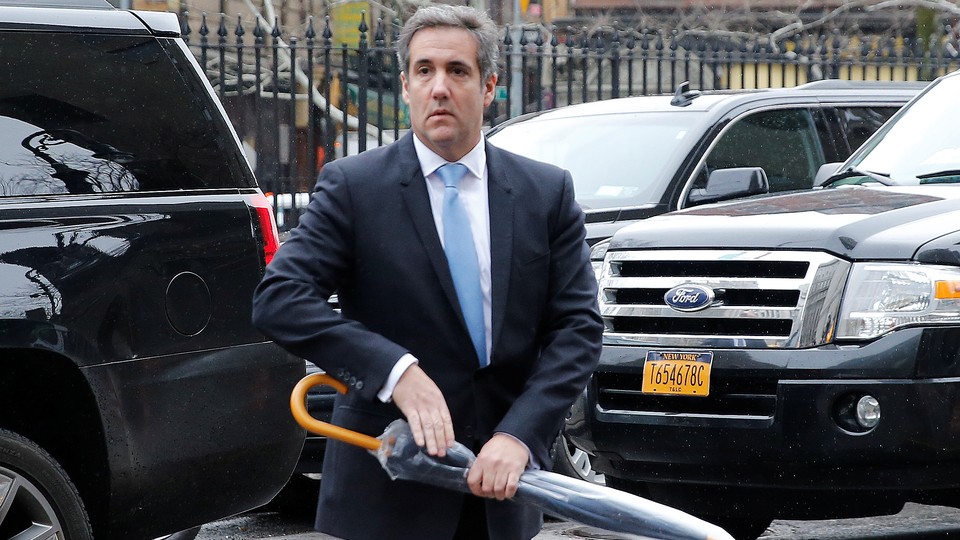 What We're Following
Syria Strikes: When the U.S. military, aided by Britain and France, struck three government targets in Syria on Friday, President Trump declared the three Western nations had "marshaled their righteous power against barbarism and brutality." Yet it's not clear whether the retaliation against this month's suspected chemical attack will prevent future atrocities—indeed, Eliot A. Cohen argues, it may have sent a worse message than doing nothing. Congress has not formally authorized the use of force against Syria. And Trump himself, David Frum worries, may be too distracted by his own legal troubles to navigate the tangled web of conflicts in Syria.
Attorney–Client Problems: As federal prosecutors investigate Michael Cohen, Trump's longtime personal attorney, the president has responded not only with blustering tweets, but also with legal demands—suggesting he's even more worried about probes into his business activities than he is about the Russia investigation. And the Fox News host Sean Hannity was revealed to have sought legal advice from Cohen, raising numerous ethical questions about his journalism, as well as his network's relationships with the president.
Border History: As the Supreme Court prepares for oral arguments in the case over Trump's "travel ban" on six Muslim-majority countries, Garrett Epps looks back at similar restrictions from throughout American history. On the latest episode of Radio Atlantic, Alex Wagner discusses the complex narratives of immigration and identity embodied in her own family history.
---
Snapshot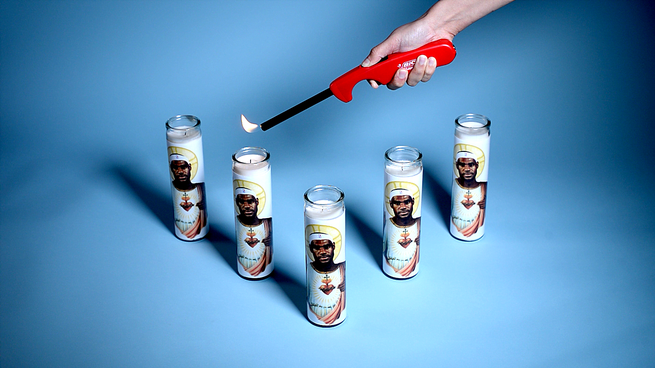 ---
Who We're Talking To … About Syria
Thanassis Cambanis: "In order to have any real impact on chemical-weapons use, the [military] response needs to be sustained."
Martin Indyk: "Trump could have easily insisted on a more substantial attack. His decision not to do so … amounts to a Trump Doctrine for the Middle East."
Kori Schake: "Critics are not giving Trump enough credit: He does have a strategy for Syria and the broader Middle East."
---
Evening Read
Rich Cohen on the story of Jimmy Galante, a Connecticut garbage collector with Mafia ties who bought a minor-league hockey team for his teenage son:
I first heard it from a father on the sidelines of a Little League game soon after I moved in. I hear it again every time my son Micah's Squirt Division travel team plays a home game at the Danbury arena. On such nights, I suppose I'm just like Galante was, rooting for my son in the crazed way understood by all hockey parents. I know it's not healthy, but I can't help myself. If Micah's short career—he's currently 10 years old—were, God forbid, to come to a sudden end, I'd gladly enlist a mobster to buy him a team so he could still have a future in hockey. Maybe that's why I became obsessed with this story: It connects our little home rink with an epic of the human hockey condition.

Also, it's funny as hell.
Keep reading, as Cohen recounts a story he describes as "The Sopranos meets Slap Shot"—complete with goons, G-men, and jerseys strategically soaked in Crisco.
---
What Do You Know … About Education?
Some aspects of American education are changing rapidly, while others have long stayed the same. The rise of virtual schools means that teacher protests have moved online, too: Against the backdrop of teacher strikes around the country, educators at California's biggest online charter-school network also threatened to strike recently. Meanwhile, reading scores in the U.S. have been stagnant for the past 20 years, perhaps because schools don't focus on teaching kids the general knowledge that would help them with reading comprehension.
Can you remember the other key facts from this week's education coverage? Test your knowledge below:
1. Some universities allow students to start working on an online degree called a ___________ instead of committing immediately to a full graduate program.
Scroll down for the answer, or find it here.
2. Several highly selective colleges recently received a letter from the Department of ___________ about its inquiry into their admissions practices.
Scroll down for the answer, or find it here.
3. Last week, the ____________ State Senate passed a kind of "bill of rights" for student-loan borrowers.
Scroll down for the answer, or find it here.
---
Look Back
In our November 1966 issue, the legendary Beat poet Allen Ginsberg proposed "not only [the] end of prohibition of marijuana but … a total dismantling of the whole cancerous bureaucracy that has perpetrated this historic screw-up":
It should be understood, I believe, that in this area we have been undergoing police-state conditions in America, with characteristic mass brainwashing of the public, persecution & jail, elaborate systems of plainclothes police and police spies and stool pigeons, abuse of constitutional guarantees of privacy of home and person from improper search and seizure. The police prohibition of marijuana (accompanied with the even more obnoxious persecution of sick heroin addicts who all along should have been seeing the doctor) has directly created vast black markets, crime syndicates, crime waves in the cities, and a breakdown of law and order in the State itself. For the courts of large cities are clogged with so-called narcotic crimes and behind schedule, and new laws (such as the recent NY Rockefeller Stop & Frisk & No-Knock) spring up against the citizen to cope with the massive unpopularity of prohibition.
Read more, share this story, and find more articles from our archives.
---
Reader Response
A reader in New Haven, Connecticut, emails James Fallows with ideas for how to heal the divide between elite schools and Trump's America:
If I were on the Yale Corporation, I'd suggest they target key red states and set up exchange programs where top students from, say, Arizona State can come to Yale for a semester/year and Yale students would go there. Or maybe set up satellite campuses in places like Appalachian coal country where students could deepen their understanding of their own country and maybe also influence populations who are as far removed from Harvard as they are from the moon. Maybe that's not as exciting as visiting Yale Singapore. But wouldn't that be better for everyone?
Read more, and write to us at letters@theatlantic.com.
---
Verbs
Yeast sequenced, pastry perfected, "memoir" doctored, "mission accomplished."
---
Time of Your Life
Happy birthday to David's wife, Donna (a year younger than Superman); to Kelly (born around the time John Kerry became the first Vietnam veteran to testify before Congress); and to Cy's partner of 49 years, Lone (a year younger than T-shirts).
From yesterday, happy birthday to Silver (twice the age of Twitter); to Marjorie's daughter Caren (a year younger than VCRs); to Arlan (a year younger than FM radio); to Michael (18 years older than the moon landing); to Valentina's boyfriend, Antonii (a year younger than hip-hop records); and to Lara's daughter Eleonor, who at 13 is too young for the Timeline, but just old enough to become a hip-hop artist.
Do you or a loved one have a birthday coming up? Sign up for a birthday shout-out, and explore the Timeline feature for yourself.
---