The Atlantic Daily: A New Thing Understood
James Comey's book, military morale, the Syria dilemma, and more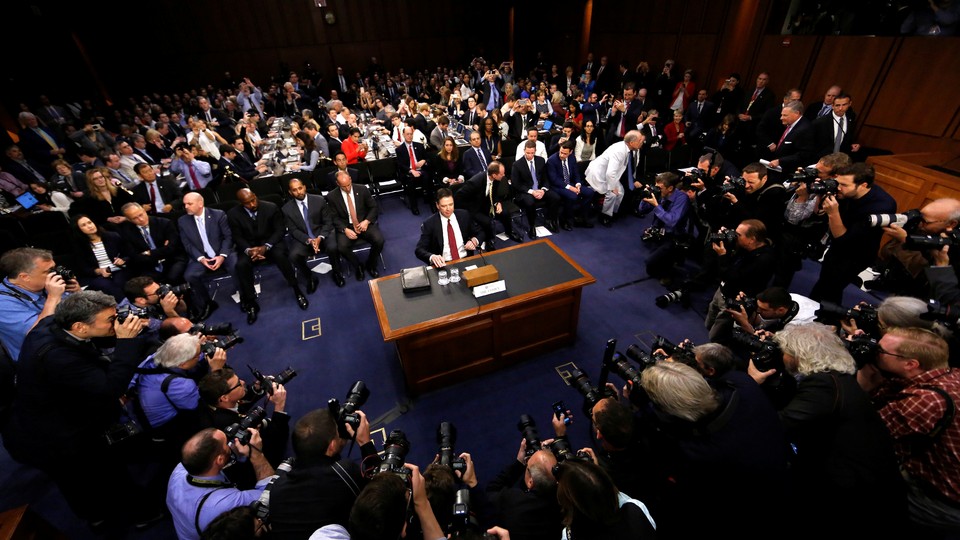 What We're Following
Comey Again: President Trump responded to the upcoming release of a book by James Comey by railing against the former FBI director on Twitter, going so far as to call him an "untruthful slime ball." Such comments appeared to confirm Comey's highly critical portrayal of the president as an "ego driven" leader who's "untethered to truth and institutional values." Yet other passages of the book, which describe Comey's thought process when he announced in October 2016 that the FBI was reopening its case into the Democratic presidential nominee, Hillary Clinton, indicate that Comey himself may have influenced the 2016 election by disregarding Justice Department rules.
State of the States: Missouri leaders are calling for the state's governor, Eric Greitens, to resign in the wake of a report that reveals he allegedly committed a sexual assault. Maine is preparing to implement a new voting process in its June primaries, to some candidates' dismay. And Puerto Rico, a U.S. territory, is still struggling to repair infrastructure that was destroyed by Hurricane Maria—meaning that some people still need to travel at least 12 hours for lifesaving dialysis treatments.
The Syria Dilemma: Should the U.S. strike the Syrian regime in retaliation for last weekend's suspected chemical attack on civilians? Such a strike is unlikely to stop the crisis in Syria, and it wouldn't meet the criteria for a "humanitarian war," argues Peter Beinart. Yet reports of atrocities in the country make many observers feel the U.S. has a duty to intervene. Moral philosophers from around the world say there might not be an ethical course of action in Syria. We'd like to hear your thoughts at letters@theatlantic.com.
---
Snapshot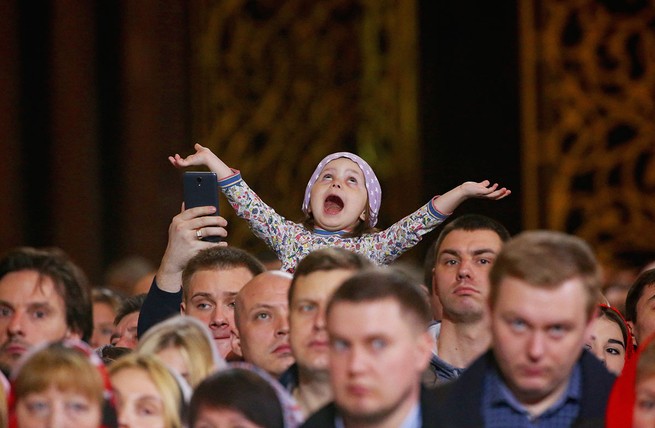 ---
Evening Read
Phil Klay tells a story from the Iraq War:
South of Fallujah's Route Fran were hundreds of insurgents who'd spent months digging trench lines, emplacing roadside bombs, barricading streets, training with their weapons, reading the Koran, and watching videos of suicide bombers to inspire them for the fight to come. North of Route Fran were the roughly 1,000 men of 1st Battalion, 8th Marine Regiment, preparing themselves for the assault. Route Fran itself was a wide, four-lane highway. On November 9, 2004, the highway was wet—it'd rained the previous day—and the sky was gray and foreboding.

"You just know that this whole company crossing this road," marine Justin Best later told a reporter, "someone's gonna get hit."
Keep reading, as Klay describes what happened next—and how American troops are losing morale after almost two decades of stories like this one.
---
What Do You Know … About Culture?
The deaths of two creative giants last week marked a good time to look back on how they shaped the cultural landscape. David Sims explored the late director Isao Takahata's moving body of animated films, and David Graham delved into the impact of musician Cecil Taylor's innovative free-jazz compositions. And recent developments may change the way we understand artists' lives—for example, Mariah Carey's admission of having bipolar disorder could affect the way people talk about her "diva" persona in the future.
Can you remember the other key facts from this week's culture coverage? Test your knowledge below:
1. Together, the Yankees' power hitters Giancarlo Stanton and Aaron Judge struck out ____________ times in 2017.
Scroll down for the answer, or find it here.
2. In 1999, Rosa Parks sued the rap duo ____________, claiming one of their songs demeaned her.
Scroll down for the answer, or find it here.
3. The British show Kiri is written by Jack Thorne, who also wrote the follow-up play to the beloved fantasy series ____________.
Scroll down for the answer, or find it here.
---
Poem of the Week
From our April 1974 issue, "C Minor," by Richard Wilbur:
Shall a plate be broken? A new thing understood?
Shall we be lonely, and by love consoled?
What shall I whistle, splitting the kindling wood?
     Shall the night-wind be cold?

How should I know? And even if we were fated
Hugely to suffer, grandly to endure,
It would not help to hear it all fore-stated
     As in an overture.
---
Reader Response
When Caroline Kitchener wrote about how relationship conflicts can erupt over dishwashing, one sentence stood out to Sara Loy, a reader in Indiana:
I always love reading The Atlantic, but today I take issue with some of the wording in your article "Doing Dishes Is the Worst." You say (both in the article and in the Facebook status promoting the article), "Women who wash the vast majority of the dishes themselves report more relationship conflict, less relationship satisfaction, and even worse sex, than women with partners who help" (emphasis added). While your article points out that women traditionally are the ones doing dishes, using phrases like partners who help reinforces the idea that women are managers in charge of household duties, and the best men can do is "help"—rather than take an equal role in both the mental and physical labor of chores. This excellent comic explains it perfectly.
Find more reader discussion, and Caroline's response, here, and write to us at letters@theatlantic.com.
---
Adjectives
Oozy insult, noisy nothing, telltale fingerprints, stagnant scores.
---
Time of Your Life
Happy birthday to Fran's son David (a year younger than cell phones).
Tomorrow, happy birthday to Steven's wife, Courtney (twice the age of websites); to Jacquelina (a year younger than Toy Story); to Carol (twice the age of Macintosh computers); and to George's father, Dan (a year younger than VCRs).
Do you or a loved one have a birthday coming up? Sign up for a birthday shout-out, and explore the Timeline feature for yourself.
---