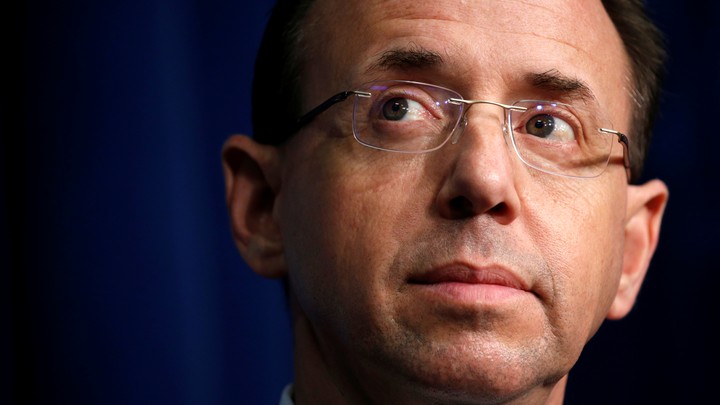 ---
Snapshot
---
Who We're Talking To
Malcolm Jenkins, a captain of the Philadelphia Eagles, describes how he's organized fellow football players to promote social-justice causes.
Issa Rae, the creator of the comedy TV series Insecure, shares what it's like to be part of a renaissance in black TV and film.
Julie Lythcott-Haims, the author of the book How to Raise an Adult, discusses the dangers of "helicopter parenting" in an animated video.
---
Evening Read
Vann R. Newkirk II on Outkast's 1998 song "Rosa Parks":
As classic a song as it is, "Rosa Parks" is also known for sparking a 1999 lawsuit from the eponymous civil-rights legend, whose lawyers claimed that the song demeaned Parks, bore little connection to her actual legacy, and was full of needless vulgarity. The case sprawled across federal courts and spawned multiple controversies until it fizzled out, eventually ending in a quiet settlement. More than that, it outlined the key tension that has played out in black culture over the past five decades. Here were two revolutions: one the titanic timeline of the civil-rights movement, the other the rowdy, raunchy, rap rebellion of hip-hop. The case symbolized how many people in both the media and black intellectual traditions pitted the two movements against each other for dominion over black culture. How could they be reconciled?
Keep reading as Vann finds an answer in hip-hop's origins,  which were shaped by the assassination of Martin Luther King Jr.
---
What Do You Know … About Global Affairs?
Western governments are blaming Syrian President Bashar al-Assad for a suspected chemical-weapons attack that took place in the rebel-held city of Douma on Saturday. Russia, a key ally of the Syrian regime, is also accused of playing a role in the ongoing violence: Krishnadev Calamur describes how, since the start of the Syrian civil war, Moscow has been enabling Assad on the ground, through diplomacy, and in the media. Russia has actively attempted to prevent any meaningful investigation into the attack in Douma by spreading disinformation, a sign that the Kremlin is willing to manipulate reality to promote its political agenda.
Can you remember the other key facts from this week's global coverage? Test your knowledge below:
1. The ____________ Agreement, which formally ended the long conflict known as the Troubles in Northern Ireland, turned 20 years old on Tuesday.
Scroll down for the answer, or find it here.
2. A small Syrian religious community, the ____________, plays a key role in maintaining President Bashar al-Assad's power.
Scroll down for the answer, or find it here.
3. There are ____________ million registered Buddhists in India.
Scroll down for the answer, or find it here.
Answers: good friday / alawites / 8.4
---
Urban Developments
Our partner site CityLab explores the cities of the future and investigates the biggest ideas and issues facing city dwellers around the world. Gracie McKenzie shares today's top stories:
What should Atlanta do with the statue of John Brown Gordon in front of the Georgia Capitol? He was a Civil War general, a state governor, a reputed Klan leader—and the writer Mimi Kirk's great-great-great-grandfather.

Wednesday marked the 50th anniversary of the signing of the Fair Housing Act, which aimed to uproot discrimination in housing and lending practices, which fueled American racial segregation. But as these maps show, the challenges of redlining still remain.

Farewell to yinz, youse, and dose guys: The city-specific accents of the Midwest are fading.
For more updates like these from the urban world, subscribe to CityLab's daily newsletter.
---
Reader Response
Jessica McCrory Calarco wrote about potential inequities in the interpretation of Utah's new statute legalizing "free-range parenting." Lenore Skenazy, the Queens, New York, parent who coined that term, pushes back:
When helicopter parenting becomes the only legal way to parent, we all lose—those who choose to give our kids some independence and those who, because of necessity, must. No decent parent, rich or poor, should be second-guessed by the state.

Is it possible that some people in authority—cops, child-protection workers, judges and prosecutors—may interpret or apply the law unfairly? Unfortunately, yes. But that is true of any law. The "free-range kids" law exists to protect all families of all backgrounds from government intervention triggered by everyday parenting decisions.
Find more reader discussion, and write to us at letters@theatlantic.com.
---
Nouns
Heartbeat-powered smartphone, twice-transplanted kidney, biohacking hubris, whistling tail.
---
Time of Your Life
Happy birthday to Rebecca's daughter Rachel (a year younger than commercial barcode scanning); to Steve's son Alex (twice the age of YouTube); and to Jeannette's sister Linda (the same age as NATO).
Do you or a loved one have a birthday coming up? Sign up for a birthday shout-out, and explore the Timeline feature for yourself.
---
Meet The Atlantic Daily's team, and contact us.

Did you get this newsletter from a friend? Sign yourself up.
We want to hear what you think about this article. Submit a letter to the editor or write to letters@theatlantic.com.