The Atlantic Daily: Quiet Influence
Allegations of poisoning, a shift among evangelicals, a new supervolcanic theory, and more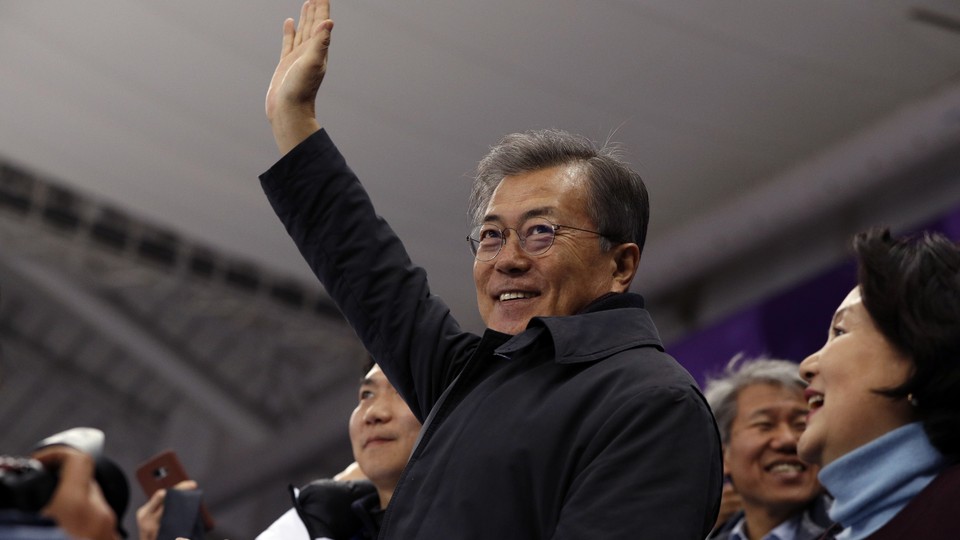 What We're Following
Impending Talks: As a possible meeting between President Trump and the North Korean leader, Kim Jong Un, draws near, one person is left out of many of the discussions: South Korean President Moon Jae In, who has been central in orchestrating the diplomatic move. After decades of tension between the United States and North Korea, the meeting, which would be unprecedented, could be a beneficial move. And although there is much to worry about regarding the talks—providing a sense of legitimacy to North Korea's dictator, say—the way in which they came about may result in some praise for Trump's administration.
Administrative Reactions: Following the poisoning of Sergei Skripal, a Russian former spy, and his daughter last week, British Prime Minister Theresa May accused Russia of involvement in the attack. Her comments were pointed—she called the country's alleged actions an "unlawful use of force"—and what will happen moving forward remains unclear. What has not occurred yet is a U.S. response to May's claims, which David Frum argues is a wild digression from how most previous administrations would have acted.
Reassessing Religion: People's connections to their religions have changed greatly over the years, but recently the spotlight has turned on evangelicals, a segment of Christians undergoing a form of identity crisis in America. In our April cover story, Michael Gerson examines the group's relationship to Trump, a president who seemingly lives beyond many traditionally Christian principles. And a new book looks at similar themes, including how leaders in the evangelical world grapple with the different perceptions people have of their faith.
---
Snapshot
---
Who We're Talking To
Curtis Marean, an anthropologist at Arizona State University, discusses a new study that unearthed some evidence against the "Toba catastrophe theory," which posits that a supervolcano erupted 74,000 years ago and nearly ended humanity.
Tamika Mallory, a national co-chair of the Women's March, addresses her association with the Nation of Islam.
---
Evening Read
After escaping the family who kept her captive for almost two years, Judith Daluz tells her story of surviving human trafficking:
If I took more food than was allowed, the wife would say, "That's too much." I felt jittery all the time, knowing they were watching how much I ate. My typical meal consisted of a tall glass of water, a slice of bread, and half of a banana or plain rice late at night.

Once, I was so hungry in the middle of the night and remembered that there was still some rice in the rice cooker. I snuck into the kitchen, scooped a big spoonful of rice into a paper towel, and took it back to my room. The rice stuck to the paper towel, but I peeled off every grain. I was so hungry, I almost ate the paper towel.
Keep reading this story, as well as two others by survivors of human trafficking, as part of The Unfree, a special project by The Atlantic about forced labor, produced with assistance from the National Domestic Workers Alliance.
---
What Do You Know … About Education?
Last week brought an end to the teachers' strike in West Virginia, which had kept K–12 schools closed for nine school days, but the strike's impact is far from over. It seems to have sparked a national uptick in teacher protests about issues such as low salaries and poor pension benefits. Meanwhile, Secretary of Education Betsy DeVos visited Marjory Stoneman Douglas High School after the shooting that killed 17 people, in Parkland, Florida, but faced criticism from students and observers who saw the visit as half-hearted and insincere.
Can you remember the other key facts from this week's education coverage? Test your knowledge below:
1. At her 2017 confirmation hearing, Betsy DeVos suggested that guns might be needed in schools due to the threat of ____________.
Scroll down for the answer, or find it here.
2. Some teachers' unions expressed their solidarity with the West Virginia strike by donating ____________.
Scroll down for the answer, or find it here.
3. When teachers implemented a bilingual curriculum for the majority-black student body at an elementary school in Michigan, they saw a ____________ percent increase in the number of students who passed state reading tests.
Scroll down for the answer, or find it here.
---
Look Back
In our May 1942 issue, Madame Chiang Kai-shek, the wife of the Republic of China's nationalist leader, envisioned a democratic future for her country:
Considering what China has already accomplished in the face of heartbreaking obstacles, we confront the future with calmness and confidence. The difficulties before us are stupendous; but with the help, from our sister democracies, of technique and capital, which we have proved we deserve, we have no doubt we can solve our problems. The fortune of war has brought China for the first time abreast of the great powers. We have won our place in the front rank by our prolonged and unyielding resistance to violence. We shall keep it by playing a major part in building a better world.
Read more, share this story, and find more articles from our archives.
---
Reader Response
After Eliot A. Cohen wrote about the failings of the security conference in Munich, Robert Turnbull in Ottawa, Canada, responded:
The America of today seems bent on pulling out of trade pacts, destabilizing alliances, and treating international relations as a series of zero-sum business transactions. Although America remains the preeminent military power, its hegemony when it was truly "great" rested not only on that power but on its moral authority as the leader of an international system based on democratic principles, human rights, sustainability, and the rule of law. It is now rapidly losing that moral authority, to become just another "great power" in a multipolar world. It really does feel like we're moving out of the era of Pax Americana into a much more dangerous international environment.
Read more from Robert and other readers, and share your own thoughts at letters@theatlantic.com.
---
Nouns
Congressional bunks, abundant quarterbacks, missing women, expeditious falsehoods.
---
Time of Your Life
Happy birthday from Eric to Abby (a year younger than Macintosh computers); to Carrie's brother Chris (a year younger than hip-hop records); to M'Liss's granddaughter Megan (twice the age of turn-by-turn cellphone navigation); to John's grandson Tim (one-sixth the age of The Atlantic); to Pamela's nephew Peter (the same age as Facebook); and from Laura to Andrew (a year younger than The Simpsons).
From yesterday, happy birthday to Tristan (a year younger than Harry Potter); to Rebecca's son-in-law John (twice the age of Amazon); and from Sandra to Elise, who at 5 is too young for the Timeline, but just the right age to start learning calculus.
Do you or a loved one have a birthday coming up? Sign up for a birthday shout-out here, and click here to explore the Timeline feature for yourself.
---