The Atlantic Daily: A Spectacle Like This
Gary Cohn's departure plans, why Kim Jong Un might want to negotiate, how a con man's victims took him down, and more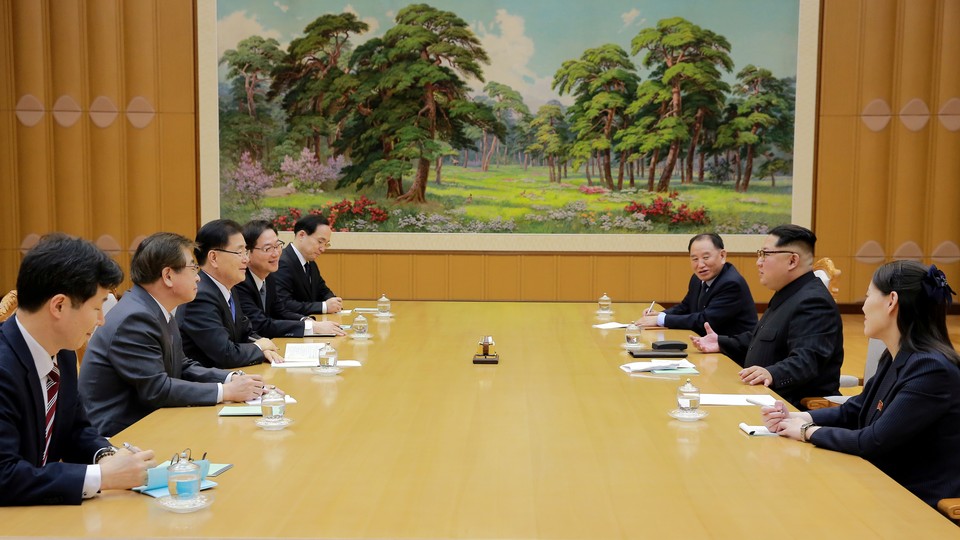 What We're Following
A Big Step Forward? Not only did North Korea's leader, Kim Jong Un, host South Korean officials in Pyongyang, he also indicated that he might be willing to negotiate with the U.S. about ending his country's nuclear program, according to South Korea. If confirmed, this could be a sign that President Trump's bellicose rhetoric toward North Korea has worked—or it could mean that Kim is trying to drive a wedge between Washington and Seoul.
Tariff Tiff: The White House announced that Gary Cohn will resign from his position as Trump's chief economic adviser. Officials haven't given a reason for Cohn's decision. However, it comes in the midst of a White House clash over the president's plan to impose high tariffs on steel and aluminum, which Cohn opposed. Congressional Republicans have also attempted to talk Trump out of the tariffs, but so far, he isn't backing down—and it's unlikely that lawmakers will take stronger action to stop him.
Political Shift: At least one thing seems clear after Italy's elections on Sunday: The country's relationship to the European Union is going to change. The majority of votes went to parties that are skeptical of both Italy's long-standing EU ties and its political establishment. But the results have raised big questions about where the populist winners will take the country in the wake of the center-left establishment's collapse.
---
Snapshot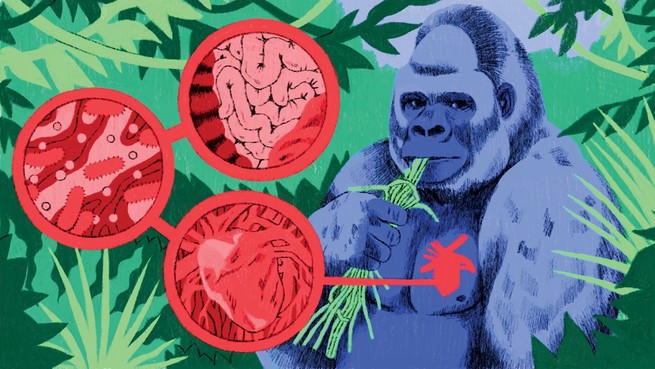 ---
Who We're Talking To
Haider Warraich, a cardiology researcher, explains why so many people die of heart disease.
Sam Nunberg, the former Trump aide who claimed that he would defy a subpoena from Special Counsel Robert Mueller, talks with The Atlantic's McKay Coppins: "Nobody's done a spectacle like this before."
---
Evening Read
Rachel Monroe describes what happened when Missi Brandt, 45, discovered an ID card with a name she didn't recognize in her boyfriend's wallet:
Missi sat down on the couch and slowly read every word of every article she could find: Derek Alldred had posed as a firefighter and scammed hospitals out of drugs. Derek Alldred had dated a woman in California under false pretenses and drained her bank account of almost $200,000. Derek Alldred had married a woman, pretended to pay the bills on their home, then vanished after it was foreclosed on. Derek Alldred had posed as a surgeon, checked into the posh Saint Paul Hotel with a woman and her two daughters, racked up nearly $2,000 in charges, then skipped out on the bill (and the woman).

As she read, Missi began to feel sick, as if her body was having trouble physically assimilating the idea that her boyfriend was not a scholar and war hero, but rather a serial con man.
Keep reading Monroe's story about of how Missi tracked down Derek's other victims—and how they teamed up against him.
---
What Do You Know … About Business?
This past week, the Business team looked at some dark secrets of the economic world. Bitcoin was once the currency of choice for black-market exchanges online, but its volatility and transaction costs have made it impractical for illicit purchases. One hotel maid's story shows the grim mechanics of an another, older black market—the one that traffics migrant workers to American hotels. And as Adam Winkler explains, the idea of corporate personhood was built on the outright lie that a robber baron's lawyer told to the Supreme Court in 1882.
Can you remember the other key facts from this week's business coverage? Test your knowledge below:
1. According to Eric Trump, his father bought a vineyard and winery in 2011 because wine is "____________."
Scroll down for the answer, or find it here.
2. In 2016, ____________ percent of American adults who use the internet made a purchase on Amazon.
Scroll down for the answer, or find it here.
3. At a meeting with U.S. governors last week, President Trump bemoaned Indian tariffs on America's ____________.
Scroll down for the answer, or find it here.
---
Urban Developments
Our partner site CityLab explores the cities of the future and investigates the biggest ideas and issues facing city dwellers around the world. Gracie McKenzie shares today's top stories:
For more updates from the urban world, subscribe to one of CityLab's newsletters.
---
Reader Response
Tyler Bonin, a teacher and Marine veteran, recently wrote about the extensive training soldiers need before they can respond effectively to an active-shooter situation. In James Fallows's ongoing series of reader reflections on guns, a current Army officer and gun owner shares his own perspective:
For the first time ever, I find myself more strongly on the side of gun control than of unrestricted gun circulation ...

My niche perspective is this: In the Army, firearms are much more heavily regulated than in civil society. How can so many enthusiastic gun owners say that they hold the military as a model, and yet not accept the strict regulations that go with the military's use of firearms?
Read more from this reader, and write to us at letters@theatlantic.com.
---
Nouns
Pirate squid, lifestyle vintners, ribald knitters, daring performers.
---
Time of Your Life
Happy birthday to Kat (14 years older than the moon landing); to Heather (twice the age of Facebook); to Sabrina (a year younger than The Sound of Music); to Louis (a year younger than the Super Bowl); to Nancy's college roommate Tunket (the same age as the Truman Doctrine); to Harold's wife, Joan (a year younger than sliced bread); to Arlan's wife, Edith (born around the time that Babe Ruth signed on with the Boston Braves); to Debra, who shares a birthday with Pat's wife, Martha (both are twice the age of Macintosh computers); and to our CEO and chairman, David (one-half the age of The Atlantic).
Do you or a loved one have a birthday coming up? Sign up for a birthday shout-out, and explore the Timeline feature for yourself.
---