The Atlantic Daily: The Wider Implications
A North Korea hawk in the White House, Trump's reluctant bill signing, why data misuse is everywhere, and more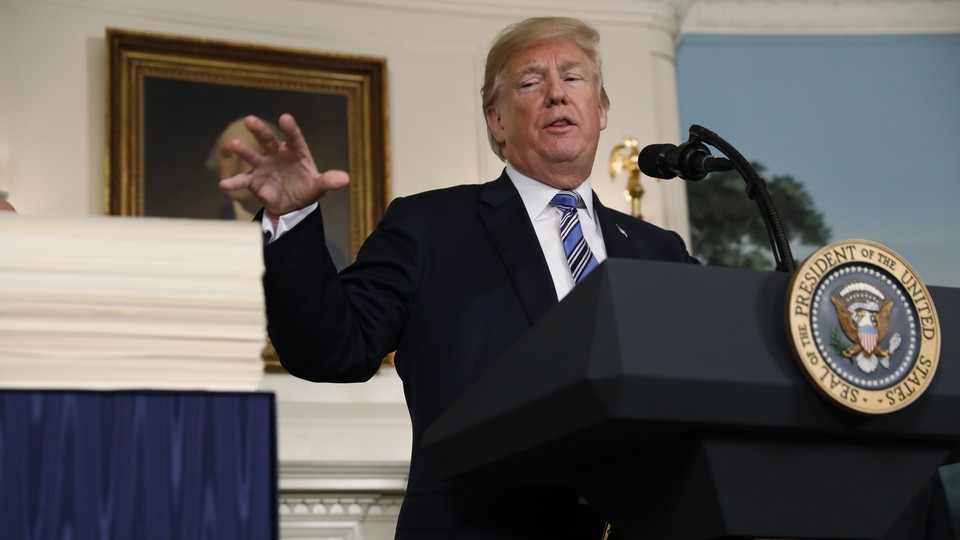 What We're Following
The New NSA: Trump's decision to replace National-Security Adviser H.R. McMaster with John Bolton has major implications for the president's North Korea strategy. Bolton, who served in the Reagan and both Bush administrations, has been a foreign-policy hawk throughout his career. His regular appearances on Fox News might be one reason for the president's choice—though the two men may not see eye-to-eye once Bolton takes office. As for McMaster, he now faces a choice about what details of his time in the Trump White House to make public.
Omnibus Business: Trump signed a spending bill that will fund the federal government through September—although he made clear in a speech that he did so reluctantly. The president had threatened to veto the bill over its failure to outline a replacement for the Deferred Action for Childhood Arrivals program, among other issues. Indeed, writes Russell Berman, "Congress may have missed its best chance to act either on DACA or Obamacare before the November election."
Tech Issues: SpaceX founder Elon Musk deleted several of his companies' Facebook pages in protest of the data-collection practices revealed by the Cambridge Analytica scandal. Although Facebook has acknowledged the political-consulting firm that obtained millions of users' data as a bad actor, it's addressed neither the wider implications nor the pervasiveness of data misuse. And the week's other crisis in the tech world—the death of a pedestrian who was struck by a self-driving Uber vehicle—suggests that the industry has even more to answer for.
---
Snapshot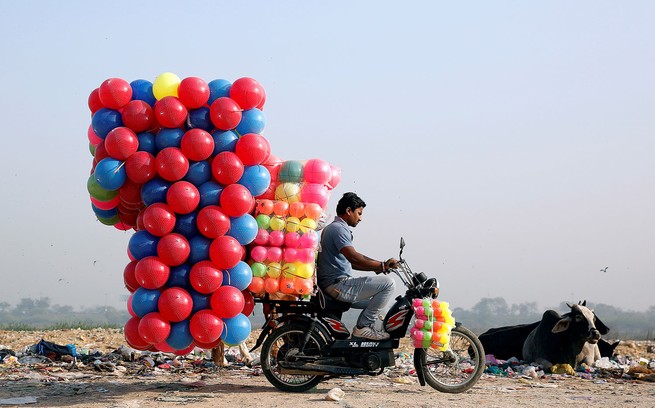 ---
Evening Read
Jeffrey Selingo describes "a massive shift" in the American workforce:
Previous shifts in how people work have typically been accompanied in the United States by an expansion in the amount of education required by employers to get a good job … Now a third wave in education and training has arrived, argue economists, educators, and workforce-development officials. The level of preparation that worked in the first two waves—adding more time to education early in life—does not seem sufficient in the 21st-century economy. Instead, the third wave is likely to be marked by continual training throughout a person's lifetime—to keep current in a career, to learn how to complement rising levels of automation, and to gain skills for new work.
Keep reading, as Selingo describes how the world of lifelong learning will look.
---
What Do You Know … About Culture?
Last year, Warner Bros. experienced both major wins (Wonder Woman) and major failures (Justice League) with its DC comic-book movies. The studio's choice of Ava DuVernay to direct an adaptation of the New Gods comic benefits both DuVernay and the DC franchise, and suggests that Warner Bros. is learning from its mistakes. Marvel's Black Panther has been the reigning film at the box office for the past several weeks, but the recent success of the coming-of-age film Love, Simon and the Christian drama I Can Only Imagine are signs that smaller films still play well with audiences. And on television, comic-book characters are getting more complicated, with the appearance of the bisexual John Constantine on DC's Legends of Tomorrow expanding the way identity is portrayed onscreen.
Can you remember the other key facts from this week's culture coverage? Test your knowledge below:
1. In 2017, the NCAA generated $____________ billion in revenue.
Scroll down for the answer, or find it here.
2. A new documentary offers an intimate look at the playwright ____________, as it was directed by his daughter.
Scroll down for the answer, or find it here.
3. In a new reboot of the sitcom Roseanne, Roseanne and her sister Jackie reunite after a year-long estrangement brought about by the ____________.
Scroll down for the answer, or find it here.
---
Poem of the Week
From our October 1883 issue, "Persepolis," by Frances L. Mace:
Here is the royalty of rain: naught
Of later pomp the desert stillness mars;
Alone these columns face the fiery sun,
Alone they watch beneath the midnight stars.

Forests have sprung to life in colder climes,
Grown stalwart, nourished many a savage brood,
Ripened to green age, fallen to decay,
Since this gray grove of marble voiceless stood.
Read more, and then check out how another ancient ruin—the Roman Colosseum—inspired painters and poets in the 19th century.
---
Reader Response
For our new Family section, Andrew Cherlin wrote about how for many couples, marriage is becoming the final step of adulthood rather than the first one. Dan reflects:
My experience was getting married at 21 and now being with my wife for almost 13 years. I think that openness to either way of looking at marriage is useful. I'm a better man because I was married so young. I needed that love and support to become who I am now. As with most things, some people benefit from using it one way and some benefit from using it another way. I'm just glad that we live in a time when you have that choice.
Atlantic editors Adrienne LaFrance and Rebecca Rosen discuss how families are faring in a time of change on the latest episode of Radio Atlantic. Listen here, and then head over to our new Homebodies Facebook group to share your thoughts.
---
Verbs
Faith hacked, dogs deported, proposals rejected, sitcom simplified.
---
Time of Your Life
Happy birthday to Michele (a year younger than human spaceflight); to Susan (the same age as the Truman Doctrine); to Casey's daughter Aelandria (twice the age of Facebook); to Steve's wife (a year younger than Martin Luther King Jr.'s "I Have a Dream" speech); and to Christine's husband (the same age as the Twenty-third Amendment).
Tomorrow, happy birthday to Bob (a year younger than Superman); to Christy's husband, Dave (twice the age of CD players); to Kari's husband, Scott (a year younger than the Disney Channel); to Anne's brother-in-law (twice the age of Macintosh computers); to Merv (a year younger than FM radio); to Mark's son Matthew (twice the age of Toy Story); and to Marlene's dear friend Mark (six years older than the moon landing).
Do you or a loved one have a birthday coming up? Sign up for a birthday shout-out, and explore the Timeline feature for yourself.
---