The Atlantic Daily: A Particular Mix of Pressures
A statement from Mark Zuckerberg, Kellyanne Conway's dilemma, growing up Muslim in America, and more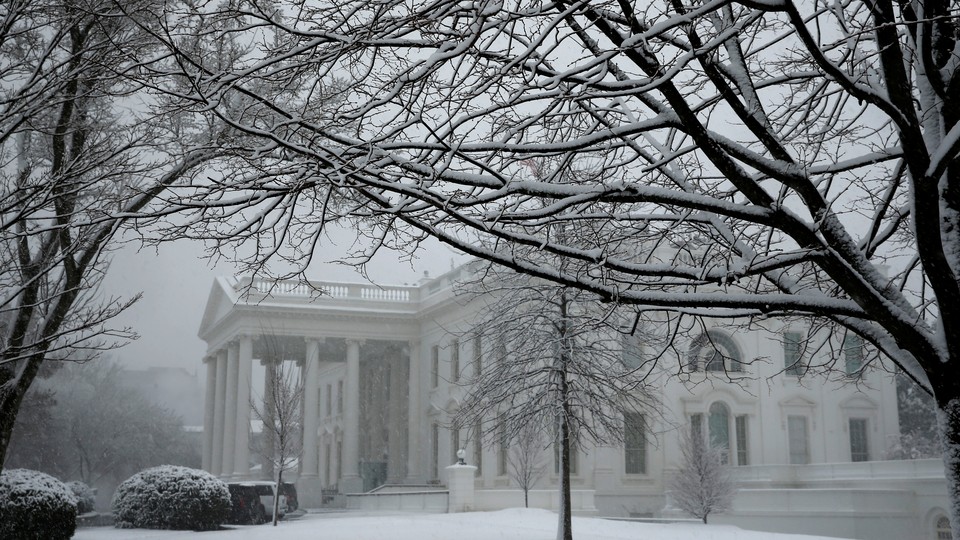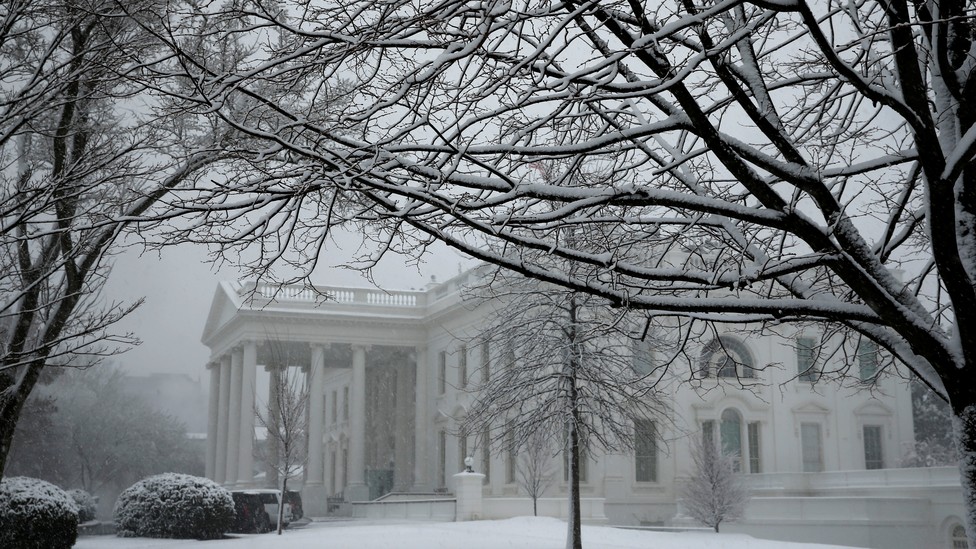 What We're Following
Border Blues: A senior White House official and two senior House Republican aides told The Atlantic that President Trump is threatening to veto a $1.3 trillion government spending bill over border-wall funding measures. Read Elaina Plott's report. Although the president looked at eight prototypes for the wall during his recent visit to California, construction of his key campaign promise is unlikely to get further underway unless Congress dedicates more funds to the project.
West Wing Workings: Sources close to Kellyanne Conway say she's close to accepting the president's offer to become the new White House communications director; as one senior White House official put it, "It's becoming increasingly difficult for her to say no." And after officials revealed that Trump received—and ignored—briefing papers that instructed him "DO NOT CONGRATULATE" Russian President Vladimir Putin on his reelection, speculation surrounding the leak risks overshadowing more substantive questions about his foreign policy.
Privacy Problems: In the wake of revelations that his company may have failed to stop Cambridge Analytica from misusing user data, Facebook CEO Mark Zuckerberg promised a list of new privacy safeguards. Yet the statement, which comes several days into the scandal, failed to address the larger questions that have emerged about Facebook's role in the apparent breach. Franklin Foer writes: If Facebook is going to be so cavalier about users' privacy, it's time for the government to impose data safety regulations.
---
Snapshot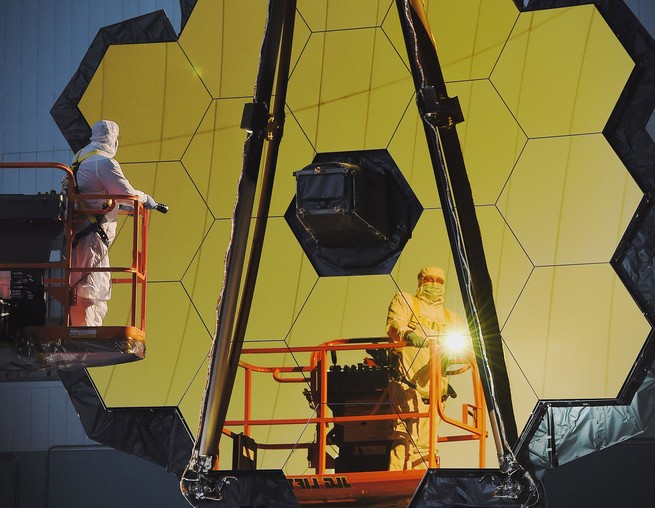 ---
Evening Read
Dilshad D. Ali remembers what it was like to grow up as one of the only Muslim kids at her North Dakota school:
Nearly 30 years later, with three children of my own—two in high school and one in elementary school—it's amazing to compare what my parents strove to do back in the 1980s and 1990s as immigrants who became naturalized citizens with how I am raising my children now. Generally, there have been three different eras for Muslim kids growing up in America in recent decades. When first-generation or immigrant Muslims were growing up in the 1980s and '90s, the focus was on assimilating as much as possible while trying privately to hold onto culture and faith. Then, in the years immediately following 9/11, kids who were coming of age received a different kind of messaging, a particular mix of pressures: to condemn terrorism, express their patriotism, and sometimes downplay their Muslimness. Today, for my kids, with 9/11 more than 15 years in the past, they are facing something wholly new: an era when it's encouraged to be unapologetically Muslim while at the same time staking claim to their Americanness.
Keep reading, as Ali describes how she's helping her children find that balance.
---
What Do You Know … About Science, Technology, and Health?
Many Facebook users were horrified by the news that Cambridge Analytica used and stored private data from more than 49.5 million profiles on the site without permission. In the tech world, though, it's less of a shock: Scholars have been warning about data harvesting on Facebook for nearly a decade. The data-breach scandal has nearly eclipsed the news that a self-driving Uber car struck and killed a pedestrian in Arizona on Sunday night. The question of who might be legally responsible for the accident remains unanswered, but the incident reveals that self-driving technology still has a long way to go.
Can you remember the other key facts from this week's science, tech, and health coverage? Test your knowledge below:
1. In a study from the 1960s and '70s about how elementary schoolers draw scientists, only ____________ percent of students depicted female researchers.
Scroll down for the answer, or find it here.
2. The northern and southern subspecies of the white rhino diverged around ____________ years ago.
Scroll down for the answer, or find it here.
3. When Marie Antoinette was imprisoned during the French Revolution, her jail cell included a ____________ so she could continue to freshen up as she awaited the guillotine.
Scroll down for the answer, or find it here.
---
Look Back
In our January 1948 issue, E.B. White—who had yet to write his classic children's book Charlotte's Web—told the story of the death of his pig:
The scheme of buying a spring pig in blossom time, feeding it through summer and fall, and butchering it when the solid cold weather arrives is a familiar scheme to me and follows an antique pattern. It is a tragedy enacted on most farms with perfect fidelity to the original script. The murder, being premeditated, is in the first degree but is quick and skillful, and the smoked bacon and ham provide a ceremonial ending whose fitness is seldom questioned.

Once in a while something slips—one of the actors goes up in his lines and the whole performance stumbles and halts. My pig simply failed to show up for a meal. The alarm spread rapidly. The classic outline of the tragedy was lost. I found myself cast suddenly in the role of pig's friend and physician—a farcical character with an enema bag for a prop.
Read more, share this story, and find more articles from our archives.
---
Reader Response
Lori Gottlieb, a psychotherapist, is answering reader questions in her weekly Dear Therapist column. First up is Rachel in Des Moines, Iowa:
Dear Therapist,

My same-sex partner and I have been seeing the same therapist both individually and as a couple. Over the past year, we both feel that she has fundamentally changed our lives …

One day, regrettably, we were feeling a bit nosy and decided to see if we could find our therapist on Facebook. We ended up falling down a rabbit hole and discovered something concerning; our therapist's father is a prominent public figure in our state who has taken many hardline stances against the LGBTQ community. We were shocked by this … At this point, we don't know what to do.
Read Lori's advice here, and email her at dear.therapist@theatlantic.com.
---
Adjectives
Uncharted chromosome, paranoid nightmare, enduring attraction, successful failure.
---