The Atlantic Daily: Investigating the Nuances
The firing of Andrew McCabe, life in Virginia's juvenile-justice system, Einstein's advice for peace, and more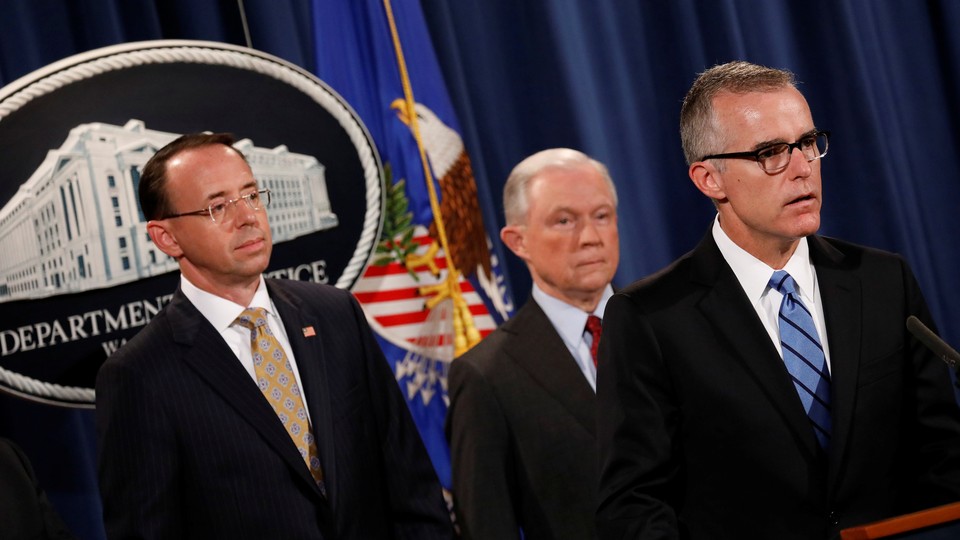 What We're Following
Firing Fallout: President Trump is reportedly enjoying a burst of self-confidence that has lowered his inhibitions. Over the weekend, he rejoiced over the firing of the former FBI Deputy Director Andrew McCabe, whom he's attacked multiple times on Twitter. Although McCabe's dismissal was technically carried out by Attorney General Jeff Sessions, those past attacks call the Justice Department's independence into question. Does this moment fit the definition of a constitutional crisis? Quinta Jurecic and Benjamin Wittes propose a different term: constitutional rot.
Iraq's Anniversary: This week marks 15 years since the U.S. invasion of Iraq. Back then, some officials assumed that Iraq would be able to finance its own reconstruction with oil revenues—but in spite of success in that industry, the country is still struggling to rebuild. What's more, many of its ancient artifacts were looted after the invasion—and once they're auctioned off online, they may be impossible to recover.
Juvenile Justice: After a series of reforms, Virginia has only one juvenile-detention center left. However, the state's recidivism rates remain high, and conditions at that one facility may be partly to blame. Nicolas Pollock profiled three young people who have experienced different facets of the system in a new virtual-reality project. Here's what their lives are like.
---
Snapshot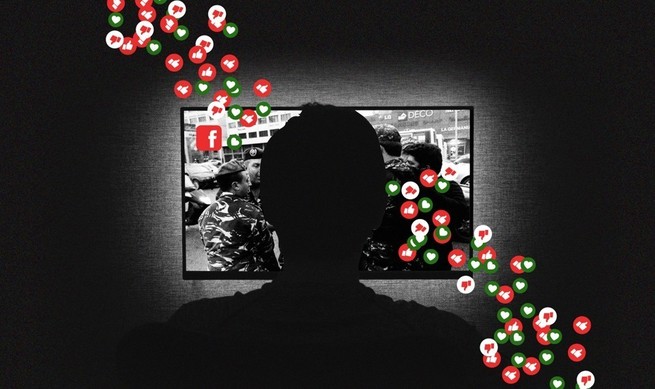 ---
Evening Read
Peter Nagy on the superhero's path to self-discovery:
The superhero genre has long been a natural place for fantastical explorations of identity. So it's no surprise that many comic-book shows of late—Black Lightning, Supergirl, Luke Cage, Jessica Jones, Legion—have garnered praise for investigating the nuances of identity in all its forms, including through the lens of race, gender, and ability. Last month, the CW series DC's Legends of Tomorrow entered new territory with the episode "Daddy Darhkest." The hour revolved around the guest appearance of John Constantine (played by Matt Ryan), a mystically empowered, chain-smoking, trench coat–wearing warlock—who is also bisexual.
Keep reading as Nagy explains what makes this portrayal of a bisexual male superhero radical.
---
What Do You Know … About Education?
In this week's education news, attempts to rehabilitate reputations didn't go quite as planned. Michigan State University officials are trying to put the Larry Nassar scandal behind them, but both crisis-management experts and community members say their actions thus far are only making things worse. Education Secretary Betsy DeVos had an opportunity to improve her public standing in a 60 Minutes interview, but she failed to convince education-policy experts of her grasp of important issues.
Can you remember the other key facts from this week's education coverage? Test your knowledge below:
1. The National Review writer Robert VerBruggen recently called the pattern of school ____________ a "myth."
Scroll down for the answer, or find it here.
2. Each of last week's school walkouts in protest of gun violence lasted for ____________ minutes.
Scroll down for the answer, or find it here.
3. The University of Maryland, Baltimore County, basketball team was on a ____________ -game losing streak against the University of Vermont—until March 10.*
Scroll down for the answer, or find it here.
---
Look Back
From our November 1947 issue, Albert Einstein offers advice for how to protect the world from atomic war:
Unless the cause of peace based on law gathers behind it the force and zeal of a religion, it hardly can hope to succeed. Those to whom the moral teaching of the human race is entrusted surely have a great duty and a great opportunity. The atomic scientists, I think, have become convinced that they cannot arouse the American people to the truths of the atomic era by logic alone.
Read more, share this story, and find more articles from our archives.
---
Reader Response
A recent study says one explanation for the so-called "gender-gap paradox"—the comparatively low gender gap in STEM professions in countries with high gender inequality—might be that women with fewer opportunities in their home countries see STEM careers as a path to economic freedom. Not so fast, says Zahra Fakhraai:
I am an associate professor at the University of Pennsylvania, in the chemistry department. I am also a woman from one of the countries very low on the [World Economic Forum] gender-gap index (Iran, 0.583, 70 percent women STEM graduates). I strongly believe that the voices of people like me, who have experienced living and pursuing STEM fields in these countries as well as Western countries such as the United States, are missing from the article …

It is important to look into … things that these countries [with a high level of gender inequality] are doing right in promoting STEM careers. The assumption that women in these countries being stripped of their choices is a cause of the correlation shown in the study is fundamentally flawed.
Read more, and write to us at letters@theatlantic.com.
---
Nouns
Bidet revival, local cult, basketball upset, tech dystopia.
---
Time of Your Life
Happy birthday to Ernie's "lovely and talented" wife, Jennifer (nine years older than the moon landing); to Colby (a year younger than Microsoft); to Kimberly (twice the age of Shark Week); to Maura's brother-in-law Rich (a year younger than the Super Bowl); and to Peter (twice the age of Macintosh computers).
From yesterday, happy birthday to Haley (twice the age of the iTunes Store) and Josie (a year younger than car seat belts).
Do you or a loved one have a birthday coming up? Sign up for a birthday shout-out, and explore the Timeline feature for yourself.
---
---
* This newsletter has been updated to clarify the date of UMBC's win against the University of Vermont.