The Atlantic Daily: Imagine the Following
A close watch on Trump's Cabinet, Republican dissent in Congress, how to verify refugees' stories, and more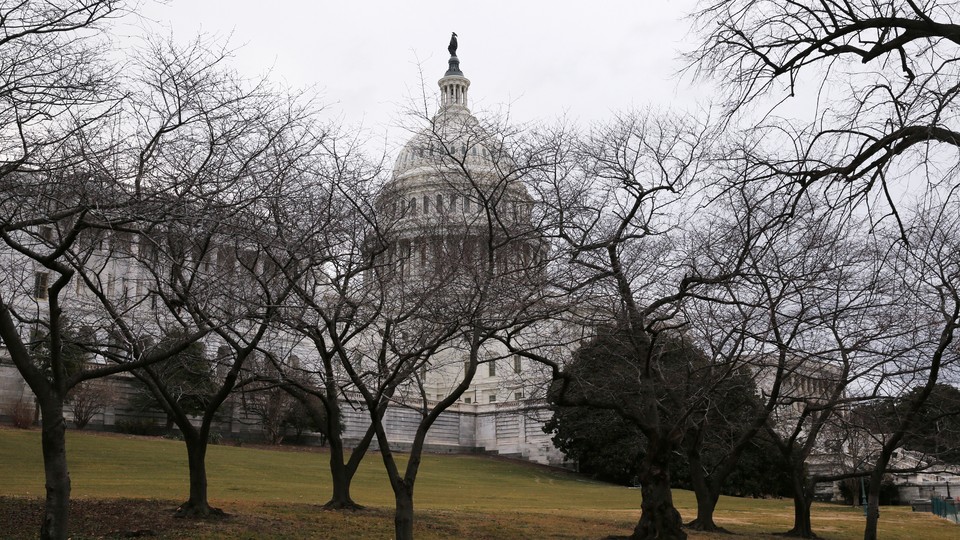 What We're Following
Cabinet Watch: Less than a week after he fired Rex Tillerson as secretary of state, several reports indicate that President Trump is planning to replace his national-security adviser, H.R. McMaster, but the White House says no immediate changes are planned. Meanwhile, writes Peter Beinart, Trump's choice of Mike Pompeo as the new secretary of state could mean moderate-Republican foreign policy is on its way out, and that a leader with a worrying history of statements about Muslims is on his way in.
Looking to Leaders: In the month since the shooting at Marjory Stoneman Douglas High School killed 17 people, The Atlantic's Elaina Plott has talked to multiple Republican members of Congress who are dissatisfied with their leaders' response to gun violence—and whose desire for action could cause new rifts in the party. For her part, House Minority Leader Nancy Pelosi has an impressive record of mobilizing Democrats to unite behind (or against) legislation. Yet many of her colleagues hope to replace her. Here's one possible reason why she's so unpopular.
Corporations Are People Too: Though major corporations are often viewed as selfish, impersonal entities, Robert D. Atkinson and Michael Lind argue that the innovation and economic growth they drive can be good for everyone. And as Americans lose faith in institutions from the government to the media, some are turning to big business for moral leadership. Derek Thompson discusses the benefits and risks of growing corporate influence on the latest episode of Radio Atlantic.
---
Snapshot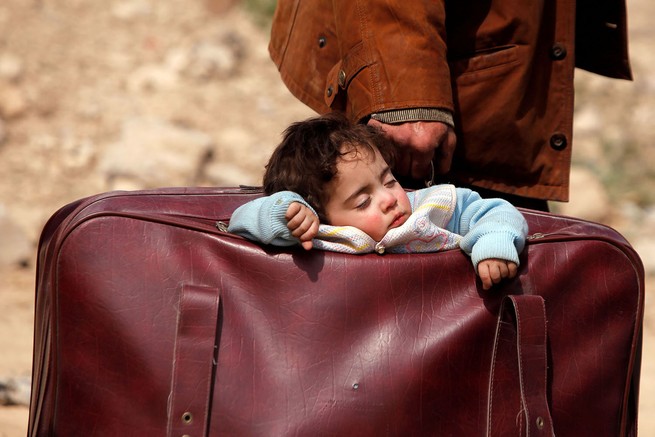 ---
Who We're Talking To
Colin Meloy, the lead singer–songwriter of The Decemberists, explains his approach to American politics on the band's latest album: "There's something therapeutic in looking at the apocalypse and laughing."
Sean Carroll, a theoretical physicist, remembers his colleague Stephen Hawking, and shares what he learned about the famed cosmologist's personality from picking him up at the airport.
---
Evening Read
Graeme Wood goes inside the German agency charged with investigating whether the country's many asylum-seekers truly face danger in their home countries:
To get a sense of these interviews, imagine the following game. You meet someone who claims to be from your hometown, and you have to decide whether he's telling the truth. You can ask him anything you like: Which high school did you attend? What color is city hall? Do people get around on buses or trains? Is there a McDonald's? If so, where? The other player may prepare however he wishes, memorizing facts, maps, events. If he convinces you, he gets a million dollars. If he doesn't convince you, he dies. You have 10 minutes to decide.
Keep reading as Graeme reports on how the real-life decisions are made.
---
What Do You Know … About Culture?
Cultural products from years ago are being revisited and reevaluated in several different ways. The American Idol reboot gives a Disneyfied sheen to the formerly beloved singing competition. The new Tomb Raider movie centers on a more grounded and vulnerable version of the video-game character Lara Croft. Like the recent film adaptation of A Wrinkle in Time, the classic German children's book Momo tells a story of a child confronting evil that takes on new relevance today. And two museum exhibits in Europe wrestle with the loaded history of Nazi-looted artworks—which, once recovered, present curators and critics with challenging questions.
Can you remember the other key facts from this week's culture coverage? Test your knowledge below:
1. Mount Eerie's new album, which continues to explore the artist's grief over the death of his wife, is titled ____________.
Scroll down for the answer, or find it here.
2. The concept of the ____________ was introduced to Hollywood by Stacy L. Smith, whose organization studies diversity and representation in the entertainment industry.
Scroll down for the answer, or find it here.
3. A gender identity bill in Chile, first filed by lawmakers in ____________, has gained renewed attention since the film A Fantastic Woman won an Oscar.
Scroll down for the answer, or find it here.
---
Poem of the Week
From our October 2007 issue, "Album," by Phillis Levin:
Long ago, a flood overtook the basement,
Almost all the old books in ruins,
Leather bindings buckling, gilded edges fading,
The marbling drifting away.

From the wreckage we pulled the stamp albums
My father kept, and another that was mine,
Holding the countries I longed to visit, lozenges
Of color, names too fragrant to pronounce.
---
Reader Response
In our January/February issue, Barbara Bradley Hagerty told the story of Benjamine Spencer, who is trying to prove his innocence after being sentenced to life in prison. John Adams writes from the John M. Wynne Unit in Huntsville, Texas:
I spent 12 years at the H. H. Coffield Unit with Spencer, and I'll never forget the first time I saw him. Another prisoner pointed him out: "That's Spencer, the barber. He's innocent." An outsider wouldn't understand how extraordinary those words were. Among inmates, a guy claiming innocence is such a bloated cliché, it's beneath contempt. We all know there are countless innocent men inside, yet it's still a surprise when someone we've known for years gets exonerated. Even after my 21 years of incarceration, Spencer remains the only one I've ever known to be exempt from this general skepticism. That in itself speaks volumes about Spencer.
Read more from Adams and other readers, and write to us at letters@theatlantic.com.
---
Nouns
Unlearned lesson, wicked farce, corpse-eating microbes, squatting skills.
---
Time of Your Life
Happy birthday to Matt (a year younger than Keynesian economics) and Dena (twice the age of Game Boys).
Tomorrow, happy birthday to Richard (twice the age of Macintosh computers); to Jo Anne (a year younger than Barbie); to Malcolm's dear friend Patti (a year younger than microwave ovens); to Mary Ann's son (twice the age of websites); and to Antonio (a year younger than George Orwell's Nineteen Eighty-Four).
Do you or a loved one have a birthday coming up? Sign up for a birthday shout-out, and explore the Timeline feature for yourself.
---