The Atlantic Daily: 'Maybe It's an Opportunity'
A short shutdown, inflation predictions, the Winter Olympics, and more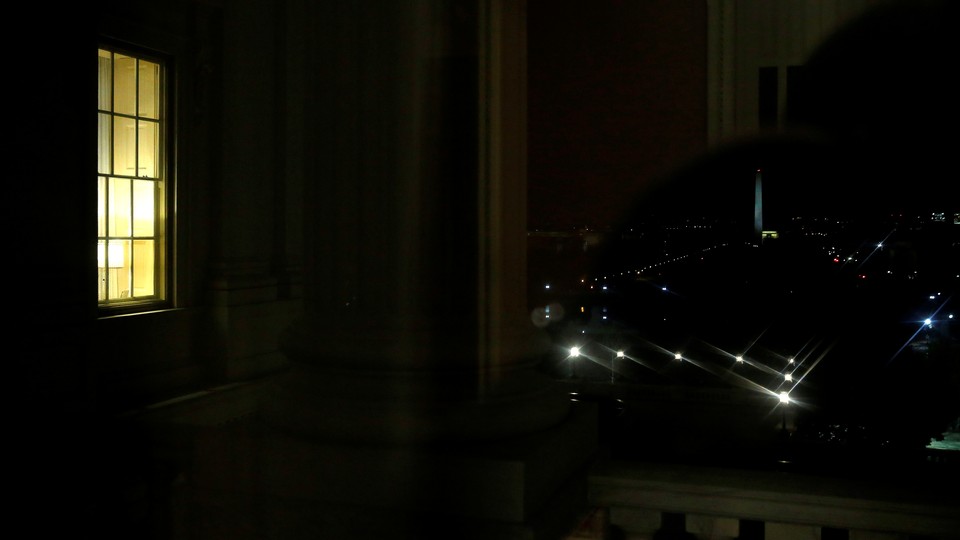 What We're Following
Looking at Lawmakers: The U.S. government shut down briefly overnight after Senator Rand Paul held up the vote on a budget bill over concerns about overspending. Even so, the Senate passed the bill around 2 a.m. on Friday, and the House—in spite of an extended opposing speech by Minority Leader Nancy Pelosi—followed suit at 5:30. Democratic leaders have recently made substantive policy concessions to President Trump, which could be a sign that the party's promised "resistance" is waning.
All About Inflation: On Thursday, the Dow Jones Industrial Average dropped by 1,000 points for the second time in a week (and for the second time in history). As the market had been rising steadily for some time, the plunge has less to do with a coming financial crisis than with investors' fears of inflation—and even those predictions may not come to pass. Yet inflation could have a political effect: It would give Trump a chance to deliver on his populist promises.
Let the Games Begin: As the 2018 Winter Olympics kick off in Pyeongchang, North Korean representatives are appearing in solidarity with South Korea—yet their presence likely isn't the diplomatic breakthrough it might seem. And with the international rivalry of the Cold War over, Krishnadev Calamur asks: Do the Olympics even matter on the world stage anymore?
---
Snapshot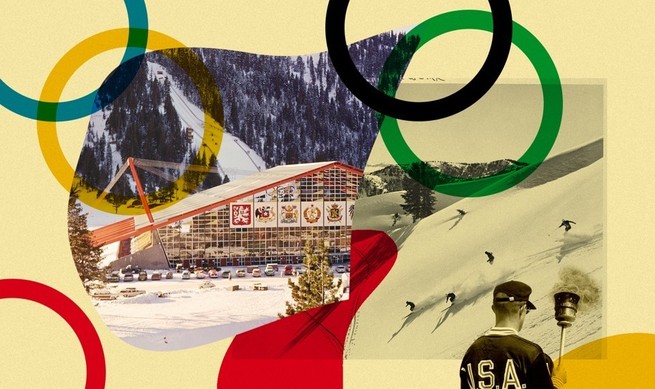 ---
Who We're Talking To
Will Hurd, a U.S. representative from Texas and a former CIA officer, outlines how Americans can answer Russian efforts to erode trust in democracy.
Charlie Dunlap, a retired Air Force major general, makes the case for a military parade.
Listen as The Atlantic's Megan Garber and David Sims discuss the pros and cons of recasting reality as pop culture on the latest episode of Radio Atlantic.
---
Evening Read
From Stockholm, Alana Semuels reports on a study of immigrants' divorce rates:
The divorce rates for immigrants in Sweden seem especially high when compared to the divorce rates in their home countries. In Iran, for example, about 20 percent of marriages now end in divorce, while 48 percent of Iranian women in Sweden had divorced within 15 years of marriage, according to the study … In many patriarchal countries, divorce is less accepted, and it can be legally more difficult to get divorced. In Sweden, on the other hand, divorce is socially more acceptable, and more feasible.

Often, divorce is seen as a negative development. When families split up, children can find it difficult to adjust emotionally. Women and men who had depended on being a two-income household struggle with the new financial realities of single life. Divorce can also be lonely and isolating. But for women in Sweden who have migrated from more patriarchal countries, divorce may not be as negative, [the sociologist Merhdad] Darvishpour told me. "Maybe divorce is not a problem," he said. "Maybe it's an opportunity."
Read on as Alana describes how some immigrant women are finding new independence amid Sweden's progressive gender norms.
---
What Do You Know … About Culture?
The Winter Olympics kicked off with an Opening Ceremony that emphasized South Korea's technological progress and modern culture. The next few weeks will showcase an impressive field of athletes—especially when it comes to figure skating, where the 18-year-old American Nathan Chen is expected to dominate. That sport was transformed 50 years ago by Peggy Fleming's poignant gold-medal win. And the 1960 Squaw Valley Games—which, as the first Olympics to be broadcast in the U.S., relied heavily on the theatrical touches introduced by Walt Disney—also helped to define the spectacle we see today.
Can you remember the other key facts from this week's culture coverage? Test your knowledge below:
1. The current team name of the Cleveland Indians was chosen by sportswriters in the year ____________.
Scroll down for the answer, or find it here.
2. Amazon Studios paid $20 million for ____________, the first Woody Allen film it distributed.
Scroll down for the answer, or find it here.
3. Red Clocks, by the author ____________, follows four women navigating an America in which abortion has been criminalized.
Scroll down for the answer, or find it here.
---
Poem of the Week
For this pre-Valentine weekend, here's Jenny Mueller's "Love Poem," from our June 1995 issue:
I want I want I want: that's the bare
shivering inside her rhetoric. I want
to touch her, through the glass of air.

Red nails red lips red hair. Her metawear:
cherry construction-paper heart that beats
sweet ripe sweet ripe, and then the bare

stone of self-advertisement.
---
Reader Response
For the Big Question of our March 2018 issue, we asked: What was the most influential act of protest in history? Erin Lisser in Mount Vernon, Washington, says:
The Silent Sentinels' protest outside the White House, which in 1919 helped finally grant half of America's citizens the right to vote. Their patriotic quoting of the president and abiding by gender expectations for silence were a deafening and decorum-shattering roar that brought a centuries-old oppression to an end.
Another nomination comes from Lucia Perri in Guthrie, Oklahoma:
The Beatles' refusal to play for segregated audiences in Jacksonville, Florida, in September 1964. The band's contracts, signed by its manager, Brian Epstein, stated that it would not play to segregated audiences. Since then, we've come together.
See more answers. Next month's question: What item would you put in a time capsule to help the next century understand our current moment? Email bigquestion@theatlantic.com to share your response.
---
Verbs
Tax season taught, mathematician memorialized, DNA scanned, Fifty Shades spoiled.
---
Time of Your Life
Happy birthday to Bill (a year younger than car seat belts); to Nancy (twice the age of Macintosh computers); to Annie (a year younger than helicopters); to Gretchen (twice the age of The Simpsons); to Anne (a year younger than Martin Luther King Jr.'s "I Have a Dream" speech); to Meredith (twice the age of Amazon); and to our business editor Joe (one-sixth the age of The Atlantic).
Tomorrow, happy birthday to Judith's son (a year younger than the computer mouse); to Joyce's husband, who shares a birthday with Rachel's mom, Gail (both are the same age as Stevie Wonder); to Kimbo (a year younger than MTV); and to Lindsay's teammate Stephanie (twice the age of the euro).
Do you or a loved one have a birthday coming up? Sign up for a birthday shout-out, and explore the Timeline feature for yourself.
---