The Atlantic Daily: The Path of Least Resistance
A Senate budget deal, a West Wing resignation, Afghanistan strategy, and more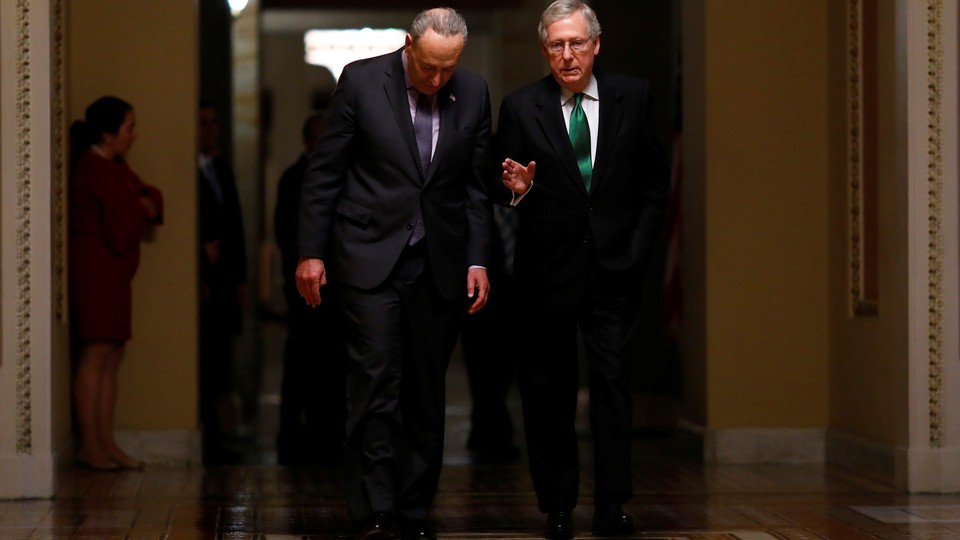 What We're Following
It's a Deal: The Senate has reached a bipartisan budget agreement that lays out federal spending for the next two years. Republicans pushed for an increase in military funding, while Democrats called for money to address the opioid crisis, infrastructure, and other domestic programs. Both parties got what they wanted, but the result, if the budget is passed, will be a $300 billion spending increase that—on top of the GOP's recently enacted tax cut—contributes substantially to the national debt. That prospect has some House conservatives refusing to support the deal.
West Wing Happenings: White House Staff Secretary Rob Porter has resigned in the wake of published allegations from two of his ex-wives that he physically and verbally abused them. As there is reason to believe that Chief of Staff John Kelly was aware of the allegations, the fact that he has defended Porter joins a series of incidents casting doubt on early hopes that he'd bring order and judgment to the White House. Meanwhile, President Trump caused an outcry with a proposal for a military parade in Washington, D.C.—a rare occurrence in the U.S. capital, though common in other countries. And the president's advisers are reportedly urging him not to speak under oath to Special Counsel Robert Mueller, but Mueller is unlikely to accept a refusal from Trump.
The Afghan War: The Defense Department announced that its current strategy is to pressure the Taliban into negotiations through military force. The group now controls more territory than it has at any point since the U.S. invaded Afghanistan, 17 years ago. On the latest episode of The Atlantic Interview, Steve Coll, a journalist and Afghanistan expert, discusses why the war has gone on so long—and what a victory could look like. Listen here.
---
Snapshot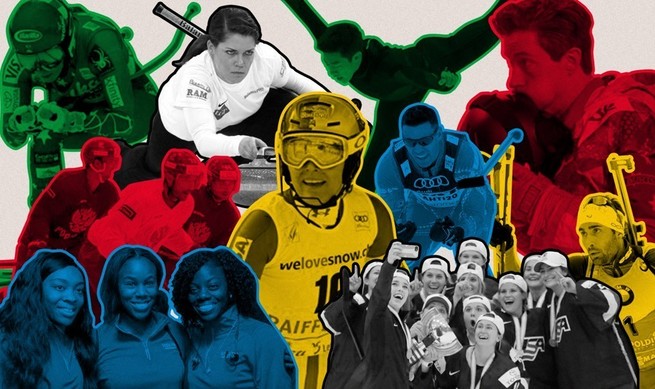 ---
Evening Read
Sophie Gilbert reviews Red Clocks, a new novel by Leni Zumas that—like Margaret Atwood's The Handmaid's Tale—has reproductive rights at its center:
Zumas, like Atwood, has grounded her book in reality—in things that existing people have said and done. The difference is that The Handmaid's Tale has to imagine a confluence of global pandemics, mass infertility, and constitutional crises to will Gilead into existence. In Red Clocks, women simply wake up one day to find that a president they didn't vote for—a man with a history of extreme rhetoric and legislation on reproductive issues—has proposed a Personhood Amendment to the U.S. Constitution, which a majority of states then vote to ratify.

Abortion, or the sudden illegality of it, is the novel's grounding hypothesis, but it isn't its primary focus. Zumas has written a work that's preoccupied with what it means to live inside a woman's body, and to exist in that body in a world that's long viewed it with fear and unease. And to handle a biological imperative that seems sometimes incompatible with other ambitions. And to experience the myriad small humiliations and the pain of the body's physical state.
Keep reading here, as Sophie describes how Zumas builds "a thoughtful, complicated picture of womanhood—and a fierce argument for individual choice."
---
What Do You Know … About Science, Technology, and Health?
This week, our team was immersed in all things that go boom. A group of researchers in New Mexico is planning to ignite several kinds of crude oil to determine whether some fireballs are more dangerous than others. A new paper found that bombardier beetles can survive being swallowed by causing explosions inside the stomachs of toads that try to eat them. Pajamas have roots in the zeppelin bombings of World War I, when midnight evacuations forced Londoners to get innovative with their sleepwear. And despite Elon Musk's worst fears, there's at least one thing that didn't blow up: During its first test flight, SpaceX's Falcon Heavy and its gimmicky payload stayed perfectly intact.
Can you remember the other key facts from this week's science, technology, and health coverage? Test your knowledge below:
1. In 2017, the U.S. ____________ industry lost nearly 10,000 jobs.
Scroll down for the answer, or find it here.
2. Before city planners started draining New Orleans in the 1800s, ____________ percent of the city's land was above sea level.
Scroll down for the answer, or find it here.
3. After gaining the ability to clone themselves, a species of ____________ is spreading across the globe.
Scroll down for the answer, or find it here.
---
Look Back
From our April 1920 issue, Frank Tannenbaum describes the prison system's "continuous and universal" cruelties:
The whole administrative organization of the jail is centered on keeping the men inside the walls. Men in prison are always counted. They are counted morning, noon and night. They are counted when they rise, when they eat, when they work, and when they sleep. Like a miser hovering over his jingling coins, the warden and the keepers are con­stantly on edge about the safety of their charges—a safety of numbers first, of well-being afterwards ...

The warden is human. Being human, he is strongly inclined to follow the path of least resistance. And the path of least resistance, in the light of the ordinary understanding of a prison warden, is to make jail-breaking hard, by making the individual prisoner helpless.
Read more here, and watch an Atlantic documentary on life inside one of America's largest modern-day prisons here.
---
Reader Response
In January, Vann R. Newkirk II wrote about how backlash to Martin Luther King Jr. and the civil-rights movement laid the groundwork for the rise of Trumpism. Linda S. says the article "helped me see a lot of things":
I'm a 70-year-old white lady who left the U.S. for good to go live in Canada (though I didn't know that at the time) in late August 1968, right after the Democratic National Convention, in Chicago, and the riots that went with it. The first day I had ever seen Canada was the day Martin Luther King Jr. was murdered. Driving eastward across Ontario, 45 minutes after we had passed through the tunnel from Detroit, my friend and I heard on the car radio that the border had been closed behind us because of the spreading riots. That night I sat with friends in a living room in Kitchener watching big cities burn on the 11 o'clock news. I was 20 years old, and it felt so weird to be in a country that wasn't at war—with itself or with half of Vietnam—and to be shut out of a country that was.
Read more from Linda here, revisit the year 1968 with us here, and respond to Atlantic articles via letters@theatlantic.com.
---
Verbs
Colors neglected, schools subverted, stalemate broken, markets misunderstood.
---
Time of Your Life
Happy birthday to Ikram's brother Zakaria (a year younger than Wikipedia); to Joni (eight years older than the moon landing); to Carol (a year younger than sunscreen); and to Walter (twice the age of CD players).
Do you or a loved one have a birthday coming up? Sign up for a birthday shout-out here, and click here to explore the Timeline feature for yourself.
---