The Atlantic Daily: A Certain Form of Partisanship
The Eagles' Super Bowl win, countdown to a rocket launch, terms for the Trump era, and more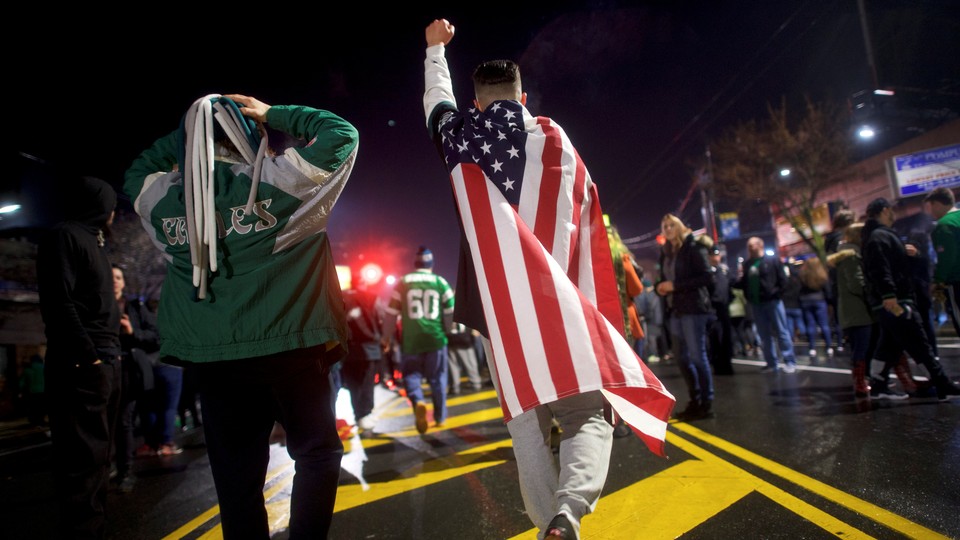 What We're Following
The Super Bowl: The Philadelphia Eagles beat the New England Patriots 41 to 33 in a suspenseful, spectacular matchup that pitted an underdog team against five-time champions. Justin Timberlake's halftime show was less impressive: The pop star's apparently halfhearted performance failed to command attention. For those still gloating at the Patriots' defeat, here's the case against the superstar quarterback Tom Brady. And for those who love neither Eagles (the athletes) nor eagles (the birds), here's a collection of superb owls.
Blast From the Past: A NASA spacecraft that scientists thought had been lost in 2005 is now sending home signals once again. And SpaceX is preparing to launch the Falcon Heavy, a rocket twice as powerful as the biggest one in operation today. It could be the company's most historic experiment yet—or it could literally blow up in their faces.
Democratic Values: As last week's controversy over Representative Devin Nunes's memo widened the rift between President Trump and the Justice Department, some observers anticipated a present-day Saturday Night Massacre. Yet relying on former President Nixon as the model for interpreting Trump may obscure incremental attacks on the rule of law. James Fallows offers four terms to capture those subtle threats. And in tonight's Evening Read, Jonathan Rauch and Benjamin Wittes make the case for a drastic solution to Republicans' political woes.
---
Snapshot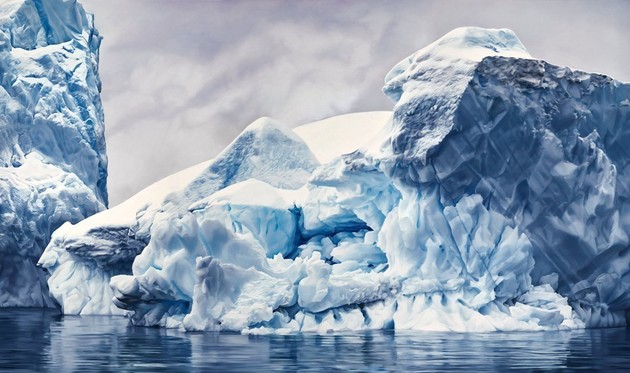 ---
Evening Read
For Jonathan Rauch and Benjamin Wittes, two avowed political independents, this is "the article we thought we would never write":
a frank statement that a certain form of partisanship is now a moral necessity. The Republican Party, as an institution, has become a danger to the rule of law and the integrity of our democracy. The problem is not just Donald Trump; it's the larger political apparatus that made a conscious decision to enable him. In a two-party system, nonpartisanship works only if both parties are consistent democratic actors. If one of them is not predictably so, the space for nonpartisans evaporates. We're thus driven to believe that the best hope of defending the country from Trump's Republican enablers, and of saving the Republican Party from itself, is to do as [a Virginia voter] Toren Beasley did: vote mindlessly and mechanically against Republicans at every opportunity, until the party either rights itself or implodes (very preferably the former).
Keep reading here, as Rauch and Wittes explain what does and doesn't motivate their decision to boycott the GOP.
---
What Do You Know … About Education?
The question of how teachers should approach a subject can be as complicated as the material itself. The history of slavery, for example, is in many classrooms improperly taught, sentimentalized, or glossed over, leaving kids with deep misconceptions. And the country's first endowed chair for the study of atheism reignites an age-old debate about what nonbelief actually means and what the academic study of it should look like.
Can you remember the other key facts from this week's education coverage? Test your knowledge below:
1. Mark Zuckerberg is among the education reformers who frequently cite a study on the effects of "personalized learning" that was published in the year ___________.
Scroll down for the answer, or find it here.
2. President Obama mentioned the word education ____________ times in his 2013 State of the Union address.
Scroll down for the answer, or find it here.
3. The retail and health industries could gain about ____________ percent in revenue if they incorporate artificial intelligence into the workplace.
Scroll down for the answer, or find it here.
---
Look Back
In our July 1918 issue, Madeleine Z. Doty described life in Russia during and after the Bolshevik Revolution. She interviewed the former minister of finance in his prison cell:
He accepted his lot philosophically. He did not complain of conditions. He and the others, he said, were treated as political offenders. They could have food from the outside, and letters and visits from their families, and might read and write as much as they liked.

"It's the psychology of the place that is terrible," he said, as he rose and paced the floor. "We can't tell what will happen. Each moment may be the last. Personally, I am not afraid. I don't think they'll hurt me. But the others are afraid. Every hour they fear a massacre. I do not dare tell my wife this. I tell her we are all right. But it is a frightful strain."
Read more here, and find more stories from our archives here.
---
Reader Response
In December, Conor Williams wrote about how an influx of white families into bilingual schools could push out the English-learner students for whom the programs were designed. Vanessa Bertelli, the executive director of the D.C. Language Immersion Project, responds:
We must also acknowledge that all children benefit from bilingual education, regardless of the language spoken at home. Therefore, framing this discussion as white gentrifiers versus Hispanic/Latino families puts children of other ethnicities and socioeconomic statuses at an even greater disadvantage. Should black children in poor neighborhoods where there are no Spanish speakers not have access to the same cognitive and economic opportunities that bilingualism brings? Will these programs be harder to implement there than in neighborhoods where there are native language speakers? Yes. Does that change the answer to the first question?
Read more from Vanessa here, and write to us via letters@theatlantic.com.
---
Adjectives
Clone army, massive fireball, Millennial id—and the as-yet-to-be-chosen modifier that could settle a decades-old international dispute.
---
Time of Your Life
Happy birthday to Liz (a year younger than T-shirts); to Olubukola's twin siblings (both are twice the age of the euro); to Felix's girlfriend, Maritsa (a year younger than Martin Luther King Jr.'s "I Have a Dream" speech); to Brittany (twice the age of the iTunes Store); and to our education fellow, Isabel (one-seventh the age of The Atlantic).
From yesterday, happy birthday to Claire (a year younger than The Simpsons); to Milt (twice the age of the CD player); to Greta (a year younger than Wikipedia); to Alexandra (the same age as Serena Williams); to Taylor's partner, Henry (a year younger than Shark Week); and to Anne's sister (16 years older than the moon landing).
Do you or a loved one have a birthday coming up? Sign up for a birthday shout-out here, and click here to explore the Timeline feature for yourself.
---