The Atlantic Daily: Identify the Purpose
Roger Stone's exchange with WikiLeaks, China's step toward authoritarianism, the Artic's record temperatures, and more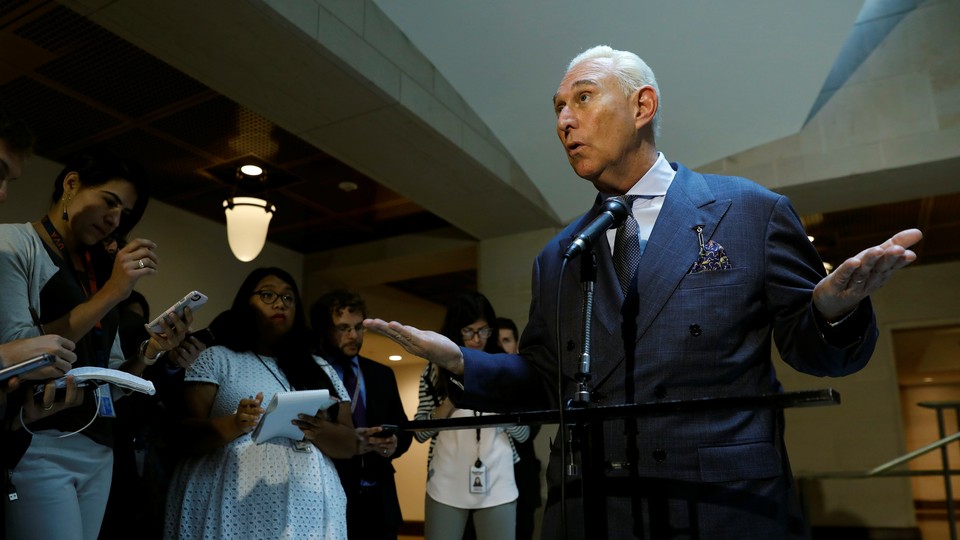 What We're Following
Messaging Strategy: Roger Stone, President Trump's longtime friend and confidant, told the House Intelligence Committee last year that he never communicated directly with WikiLeaks. But screenshots obtained by The Atlantic reveal that Stone exchanged private Twitter messages with the radical-transparency group on October 13, 2016. Here's what the messages said.
China's Path: The Communist Party has proposed a change to China's constitution: abolishing term limits, which could allow President Xi Jinping to stay in office for life. The procedural bid for power parallels moves made by strongmen in Turkey and Venezuela, and contradicts Western pundits' initial predictions that Xi's leadership would mark a more democratic era in China. The country has been growing more repressive even as its economy gets stronger. Now it's entering into global competition with the U.S. As the Trump administration prepares for what Peter Beinart describes as a "new Cold War," it may be undermining its own strategy.
Icy Regions: Weather stations in the Arctic recorded temperatures more than 50 degrees higher than their usual midwinter levels this weekend, even as parts of Europe saw temperatures drop 30 degrees lower than normal. Meanwhile, scientists in Vienna have re-created the conditions of the underground ocean on Enceladus, Saturn's icy moon, and discovered that methane-producing microbes could survive there.
---
Snapshot
---
Who We're Talking To
David French, a writer at National Review and an Iraq War veteran, explains why he carries a gun—and why he feels that it's brought him closer to his community.
Quinn Norton, a technology writer whose job offer from The New York Times was rescinded after tweets from her past caused backlash on social media, describes how the controversy built and destroyed "a bizarro-world version of me."
---
Evening Read
Laura Spinney on the scientific debate over human sacrifice:
Human sacrifice is defined as the ritualized, religiously motivated killing of a human being. It is no longer sanctioned by any state, but it was once practiced by societies across the globe. Chiefs and priests routinely strangled, bludgeoned, drowned, and burned their victims to death in order to please various ancestors or deities. Invariably, those ordaining the sacrifices were of higher status than their victims, prompting researchers to ask whether the violence served a social purpose—namely, keeping the lower orders in line. "Social elites used human sacrifice as a tool to instill fear and show their power," Joseph Watts of the Max Planck Institute for the Science of Human History in Jena, Germany, says. "As far as tools go, it was a pretty bloody and dramatic one."

Though human sacrifice is a thing of the past, Watts and others believe that understanding what motivated it is still relevant because other manifestations of extreme inequality do persist—slavery, for example. If they could identify the purpose human sacrifice served, then perhaps they could propose more-humane ways of achieving that purpose, thereby making the world a better place.
Keep reading as Spinney explains how ritual killings could have helped—or held back—the formation of complex human societies.
---
What Do You Know … About Business?
More than 20 firms ended discount programs with the National Rifle Association in the wake of the Parkland, Florida, shooting, illustrating how politics have come to permeate the business world. In recent years, money has crossed into the public arena of speech as well. In 2016, the strange legal saga between the wrestler Hulk Hogan and the news site Gawker boiled over following the news that the billionaire tech investor Peter Thiel had bankrolled Hogan's lawsuit in a vendetta against the site. And the questions surrounding that case got even deeper when the author Ryan Holiday revealed on Friday that Thiel's plan was inspired by a shadowy young associate called Mr. A.
Can you remember the other key facts from this week's business coverage? Test your knowledge below:
1. More than ____________ Americans turn 65 each day.
Scroll down for the answer, or find it here.
2. As Japan's population began to age out of the workforce, the country reformed its immigration laws and doubled the share of foreign-born workers to about ____________ percent.
Scroll down for the answer, or find it here.
3. Former President ____________ was sometimes called a "professional son" for his early-career ability to become the protégé of powerful men.
Scroll down for the answer, or find it here.
---
Urban Developments
Our partner site CityLab explores the cities of the future and investigates the biggest ideas and issues facing city dwellers around the world. Gracie McKenzie shares today's top stories:
"I have often wondered how many homicides we'd have in Chicago if it wasn't for the skilled physicians in our ERs." Here's what the city's murder statistics don't show about the true scale of its gun violence.

These three maps highlight different ways to measure the stark income disparity in many American cities—and show how few neighborhoods actually have income diversity.

How much China loves its trains, especially subways, is no secret. In just the past 10 years, the country has built 20 urban transit systems with more than 100 lines. But amid rising debt, is it time to slow down?
For more updates from the urban world, subscribe to one of CityLab's newsletters.
---
Reader Response
In James Fallows's ongoing series of reader reflections on gun violence, Eric Kingsbury of San Francisco remembers the time he was robbed at gunpoint:
The aftermath of the whole situation was a bit of a blur. There was talking to the cops, a very restless night, and the conversations with all my friends and family the following morning. All of it was difficult, especially learning the truth that many of my most liberal-minded friends and family held quite retrograde views on race—the assailants were black, and I am white—which they felt free to share now that something they'd heard about so many times in the media had happened to "one of us." But there was one question I got over and over again, one that really surprised me: Would it have been different if you had a gun?

Every time I was asked, my mind flashed back, and I replayed the situation. When would I have pulled the gun? Would I have grabbed it before they grabbed me? Would I have been able to shoot them? Would we have been in a gun battle on a quiet Berkeley, California, street? Would I have "won"?
Read more from Eric and other readers.
---
Adjectives
Perplexed businessman, outspoken athlete, embattled president, humble fly.
---
Time of Your Life
Happy birthday from Carla to Oliver (a year younger than Toy Story); to Adele's boyfriend, Augustas (twice the age of the iPhone); to Mark (a year younger than websites); to Adam's friend Kate (twice the age of the International Space Station); to our global editor Siddhartha (one-fifth the age of The Atlantic); and to our video curator, Emily (one-sixth the age of The Atlantic).
Do you or a loved one have a birthday coming up? Sign up for a birthday shout-out, and explore the Timeline feature for yourself.
---