The Atlantic Daily: 'How About Regret?'
Rick Gates's guilty plea, Trump's gun-control proposals, violence in Syria, and more
What We're Following
Crime and Politics: Rick Gates, who served as an aide to President Trump in the White House and on his campaign, has agreed to cooperate with Special Counsel Robert Mueller's investigation after pleading guilty to conspiring to commit bank fraud and lying to the FBI. Gates is the third former member of Trump's team to admit committing a felony. His guilty plea casts further doubt on the president's judgment and puts pressure on Paul Manafort, Gates's former business partner and Trump's former campaign chair. Elsewhere, Missouri Governor Eric Greitens has been charged with felony invasion of privacy connected with a 2015 extramarital affair. Here's the story of his rapid rise and fall.
Trump's Gun Solutions: The president has proposed a wide range of responses in the wake of the high-school shooting in Parkland, Florida, that left 17 dead. These suggestions—from strengthening background checks to arming teachers—illustrate the tension between independence and impulsiveness that has characterized his presidency. Trump also called for bringing back institutional mental health care. While that plan is unlikely to solve the problem of mass shootings, here's why some experts think it could help people with severe mental illness.
Syria's Devastation: President Bashar al-Assad's regime bombarded the region of eastern Ghouta this week, killing as many as 100 civilians, including children, in the first 48 hours of the attack. Syria's war has now been going on for nearly seven years. With little sign of an end to the violence, Frederic C. Hof calls on the U.S. to act.
---
Snapshot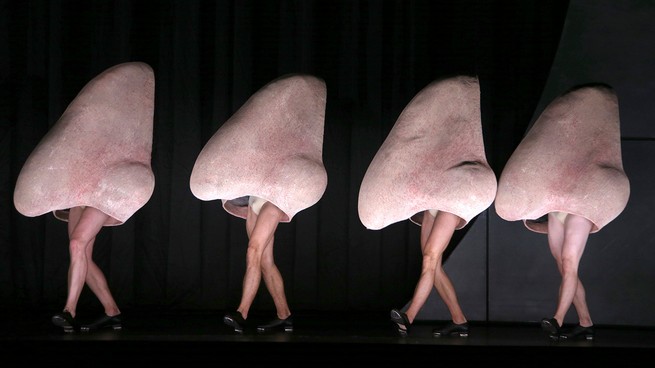 ---
Who We're Talking To
Witnesses, investigators, and other people connected to the case of Benjamine Spencer—a Texas man convicted of murder in 1987—discuss the evidence the jury never heard in a special Radio Atlantic series.
Ryan Holiday, the author of a new book about the lawsuit that brought down Gawker Media, says the piece of that saga that most surprised him was the role of a man identified as Mr. A: "Not only does nobody but me or the conspirators know his real name, but also nobody even realized that he exists."
---
Evening Read
Jeremy Raff on Joe Arpaio,  perhaps Arizona's best-known immigration hardliner:
The former sheriff rose to national prominence by running an outdoor jail in the desert he once proudly referred to as a "concentration camp." Arpaio, who is now running for the United States Senate, sees no reason to reconsider the remark. "I'm not going to back down," Arpaio said in a recent interview. "So what? Maybe it is a concentration camp. I don't want to make it look nice, like the Hilton Hotel. I want to say it's a tough place so people don't want to come there."

Now Trump, his most prominent champion, is working to execute an Arpaio-style immigration crackdown at a scale neither may have imagined ... America's immigrant detention centers have proliferated in recent decades as a result of bipartisan investment. But the Trump administration is aggressively expanding these facilities, where conditions often seem punitively harsh, locking up many immigrants who pose no obvious threat to public safety. A year into President Trump's crackdown, tens of thousands of immigrants are living the consequences, and fighting against deportation from behind bars.
Jeremy goes behind the scenes of America's immigration detention centers in this short documentary.
---
What Do You Know … About Culture?
Though the Black Panther is the titular hero of Marvel's latest film, its star character may well be Erik Killmonger, whom Adam Serwer describes as "a comic-book villain so transcendent that he is almost out of place in a film about a superhero who dresses as a cat." Both Killmonger and the movie's soundtrack embody a complex ideological conflict over historical trauma and black liberation that's helping to drive the movie's success in a genre that often relies on more simplistic tropes.
Can you remember the other key facts from this week's culture coverage? Test your knowledge below:
1. The North Carolina–born singer Eunice Waymon adopted the stage name ____________ in 1954.
Scroll down for the answer, or find it here.
2. The oldest newsreel footage of the Olympics comes from the Stockholm Summer Games of ____________.
Scroll down for the answer, or find it here.
3. The famous, elderly, Jewish, Upper-West-Side-dwelling author at the center of Lisa Halliday's novel Asymmetry is a fictional analogue of the real-world novelist ____________.
Scroll down for the answer, or find it here.
---
Poem of the Week
From our August 1995 issue, Frank Huyler's "Moving the Hive":
I wear them as a field
wears dust in the dry summer.

I wear them as the river
wears its speed.

Their wings—
I hear them as a house

closed for the season
hears its last voice.
---
Reader Response
In our March issue, William Brennan writes that science says dogs don't actually feel shame, even though they might often look guilty. Jerry Bettis of Stillwater, Oklahoma, responds: "Okay, but how about regret?"
My wife and I made the mistake of placing a couple of bowls of dog treats on the floor for our Doberman and our daughter's Chihuahua. After Babe, the Doberman, ate hers she strolled over and moved Pancho away from his treats by the simple expedient of biting him on the head. This procedure, usually innocuous when performed on a peer, was devastating for Pancho. He stopped breathing and my wife had to push his left eye back in place. She gave him mouth-to-muzzle respiration while I drove swiftly to the nearest veterinarian. The vet was able to restore Pancho to near normal and he lived several years after the incident, though at times he would become catatonic and stare off into space.

Because of the rush of events we were not able to scold Babe for her actions. We noticed, though, that for the next six to nine months or so she would walk over to the site of the disaster and sniff it. She would then take herself to the far corner of the room and sit with a look of deep regret or remorse. Curious, wouldn't you say?
Read more reader letters, and send your own: letters@theatlantic.com.
---
Nouns
Beautiful nonsense, sci-fi slog, unorthodox treatment, excavation race.
---
Time of Your Life
Happy birthday to Jennifer (a year younger than the 24-hour news cycle); to Steve's wife, Joan (born around the time the United Arab Republic was formed); to Kathleen (a year younger than human spaceflight); and to Elizabeth (twice the age of the iPhone).
Tomorrow, happy birthday to Candace's son Taylor (a year younger than CD players); to Anders's mom (twice the age of Toy Story); and from Debra to Chris (a year younger than Barbie).
Do you or a loved one have a birthday coming up? Sign up for a birthday shout-out, and explore the Timeline feature for yourself.
---
The newsletter dated February 22, 2018, misidentified Canada's prime minister, Justin Trudeau, as the country's president. Our apologies for the error, and thanks to the readers who pointed it out.
---