The Atlantic Daily: Those in Power
Students rally for gun reform, Korean nuclear negotiations, remembering Billy Graham, and more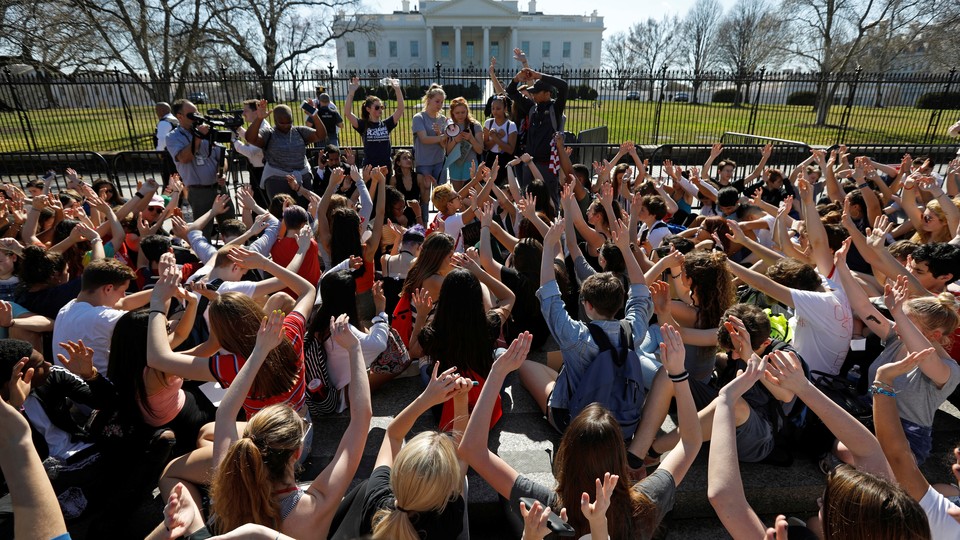 What We're Following
'#NeverAgain': As student survivors of the high school shooting in Parkland, Florida, met with their state legislators to call for gun reform laws, teenagers across Florida and the U.S. staged walkouts and rallies in support. See photos of the demonstrations. Parkland's students have emerged as a powerful voice against gun violence, turning to social media to demand that what they experienced should never again take place.
Foreign Policy: As Donald Trump Jr. travels to India to promote luxury apartments for the Trump Organization, he'll also be giving a speech about international cooperation—and though the State Department says he's there as a private citizen, it's not clear where his roles as a businessman and as President Trump's surrogate may overlap. Meanwhile, though the negotiations surrounding the North Korean nuclear program have been dominated by global superpowers thus far, the Pyeongchang Olympics have given Koreans a chance to take control.
Reverend Billy Graham: The preacher who transformed Christian evangelism has died at the age of 99. Graham was known for his commitment to outreach, not only around the world, but also across political lines. Today, however, the base he sought to unify has been sharply divided over politics, and those who might wish to carry on his legacy face a challenging landscape.
---
Snapshot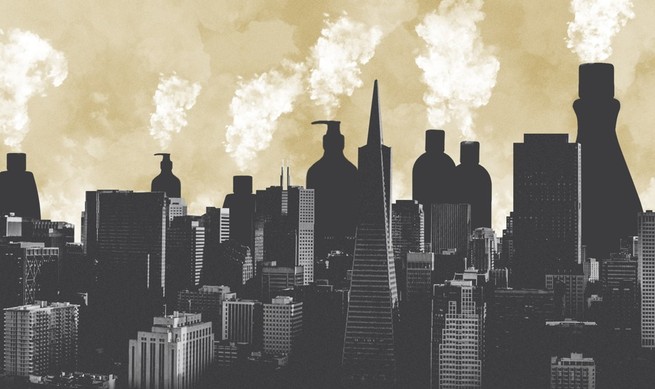 ---
Who We're Talking To
D., an undocumented student who hopes to work in the tech industry, describes what it's like to apply for jobs with the future of the Deferred Action for Childhood Arrivals program still undecided.
Andrew David Watson, a filmmaker, shares the challenges of interviewing the most quoted man in news, a retired highway maintenance worker named Greg Packer: "Greg is so used to quickly coming up with the best short sound bite that getting him to answer a question with more than five words proved difficult." Watch the short documentary on Packer's quest for the media spotlight.
---
Evening Read
James Bridle on the rise of virtual citizenship:
Citizenship and its varying legal definition has become one of the key battlegrounds of the 21st century, as nations attempt to stake out their power in a G-Zero, globalized world, one increasingly defined by transnational, borderless trade and liquid, virtual finance. In a climate of pervasive nationalism, jingoism, xenophobia, and ever-building resentment toward those who move, it's tempting to think that doing so would become more difficult. But alongside the rise of populist, identitarian movements across the globe, identity itself is being virtualized, too. It no longer needs to be tied to place or nation to function in the global marketplace.

Hannah Arendt called citizenship "the right to have rights." Like any other right, it can be bestowed and withheld by those in power, but in its newer forms it can also be bought, traded, and rewritten. Virtual citizenship is a commodity that can be acquired through the purchase of real estate or financial investments, subscribed to via an online service, or assembled by peer-to-peer digital networks. And as these options become available, they're also used, like so many technologies, to exclude those who don't fit in.
Keep reading as Bridle describes the places where passports can be bought and sold.
---
What Do You Know … About Science, Technology, and Health?
This week, The Atlantic's science, tech, and health team explored the information behind—and beyond—what meets the eye. Take tennis balls: Some people see them as yellow, but others see green, and there's a scientific explanation for that. Animals like the snowshoe hare that seasonally transform their appearance to blend in with snowy surroundings might need to lose their camouflage to survive in a warming world. And the irregular shapes of ancient dice, which look strange to modern observers, suggest that the gamblers of the past may have thought divine intervention, not chance, guided the outcomes of their rolls.
Can you remember the other key facts from this week's science, tech, and health coverage? Test your knowledge below:
1. By some estimates, half of the ____________ in the U.S. could close in the next 10 years.
Scroll down for the answer, or find it here.
2. The nation of ____________ has claimed a section of a data center in Luxembourg as sovereign territory.
Scroll down for the answer, or find it here.
3. The Bennet Act, the first anti-noise bill to be ratified by Congress, became law in ____________.
Scroll down for the answer, or find it here.
---
Look Back
The Trump administration's recent budget proposal called for an overhaul of the Supplemental Nutrition Assistance Program. In our May 1930 issue, Alice Hamilton argued that the state should take a larger role in welfare:
In the United States it has been a cardinal principle that the incentive to work must be maintained at the highest point and that to provide means of maintenance in the present or expectation of assistance in the future, other than by his own earnings and savings, lessens the driving power and self-reliance of the worker. Consequently, except in the case of certain trades-unions which give unemployment benefit ... outside support can be obtained only by charity and then only in circumstances of extreme destitution. The result is that, to the great majority who do not wish to incur the stigma of pauperism, unemployment, sickness, and old age are very serious matters.
Read more, share this article, and find more stories from our archives.
---
Reader Response
In the wake of the shooting at Marjory Stoneman Douglas High School in Parkland, Florida, a veteran, gun owner, and teacher writes to James Fallows with a passionate answer to the argument of some gun advocates that teachers should be armed against school shooters. The emphasis is his:
My teenaged son is not up for the gun sacrifice lottery. My students are not up for the gun sacrifice lottery. My colleagues and I are not up for the gun sacrifice lottery. I am not going to go back to being a door gunner in the hallway of my school so that an 18-year-old unstable kid, or a 30-year-old angry man, can buy a weapon, come to my place of mentorship and learning, and then kill my students and my friends.

I'm not going to do that for you, fellow gun owners. I'm not going to do that for you, gun makers. I did my rifle-carrying bit for the U.S. of A. I am not going to do it now. My colleagues are not going to do it now. My students deserve a classroom where the threat is kept away in the first place. So do I and every other teacher.
Read more, and share your thoughts: letters@theatlantic.com.
---
Verbs
Ideals twisted, paradigm challenged, microbes battled, charges dismissed.
---
Time of Your Life
Happy birthday to Sally (a year younger than George Orwell's Nineteen Eighty-Four) and to Ellen's daughter Noreen (a year younger than human spaceflight).
Do you or a loved one have a birthday coming up? Sign up for a birthday shout-out, and explore the Timeline feature for yourself.
---