The Atlantic Daily: 'Information Warfare'
Trump's response to Russian interference, the Munich security conference, Black Panther's blockbuster weekend, and more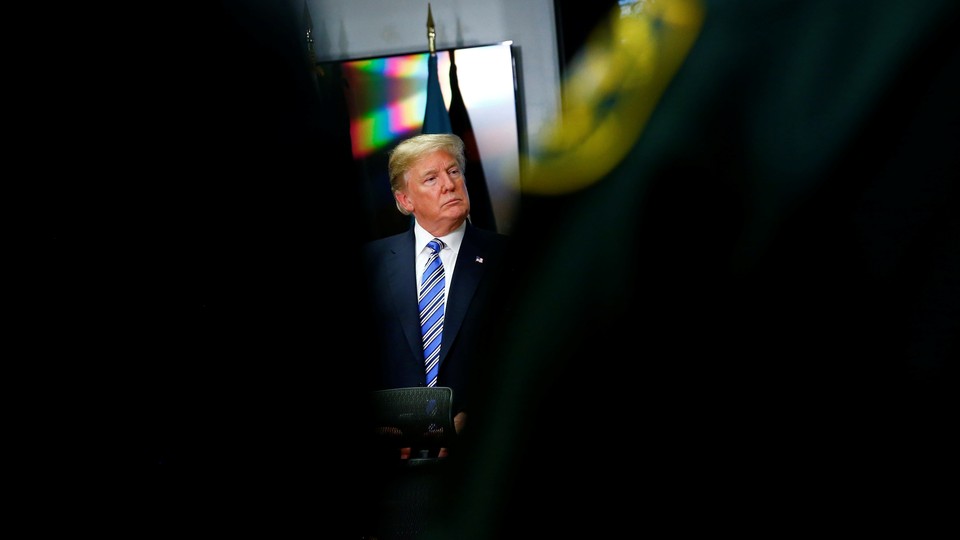 What We're Following
The Russia Probe: Alex Van Der Zwaan, a lawyer, has pleaded guilty to lying to the FBI about his communications with Rick Gates, Paul Manafort's former business partner. On Friday, Special Counsel Robert Mueller indicted 13 Russians on charges of attempting to influence the 2016 election—and while the campaign wasn't big enough to change the election's result, it did demonstrate America's vulnerability to what the Russian operatives called "information warfare." Trump attempted to distance himself from the story with an aggressive series of tweets, which suggested that he's focused more on his own political status than on potential threats to the country. Yet when the president highlights the danger of questioning elections' legitimacy, he may be right.
International Threats: American and European security experts gathered in Munich this weekend for a security conference that left some observers unimpressed with the West's ability to tackle the world's threats. The U.S. delegation showed signs of divisions among National-Security Adviser H. R. McMaster, Defense Secretary James Mattis, and the president—who, according to one Senate leader, may be willing to start a major war with North Korea.
Black Panther: Marvel's new superhero film broke the box-office record for President's Day weekend, earning $242 million in the first four days after its release and setting a new precedent for diverse casts and complex plots in Hollywood blockbusters. The film features a soundtrack from the rapper Kendrick Lamar, which draws a connection between the movie's themes and the broader concerns of hip-hop.
---
Snapshot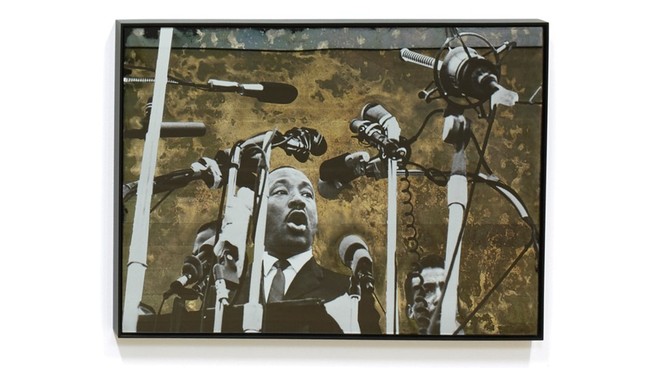 ---
Who We're Talking To
Joe Barton, a Texas representative, who survived the mass shooting at a congressional baseball practice last summer, describes his reaction to the recent attack in Parkland, Florida.
Josiah Zayner, a biohacker, reflects on the time he injected himself with the gene-editing technology CRISPR—and explains why he regrets it.
---
Evening Read
Lauren Elkin confesses to an "immeasurably bad" sense of direction:
Having a smartphone has only given me the illusion of control. If you can't read a map, you can't read a map, especially if the map is as seriously impaired as Google Maps. The blue dot might be showing your location 20 meters away from where you're standing. The affective experience of being lost quickly inflates from a local problem of orientation to a general feeling of ontological failure. I feel worse than incompetent: I feel illiterate.

It doesn't matter what kind of devices you carry in your pocket: When you're out in the city, you're on your own.
Keep reading as Elkin explores the unexpected joys of getting lost.
---
What Do You Know … About Business?
Sometimes solving one economic disparity can make others crop up in its place. While Airbnb set out to create more business opportunities for homeowners, the burden of its marketplace "disruption" has fallen more on local renters than on the thriving hotel industry. And well-meaning social workers are turning to algorithms to streamline assistance for poor and homeless populations, but glitches and data-collection practices can amplify the problems those programs seek to fix.
Can you remember the other key facts from this week's business coverage? Test your knowledge below:
1. Amazon has an unusual strategy to retain its employees: It offers them from $2,000 to $5,000 if they ____________.
Scroll down for the answer, or find it here.
2. In part by collaborating with its large tech employers, the city of ____________, Washington, has managed to decrease car commuting even as its population has grown.
Scroll down for the answer, or find it here.
3. The percentage of American travelers using private accommodations, including apartments rented through Airbnb, rose from 8 percent in 2010 to ____________ percent in 2015.
Scroll down for the answer, or find it here.
---
Urban Developments
Our partner site CityLab explores the cities of the future and investigates the biggest ideas and issues facing city dwellers around the world. Gracie McKenzie shares today's top stories:
For more updates from the urban world, subscribe to one of CityLab's newsletters.
---
Reader Response
Reflecting on the public response of "thoughts and prayers" that frequently follows mass shootings, this reader offers "a plea to the media":
Just as the tide of public opinion against the war in Vietnam did not turn until images of the war reached into American living rooms, today's epidemic of mass shootings will not end until Americans see and share in the bloody experience. [Supreme Court Justice] Antonin Scalia's Columbia v. Heller decision will not join [Chief Justice] Roger Taney's Dred Scott v. Sandford opinion in the ash heap of history until Americans are moved to action by indelible images of suffering and death from mass shootings.

So here is a plea to the media: Do not let decency standards shield us from this indecency. Show us the carnage, and do not let Americans look away from what the National Rifle Association's lobbying has wrought.
James Fallows shares more reader responses here. You can write to us via letters@theatlantic.com.
---
Nouns
Biased dice, ancestral farm, urban commotion, figure-skating pants.
---
Time of Your Life
Happy birthday to Deirdre's son Casey (a year younger than human spaceflight); to Penelope (18 years older than Happy Days); to Jenn's husband, Kevin (a year younger than The Simpsons); and to Linda (born the same year as Muhammad Ali).
From yesterday, happy birthday to Nadia's daughter (twice the age of Twitter).
And from Sunday, happy birthday to Bill's brother Lee (a year younger than color-TV broadcasting); to Chelsey (twice the age of YouTube); and to Sally's husband, Charles (a year younger than Martin Luther King Jr.'s "I Have a Dream" speech).
Do you or a loved one have a birthday coming up? Sign up for a birthday shout-out, and explore the Timeline feature for yourself.
---