The Atlantic Daily: You Have Power
The aftermath of the Florida shooting, the impact of presidential words, what's next for Nancy Pelosi, and more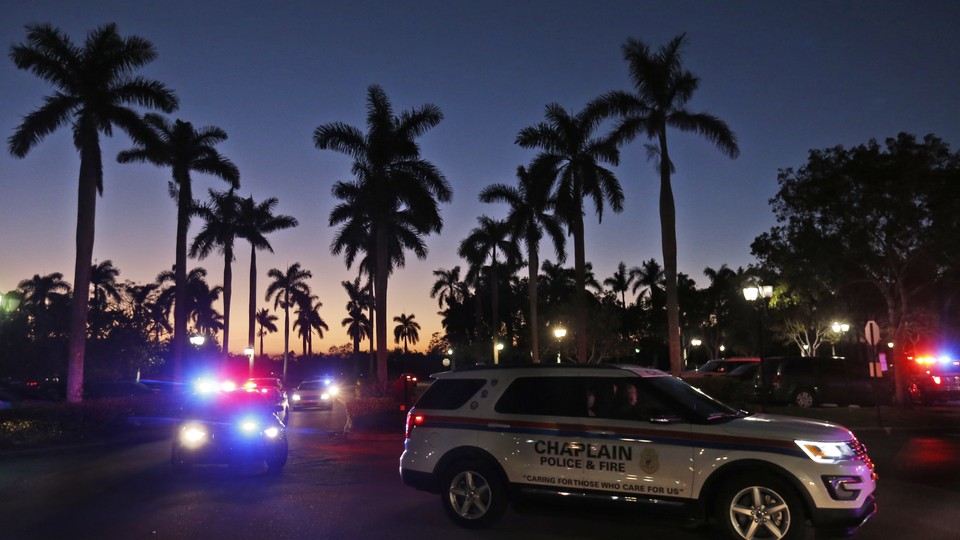 What We're Following
Gun Violence: American citizens and institutions are once again reeling in the wake of the shooting at a Florida high school that killed 17 people. After the shooter was identified as a 19-year-old who had been expelled from the school for behavioral reasons, President Trump called for community members to watch for warning signs of violence—but such vigilance is unlikely to solve the problem. Congress is also far from reaching an agreement on gun control, and the stalemate isn't helped by a 1996 bill that's limited the ability of the Centers for Disease Control and Prevention to research the public-health impact of firearms.
Executive Power: In response to Trump's frequent outbursts, liberals and conservatives alike have called on the public to pay more attention to the substance of his policies—yet the president's language is reshaping American politics, writes Derek Thompson. Meanwhile, as the investigation of Russian interference in the 2016 election continues, Trump has the power to classify or declassify relevant documents, creating a potential conflict of interest.
The Situation in Syria: The country's seven-year-long civil war has entered a new, international phase, with Iran, Israel, Turkey, Russia, and the United States confronting each other over what one analyst calls "irreconcilable positions." Right now Russia, which entered the conflict on the side of Syrian President Bashar al-Assad, is achieving its goal of exercising geopolitical power, but it's on a risky mission, Mark Galeotti writes.
---
Snapshot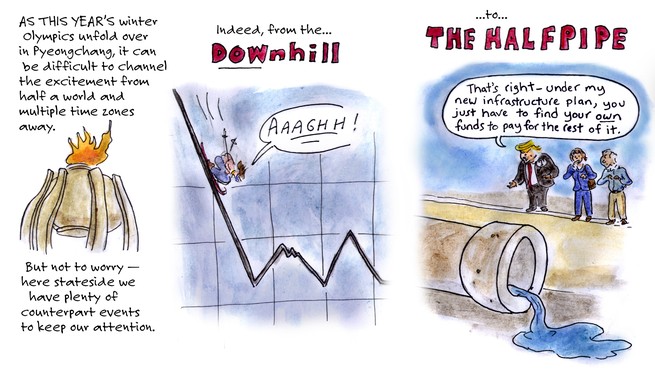 ---
Who We're Talking To
Ruth Bader Ginsburg, the Supreme Court justice, reflects on America's progress toward gender equality and the meaning of the #MeToo movement.
Virginia Eubanks, a political scientist, describes the dangers of relying on technology to streamline welfare programs.
Ruth Carter, a costume designer, shares how she came up with the distinctive style of the fictional nation where the film Black Panther takes place. "Wakandans are serious about fashion," she says. So is Carter: "Creating a world is no joke."
---
Evening Read
Russell Berman on what's next for Representative Nancy Pelosi:
With a majority of the votes in Congress, you have power. Without them, you have nothing. Pelosi, the House minority leader, knows it as well as anyone in Washington. She had the votes to make history in 2007 when she became speaker of the House, not only becoming the first woman to hold that title but in the process, rising higher in U.S. electoral politics—and closer in the line of presidential succession—than any woman before or since. Four years later, the votes were gone, washed away in a Republican wave that relegated Democrats back to the minority. Now, with Democrats poised to make a run at recapturing the House majority this fall, Pelosi has a chance to set another mark: the first person to reclaim the speaker's gavel in more than 60 years and the first ever to do so after so long an interval.

But a small group of restive Democrats is gunning for Pelosi. They're maneuvering in public, and recruiting support behind the scenes, to force her departure. They want to set off a generational shift for Democrats that they believe is long overdue. And their efforts—joined to the familiar attacks from Republicans, who have made them the linchpin of their bid to retain the House—are calling Pelosi's political future into question just as she sits on the cusp of regaining power.
Keep reading, as Russell weighs Pelosi's—and her party's—chances for taking back the House in 2018.
---
What Do You Know … About Global Affairs?
South African President Jacob Zuma resigned this week after nine years in power when his own party, the African National Congress, withdrew its support and promised a vote of no confidence if he would not step down. Besides this political instability, South Africa is currently facing a major environmental crisis: The city of Cape Town, which is experiencing a historic drought, has nearly run out of water. Though the drought itself is linked to climate change, poor governance may have exacerbated the crisis, and the pressure is now on government and citizens to respond.
Can you remember the other key facts from this week's global coverage? Test your knowledge below:
1. In Israel, police have recommended that ____________ be charged with bribery, fraud, and breach of trust.
Scroll down for the answer, or find it here.
2. Far-right Hindu nationalists in India have been protesting the holiday of ____________ because they consider it immoral.
Scroll down for the answer, or find it here.
3. Flying in Russia is ____________ times more dangerous than the world average.
Scroll down for the answer, or find it here.
---
Urban Developments
Our partner site CityLab explores the cities of the future and investigates the biggest ideas and issues facing city dwellers around the world.
For more updates from the urban world, subscribe to one of CityLab's newsletters.
---
Reader Response
In our January/February issue, Elizabeth Green wrote about the growing empire of charter schools created by the education reformer Eva Moskowitz. Mary Ellen Schaffer, a former public-school principal, responds:
Ms. Green and I agree that providing equitable education, particularly in our hypersegregated urban areas, is an enormous challenge. But Moskowitz's defense of a practice such as "opting out of backfilling" so that "students aren't distracted by peers that lag behind" sounds a whole lot like skimming off the cream and making sure we do more for them. Our communities are filled with low-performing students—"distractions"—who need more intervention, more support, more time, and more instruction.

Certainly the charter-school movement bears watching,  but we are a long, long way from declaring [as the cover of The Atlantic's January/February 2018 did] "How Charter Schools Won."
Read more from Mary Ellen, and write to us at letters@theatlantic.com.
---
Nouns
Lost camouflage, mysterious symptoms, viable compromise, enduring Silence.
---
Time of Your Life
Happy birthday to John's spouse, Twila (a year younger than NASA); to Jean's twins, Quentin and Fiona (both are a year younger than the euro); to Rebecca (18 years older than Happy Days); to Michael's loving partner, Carol (born around the time Fidel Castro became Cuba's prime minister); to KW (a year younger than microwave ovens); to Kathy's brother Kris (born around the time of the Selma to Montgomery marches); to Prawns's best friend, Mukses (twice the age of Twitter); and to Delia's daughter Debby (a year younger than Game Boys).
Do you or a loved one have a birthday coming up? Sign up for a birthday shout-out, and explore the Timeline feature for yourself.
---