The Atlantic Daily: Patience and Pain
Shooting in Florida, immigration standoff, Trump's approval ratings, and more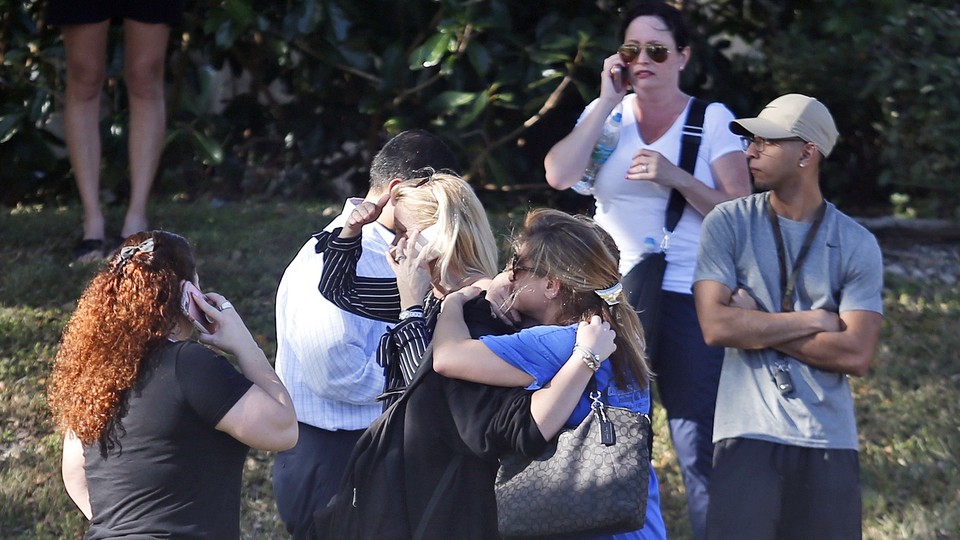 What We're Following
Shooting in Florida: Up to 17 people were killed and more were injured when a gunman opened fire at a high school in Parkland, Florida. Here's what we know. Mass shootings have become an all-too-familiar story in the U.S., and school shootings in particular are an ever-present fear for many parents. But very little research has been done about the victims who survive, and that lack of knowledge could prevent Americans from fully understanding the profound effects of gun violence.
Team Trump: President Trump's approval ratings have reached their highest point since last May, when he fired FBI Director James Comey, and the Republican Party has seen a rise in poll numbers, too. David Graham offers three possible reasons for the bounceback. All this is seemingly in spite of the messy scandals surrounding Trump's White House, which operates in a way that has often been described as unprecedented. Yet a network analysis of the ties among Trump's most influential advisers suggests that the structure of his administration has some parallels in former President Bill Clinton's.
What About Immigration? Last month, Senate Majority Leader Mitch McConnell convinced Democrats to end their three-day shutdown of the government with the promise of an open debate on the Deferred Action for Childhood Arrivals (DACA) program and other immigration issues. The debate was supposed to take place this week, but so far it's been mired in a procedural standoff between the parties. Meanwhile, in the House, two members of the conservative Freedom Caucus are threatening a revolt against Speaker Paul Ryan over immigration.
---
Snapshot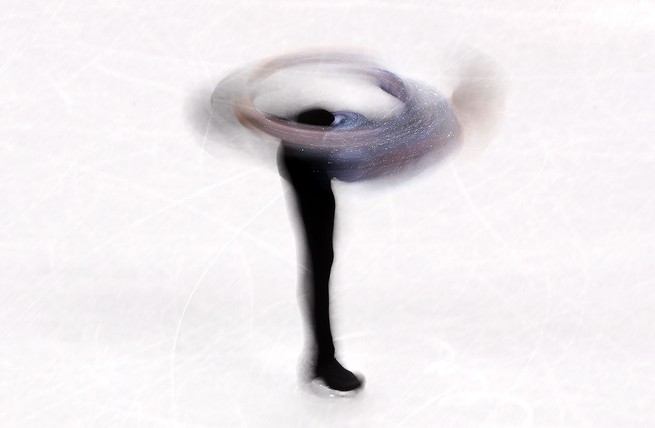 ---
Evening Read
Terese Marie Mailhot on what she learned about love and writing from Maggie Nelson's boundary-pushing book Bluets:
We talk about love like it's this beautiful thing, a goal to achieve, something we accomplish the same way you can win at a game. But actually, I think, we want the full experience—the dynamic experience, which also requires a lot of patience and wandering off. Pain, too.

There's an agency in this wandering. The line "Of course, you could also just take off the blindfold" places power in the speaker, shows she's aware of what she's doing. She's chosen to wear this blindfold, has agreed to limit her perceptions in this way. It's a willful blindness, and I relate to that. A lot of the time, I would involve myself with men that people did not like. I felt my friends did not understand my drive to love certain people, and I wanted to tell them: I'm self-aware enough to know the problems of this relationship, and I'm self-aware enough to know what it's going to do to me, and I'd like to take the risk right now. I would like to wander off into this experience and find out for myself what it is worth.
Keep reading, as Mailhot describes how that willful blindness helped her write her memoir.
---
What Do You Know … About Science, Technology, and Health?
Cities often seem to exist at the intersection of today and tomorrow. The "smart" metropolis has become synonymous with the future, but the digital transformations these plans promise have little to do with affordability or resilience. Google is attempting to design its own hypermodern neighborhood in Toronto, causing some residents to worry about how the tech company's priorities line up with theirs. The Chinese government's plan to assign every citizen a "social credit" score could upend the norms that facilitate urban life around the world. And as global warming intensifies, more and more municipalities could face serious droughts. Olga Khazan traveled to Cape Town, South Africa, to find out what it's like to live on about one-eighth the amount of water the average American uses per day.
Can you remember the other key facts from this week's science, tech, and health coverage? Test your knowledge below:
1. The Trump administration's proposed budget for 2019 eliminates funding for NASA's ____________ telescope.
Scroll down for the answer, or find it here.
2. The widely accepted story of how ____________ were domesticated is wrong—but no one knows the right one.
Scroll down for the answer, or find it here.
3. The first photo of Earth from space was taken in ____________.
Scroll down for the answer, or find it here.
---
The Idea
See what Atlantic writers read to stay ahead of media trends. The Idea, a weekly newsletter produced by our parent company Atlantic Media, covers everything new and innovative in the media industry—from interactive storytelling to website design best practices to the impact of platform algorithm changes on publishers. Check it out here, and subscribe.
---
Look Back
In our April 1924 issue, Vernon Kellogg made the case for evolution:
I want to plead for a wider conception of evolution, a conception as wide as that of living Nature itself. One of the obstacles to the acceptance of evolution has been its particularity. It has seemed to too many to be a special explanation of a few special problems in Nature. To a large part of the general public it has seemed chiefly an explanation of human origin which flies in the face of the Biblical explanation, and hence, by easy implication, is something that denies the Bible, God, and religion. But it is much more than this, and at the same time does not have all the significance attributed to it by the theologians.

It is living Nature, and the way that living Nature has become what it is and will further become what it will be.
Read more, share this story, and check out a recent example of some of the fastest evolutionary changes ever recorded.
---
Reader Response
Michael Witgen, a history professor and member of the Ojibwe nation from Ann Arbor, Michigan, responds to a recent episode of Radio Atlantic:
I just listened to your "Who Gets to Be American" show, and I loved it. I would be curious to see you engage in the same conversation in the context of the native presence in North America. All of North America was indigenous land, and virtually all of the U.S. territory west of the Appalachian Mountains was acquired through a coercive treaty process …

It should also be noted that the Northwest Ordinance allowed immigrants to acquire property and to vote in the newly created territories. Most native peoples, by contrast, did not have U.S. citizenship until the passage of the American Indian Citizenship Act of 1924. So as America expanded into the Old Northwest, newly created states such as Michigan, Wisconsin, and Minnesota retained large native populations who lacked citizenship rights. These indigenous nations did retain their sovereignty, however, and in the late 20th century began to figure out how to exercise that sovereignty. Any discussion of who gets to be American ought to account for the history of native peoples, and what it means that we still have Indian nations—sovereign nations—here. The U.S. may be a nation of immigrants, but it is also a nation of settlers.
Read more from Michael, and write to us via letters@theatlantic.com.
---
Verbs
Exits rewarded, crickets silenced, policies protested, future contemplated.
---
Time of Your Life
Happy birthday to Michael's father (a year younger than "talking" movies); to Mary Ann's husband, Jay (twice the age of hip-hop records); to Mary Ellen's daughter Elyse (a year younger than the International Space Station); and to Ginger's husband, Scott (one-half the age of The Atlantic).
Do you or a loved one have a birthday coming up? Sign up for a birthday shout-out, and explore the Timeline feature for yourself.
---