The Atlantic Daily: Full of Potential
Russian election interference, the Syrian conflict, smart cities, and more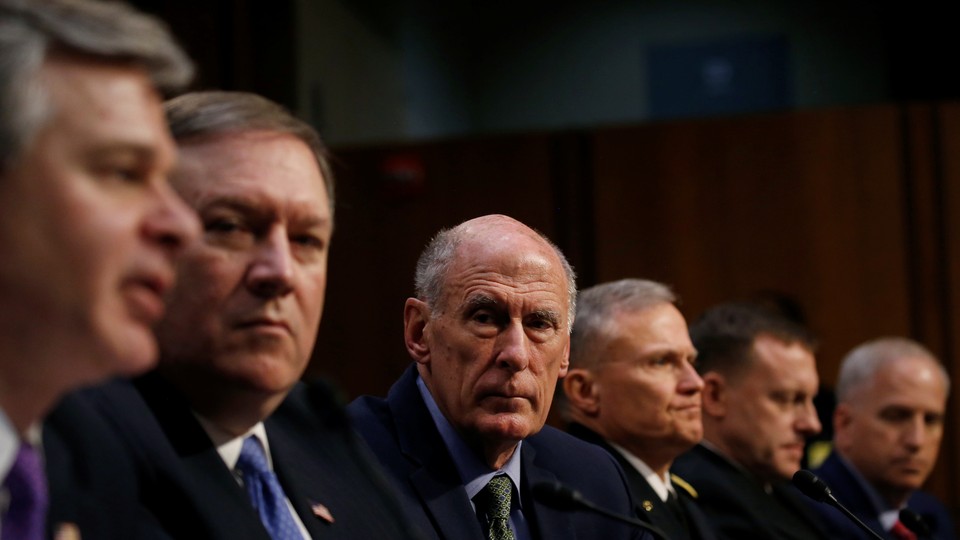 What We're Following
Security Issues: Top officials from the NSA, the CIA, the FBI, and other agencies told the Senate Intelligence Committee that Russia plans to interfere with America's upcoming midterm elections after successfully targeting some states' voter data in 2018. While the officials called for "a national cry" to inform and warn the public, implementing protections may be up to President Trump. FBI Director Chris Wray also testified that the bureau had informed the White House as early as March 2017 about problems with Rob Porter, the aide who resigned last week amid allegations of spousal abuse. That contradicts the White House account—and exposes gaps in the security-clearance process.
The Middle East: After a year-long investigation of Israeli Prime Minister Benjamin Netanyahu, the country's police are recommending that the leader be indicted on charges of bribery, fraud, and breach of trust. Netanyahu denies the allegations, and says he won't step down. The recommendation follows a tumultuous weekend for Israel: The country targeted Iranian assets in Syria in retaliation for an Iranian surveillance drone that Israel claimed had entered its airspace. The incident puts pressure on Russia to keep the peace in the region. Yet the hostility between Israel and Iran is only one of the several international conflicts tangled up in Syria's war.
At the Olympics: The U.S. hockey team faces daunting opposition this week after the International Olympic Committee's decision not to pay NHL players' way to the Olympics prevented them from competing. Meanwhile, Koreans whose families were divided when their country split are hopeful that the Pyeongchang Olympics will be an opportunity to reunite. As the games continue, you can read all our Winter Olympics coverage here.
---
Snapshot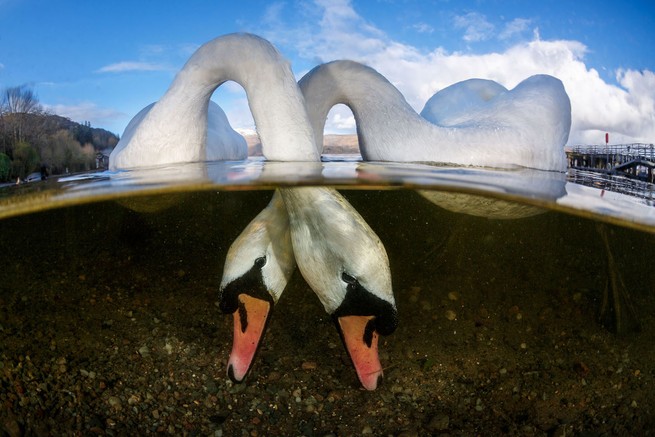 ---
Who We're Talking To
Bill Gates, the Microsoft founder and philanthropist, discusses why he hasn't given up on cooperating with the White House to solve global health problems.
Liz O'Riordan, a surgeon and survivor of breast cancer, shares what she learned when she became a patient: "You think you know what it's like to go through the treatment you've prescribed every week for years … and you have no idea."
Of the Mardi Gras celebrated by the Northside Skull and Bone gang in New Orleans's 6th Ward, Victoria Rivera, a documentary filmmaker, says "there is an air of celebration, love, and respect for community that I've never seen elsewhere." Watch here.
---
Evening Read
Molly Sauter visits the future site of Sidewalk Toronto, a "smart city" project of Google's sister company Sidewalk Labs:
It's a far cry from the vision that fills the Sidewalk Toronto webpage, where a crisp video shot on a sunny day makes the Victory silos look cheerful and full of potential. Torontonians in puffer vests and toques describe a vibrant city bursting at the seams. Toronto's population grew by 4.5 percent between 2011 and 2016. The city tolerates a high cost of living and a low rental-vacancy rate.

According to Dan Doctoroff, Sidewalk Labs' CEO, these "incredible challenges of growth" can be surmounted with the right application of innovative technology. But Sidewalk Labs' offer doesn't come with guarantees or without strings. For locals, an obvious question arises: What's in it for Toronto?
Keep reading as Sauter explores the pros and cons of turning a city into an experiment.
---
What Do You Know … About Business?
Advertising doesn't look anything like Mad Men anymore. Facebook, Google, and algorithmic advertising have contributed to the first recorded decline in ad jobs during an economic expansion, as brands shy away from traditional ad agencies. Amazon's ad business is much smaller than Facebook's or Google's, but it's growing even faster, promising sky-high revenues as the online retailer looks to swallow health care, grocery delivery, TV production, and smart speakers. Meanwhile, in WeWork's trendy co-working spaces, tenants mingle in talk-therapy circles and cocktail hours sponsored by big corporations—the same clientele WeWork is courting more and more often.
Can you remember the other key facts from this week's business coverage? Test your knowledge below:
1. So-called ____________ farms, housed in cramped shipping containers and urban spaces, use 90 to 97 percent less water than traditional farms do.
Scroll down for the answer, or find it here.
2. The gyrations of the stock market are measured on a "volatility" index, labeled VIX. Some traders made big bets on its inverse, fittingly labeled ____________.
Scroll down for the answer, or find it here.
3. In percentage terms, this month's market losses came nowhere near Black Monday, the day in the year ____________ when the Dow lost more than 20 percent of its value.
Scroll down for the answer, or find it here.
---
Urban Developments
Our partner site CityLab explores the cities of the future and investigates the biggest ideas and issues facing city dwellers around the world. Gracie McKenzie shares today's top stories:
When athletes gathered in Pyeongchang for the opening ceremonies of the 2018 Winter Games, they experienced a quarter of the lifespan of the $60-million stadium. Welcome to the pop-up Olympics.

What will America's national parks look like in 2050? An artist riffed on WPA posters to imagine the toll of climate change on Yellowstone, Crater Lake, and more.

"It used to be an axiom that, in order to compete with a one-hour flight, a train journey could be a maximum of three hours ... That simply isn't the case anymore." Why long-distance European rail travel is looking better these days.  
For more updates from the urban world, subscribe to one of CityLab's newsletters.
---
Reader Response
In our December issue, Peter Beinart argued that liberals should be more hesitant to describe conservative policies as racist. Billy Easton in Albany, New York, responds:
By focusing on bigotry, which connotes individual bias, rather than on systemic white supremacy, sexism, and heterosexism, Beinart misses the bigger picture. If bigotry were wiped out tomorrow, these inequitable power structures would continue.

Throughout American history the dominant classes have been defensive about being called biased, as a means of deflecting criticism. Even the white supremacists who marched in Charlottesville, Virginia, deny that they are racist. Beinart suggests that people can change if they get "new information"—and this can work on the individual level. But history shows that the larger structures of power based on race, gender, and sexual identity will change only in response to direct and forceful demands for justice.
More readers debate the article here.
---
Imperatives
Empathize with robots, conserve water, beware the undead, learn from LBJ.
---
Time of Your Life
Happy birthday to Angela's best friend, Lucia (a year younger than the euro); to Donna's "terrific" husband, Ron (twice the age of MTV); to Susan's husband and sailing mate, Doug (12 years older than the moon landing); to another Susan (a year younger than microwave ovens); and from Mary to Nathan (twice the age of the International Space Station).
Do you or a loved one have a birthday coming up? Sign up for a birthday shout-out here, and click here to explore the Timeline feature for yourself.
---