The Atlantic Daily: 'A Mere Allegation'
Trump's critique of #MeToo, the new White House budget, how former slaves saw Lincoln, and more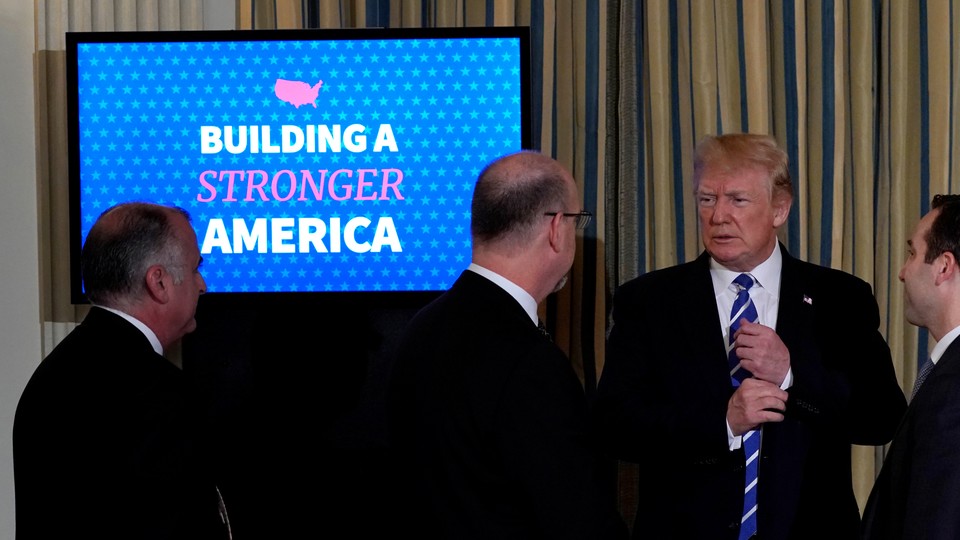 What We're Following
Debating #MeToo: Amid the outcry over the White House's handling of former Staff Secretary Rob Porter's alleged history of domestic violence, President Trump expressed his indignation on Twitter over "peoples lives ... being shattered and destroyed by a mere allegation." The tweet drew criticism because of Trump's own history of both alleged sexual misconduct and false accusations against others—which in turn feeds into a dishonesty problem that now seems to permeate his White House. It also illustrated how the backlash against the #MeToo movement has tended to assume the male perspective as its default—even as most of the voices arguing over how the movement should proceed belong to women.
Budget Cuts: Trump's 2019 budget proposal renews many of his last year's requests to slash federal funding, which Congress has not yet enacted. Among other cuts, the proposal would eliminate funding for public broadcasting and for the national arts and humanities endowments, as well as scientific projects including a nearly completed space telescope. Yet with a two-year budget agreement that calls for increased spending reached only last week, Congress will likely ignore the president's proposal.
Scientific Innovations: With extreme weather and other effects of climate change threatening traditional agriculture, some farmers are experimenting with indoor "vertical" farms, designed to save space, costs, and resources. And a company founded by "a band of exuberant nerds from MIT" is trying to convince the public to love—and not to fear—genetically engineered products. Read Sarah Zhang's report.
---
Snapshot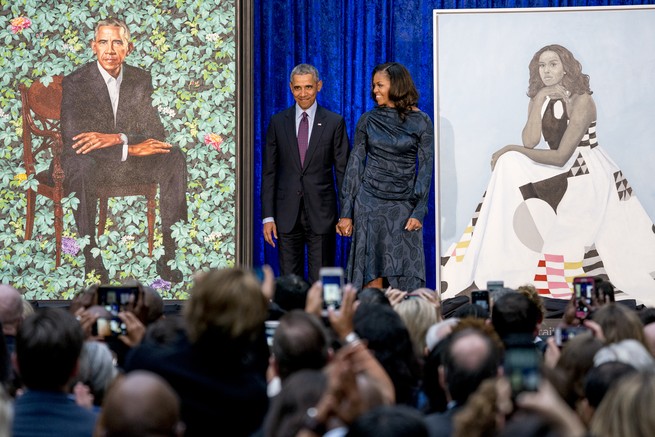 ---
Evening Read
On Abraham Lincoln's 209th birthday, here's William R. Black on the stories told to interviewers of the Federal Writers Project by former slaves, some of whom claimed the president had paid them visits in disguise:
Though there's no evidence Lincoln actually made any of these incognito visits to the South—and ample documentation to suggest these visits were wholly fictitious—it's important that many former slaves believed he did. Today, historical debates over emancipation often focus on whether it came from the top down or the bottom up—did Lincoln free the slaves, or did the slaves free themselves? But the stories of Lincoln coming down South suggest many freedpeople didn't see this as an either/or question.

Did they need Lincoln? Sure. But emancipation wasn't something Lincoln could just decree from on high. He had to come down South and get his hands dirty. Some even described him as taking on the guise of the trickster popular in black folklore, a sort of Brer Rabbit in a top hat. When former slaves claimed Lincoln had paid them a visit, they weren't just inserting a beloved president into their story—they were inserting themselves into his story.
Keep reading, as Black describes how the symbolism of Lincoln helped survivors of slavery reclaim their history.
---
What Do You Know … About Education?
Parenting any child athlete can be stressful, let alone one who's headed for the Olympics. But there's a place where parents seem to be doing it right: the small Vermont town of Norwich, which has sent an athlete to almost every Winter Olympics over the past 30 years, and where kids who play competitive sports are supported regardless of whether they win. But new problems arise when the kids grow up: Once they retire from competition, many Olympic athletes find themselves unprepared for the everyday realities of education and employment. A new national initiative is hoping to change that.
Can you remember the other key facts from this week's education coverage? Test your knowledge below:
1. Debra Mashek, a professor of psychology at Harvey Mudd College, will be the new leader of ___________ Academy, a nonprofit dedicated to supporting a diversity of viewpoints on college campuses.
Scroll down for the answer, or find it here.
2. Last week, a tweet claiming that the average professor works over ___________ hours a week kicked off a debate over how hard professors actually work.
Scroll down for the answer, or find it here.
3. At Noblesville High School in Indiana, a substitute for the standard Algebra 2 class that includes lessons in budgeting and filing taxes is called _________ Algebra 2.
Scroll down for the answer, or find it here.
---
Urban Developments
From our January 1923 issue, the future Nobelist Pearl S. Buck describes her conversation with a young Chinese girl who has come home from boarding school in American shoes:
After we had exchanged polite remarks, and had taken our first sip of tea, she was so evidently conscious of her feet that I could not but comment on her unusual footgear. 'It is the very latest fashion,' she replied with great satisfaction. 'You know that, of course, in the big cities like Peking and Shanghai, the really fashionable girls do not bind their feet any more. At the boarding-school they don't either; and so, when I came home, I cried for three days, without food, until for peace they unbound my feet so that I might wear these beautiful American shoes. My feet are still too small, but I stuff cotton in the toes.'

Here was change, indeed! I fell back astounded in my chair. There she sat, slim, exquisite, and complacent, but no longer one to be condescended to, and not at all reverential.
Read more, share this story, and check out others from our archives.
---
Reader Response
In our January/February issue, the economist Bryan Caplan argued that the world might be better off without college for everyone. James K. Foster of Chicago, Illinois, responds:
Bryan Caplan is right on the money when he suggests that many students, and not incidentally the economy, would benefit if we put less emphasis on bachelor's degrees and more emphasis on practical vocational training. However, I can think of no better argument for pursuing an academic degree than the notion that an economist has difficulty seeing its value. The main benefits of a degree are difficult to quantify, but the point is certainly not to prepare students for some sort of economic activity per se. The point of education in the liberal arts is to increase students' ability to cope with the new, the ambiguous, the alien—that which challenges our dearly held beliefs. I can think of no greater skill that a young person can acquire through education, especially at this political moment, than the ability to argue without becoming angry, to disagree without rancor, and to find in differences with others new possibilities about how to live, think, and approach life. This is a crucial function of citizenship not often on display in the U.S. these days, and it is understandably difficult to see if one reduces life to numbers or commerce.
Read more on the promises and challenges of vocational education in our "What Makes a Worker?" project.
---
Adjectives
Confessional angst, schlocky films, vertical farms, digital stardust.
---
Time of Your Life
Happy birthday to Michael (a year younger than the computer mouse).
From yesterday, happy birthday to Janet (twice the age of the first text message); to Channon (a year younger than hip-hop records); Kathleen's sister-in-law Courtney (13 years older than The Partridge Family); to Deborah's husband, Tom (a year younger than The Cat in the Hat); and to Nidhi's son, who at 2 is too young for the Timeline, but just old enough to begin understanding scientific concepts.
Do you or a loved one have a birthday coming up? Sign up for a birthday shout-out, and explore the Timeline feature for yourself.
---