The Atlantic Daily: When Amazon Comes to Town
The FBI's warning, Europe's moment, the cost of business, and more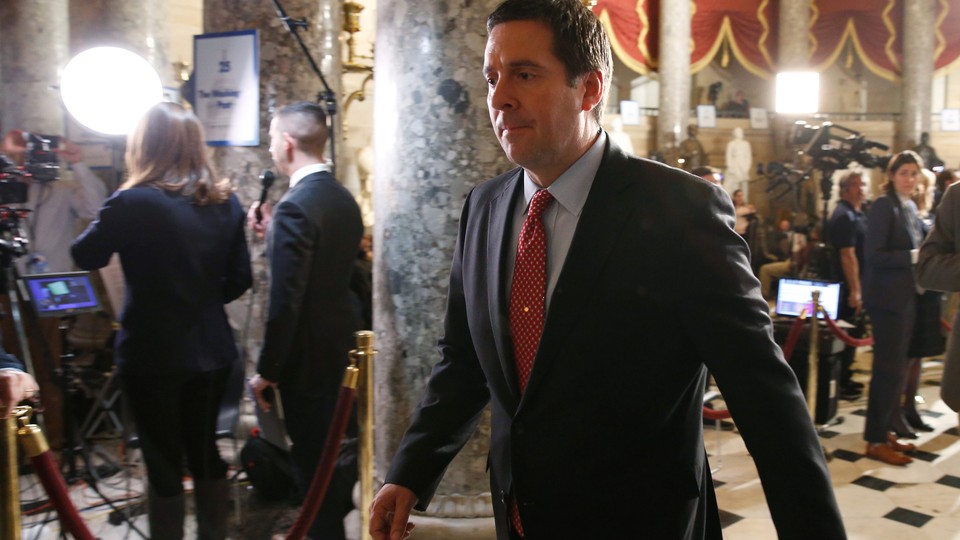 What We're Following
Memo Dilemma: The saga surrounding a controversial memo from House Intelligence Committee Chairman Devin Nunes took another turn when the FBI issued an unusual public statement arguing strongly against the memo's release. In addition, it was reported that when Deputy Attorney General Rod Rosenstein asked President Trump for support during a clash with Nunes in December, the president responded by asking whether Rosenstein was "on my team." Trump reportedly believes that the memo will vindicate his claims that he's been unfairly targeted by the Russia investigation—but so far, the pattern of his presidency is that such hoped-for vindications tend to fail.
The U.S. and the World: In its "National Defense Strategy," the Trump administration calls for a new focus on "strategic competition" with world powers such as Russia and China, yet the president himself has appeared reluctant to carry out that policy. He hasn't quite completed the withdrawal from world affairs that some of his critics feared—but his aggressive "America First" rhetoric has in some ways undermined the nation's position as a global superpower. Robert O'Malley asks: Will Europe seize the opportunity to lead?
The Future of Work: A new study from Uber's s Advanced Technologies Group posits that the development of self-driving trucks could increase jobs for human drivers, and experts within the trucking industry think that that prediction might be right. In other fields, particularly health and retail, companies could stand to increase their revenues by half through investing in artificial intelligence—but they'll need to double down on worker training. And though Amazon's rapid expansion has recession-struck areas competing for its investment, the jobs the company brings may not be the ones that struggling cities need. Scroll down for Alana Semuels's report in tonight's Evening Read.
---
Snapshot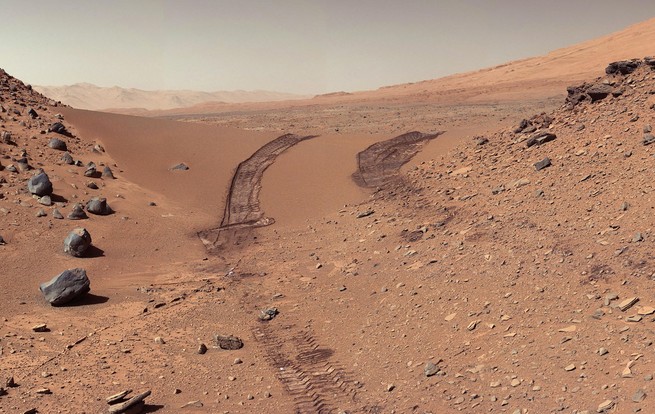 ---
Who We're Talking To
Douglas Feith, who served as a policy adviser under former Defense Secretary Donald Rumsfeld, shares how he responded to Rumsfeld's memo request for broad solutions to "Issues w/Various Countries."
Armando Iannucci, the creator of Veep, discusses his new film, The Death of Stalin, and the political role of satire. His advice: "Always beware of politicians who can't take a joke."
Mollie Hemingway, a senior editor at The Federalist and Fox News contributor, defends Trump's record and explains where she finds the president most effective on the latest episode of The Atlantic Interview. Listen and subscribe here.
---
Evening Read
Alana Semuels reports on what happened when Amazon opened a massive network of facilities in and around San Bernardino, California:
This expansion provided a lifeline to the struggling region, creating jobs and contributing tax revenue to an area sorely in need of both. In San Bernardino, the unemployment rate that was as high as 15 percent in 2012 is now 5 percent.

Yet in many ways, Amazon has not been a "rare and wonderful" opportunity for San Bernardino. Workers say the warehouse jobs are grueling and high-stress, and that few people are able to stay in them long enough to reap the offered benefits, many of which don't become available until people have been with the company a year or more …

As the experience of San Bernardino shows, Amazon can exacerbate the economic problems that city leaders had hoped it would solve.
Keep reading here, as Alana outlines how the retailer's expanding footprints affect poor cities.
---
What Do You Know … About Global Affairs?
Last week, the Taliban conducted a terrorist attack in Kabul, Afghanistan, that killed at least 95 people. The massacre brought the spotlight back on violence in the country, where the U.S. has been militarily involved for more than 16 years. Throughout the conflict, the actions of Pakistan, Afghanistan's neighbor and America's ally, have ensured that the Afghan War would continue—and with President Trump reluctantly deploying more American troops to the country, it's not likely to end very soon.
Can you remember the other key facts from this week's global-affairs coverage? Test your knowledge below:
1. Though ____________ was the presumptive nominee to be U.S. ambassador to South Korea, the White House is no longer considering him for the position.
Scroll down for the answer, or find it here.
2. Qatar has paid the United States $____________ billion for 36 F-15QA fighter jets.
Scroll down for the answer, or find it here.
3. Roughly ____________ African migrants have been waiting for decisions on their asylum applications to Israel since at least 2012.
Scroll down for the answer, or find it here.
---
Urban Developments
Our partner site CityLab explores the cities of the future and investigates the biggest ideas and issues facing city dwellers around the world. Gracie McKenzie shares today's top stories:
For more updates from the urban world, subscribe to one of CityLab's daily newsletters.
---
Reader Response
In our ongoing list of reader reflections on Trump's first year as president, Laura T. of Boise, Idaho, is less concerned about his agenda than about his "personality deficits":
My 11-year-old asked me whether I had heard that our president called Haiti and African countries "shithole countries." That's when I knew President Trump's comments were not something to chuckle at. He's worrying children.
Read about how children reacted to the 2016 election here. A language-arts teacher in Arlington, Massachusetts, worries that students may be copying Trump's offensive comments, and feels a responsibility to counter them:
I teach middle school, in a district that is primarily white and upper-middle to upper class. Students think it is their right to make remarks that are derogatory toward people who are different from them (LGBTQ+, Chinese, African, Mexican, etc.) … I am adding in texts that have an underlying theme of tolerance and/or plots in which they must put themselves in someone else's shoes.
Some examples of texts such as these and what they can teach are here.
---
Verbs
Dingoes domesticated, artifact faked, twister twisted, elegy framed.
---
Time of Your Life
Happy birthday to Nicole's dad (a year younger than NASA) and to Andrew (born around the time of the Selma to Montgomery marches).
Do you or a loved one have a birthday coming up? Sign up for a birthday shout-out here, and click here to explore the Timeline feature for yourself.
---
Most Popular on The Atlantic
Here are five of the most read stories on our site today:
1. What Amazon Does to Poor Cities
2. The Peril of Taking On the FBI
3. The Many Failed Vindications of Donald J. Trump
4. What Kids Are Really Learning About Slavery
5. Michael Wolff and the Smearing of Nikki Haley
---