The Atlantic Daily: Here's What to Read After Trump's First State of the Union Address
Takeaways on immigration, North Korea, and more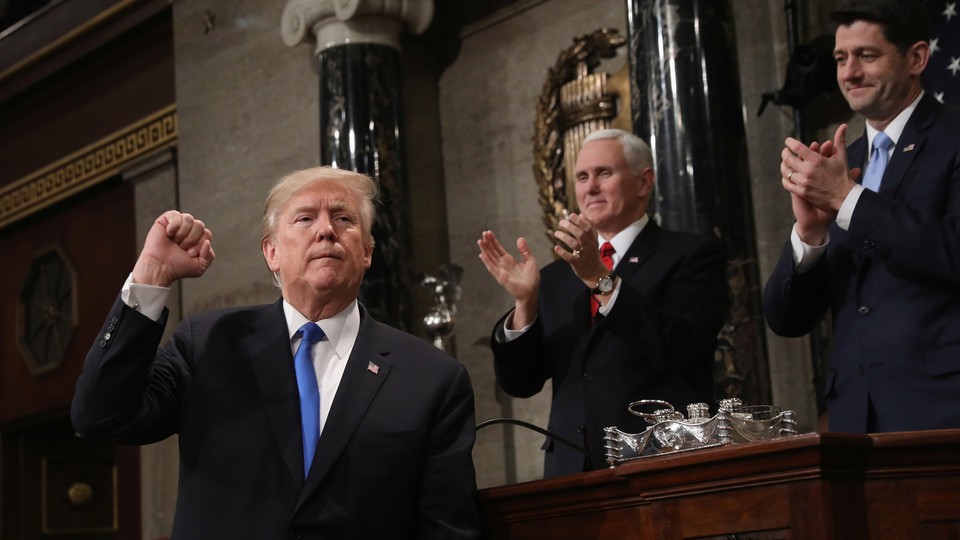 What We're Following
The State of the Union: On the surface, President Trump's first official rendition of the annual address presented an optimistic vision of a unified America. Yet that image—as well as the president's delivery—contrasted sharply with many listeners' tumultuous experience over the past year. What's more, the speech had an undercurrent of dark and violent imagery that recalled the "American carnage" of Trump's inaugural address.  Here's a full transcript, and here's our live blog of the highlights from the event. The key takeaways:
On Immigration: Trump outlined a four-point proposal that includes both a path to citizenship for people who entered the U.S. illegally as minors (a concession to progressives) and an end to the so-called chain-migration policy, which allows immigrants to sponsor extended-family members (a concession to hard-liners). Many congressional staffers say that plan is unlikely to lead to a deal—especially since Trump's rhetoric may have undermined his key presidential task of persuasion.
On North Korea: In the 475 words the president spent on discussing the country's "depraved regime," he didn't mention diplomacy. And shortly before the address, the administration withdrew its nomination of Victor Cha to be the ambassador to South Korea, after he expressed reservations about military strikes on the North. These could be signs that Trump is preparing for war. But the North Korean regime may not be as dangerous to Americans as Trump fears—and a military strike could have calamitous consequences.
What He Left Out: Trump didn't discuss the national debt, once a standard talking point for Republican leaders. He also didn't mention climate change, though he did go into detail about the natural disasters it's exacerbated.
---
Snapshot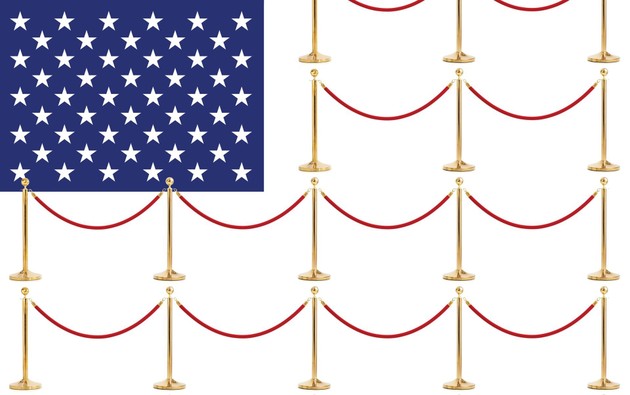 ---
Evening Read
McKay Coppins on the fate of Trump's antiestablishment ambitions:
The first year of Trump's presidency has been defined by chaos. But more often than not, it's the kind of chaos that threatens the vulnerable while sparing the powerful. When the federal government shut down on the anniversary of his inauguration, some of the president's boosters tried to cast it as a heroic stand for Trumpism—the populist disruptor bending Washington to his will. In truth, it was the product of the same infighting, dysfunction, and galloping incompetence that have kept the 45th president from advancing the transformative agenda he promised.

Indeed, while Trump's "populism" has manifested itself primarily in performative spasms of culture war, the most substantive policy victories of his first year in office have gone to the donor-class conservatism of Paul Ryan and his fellow swamp creatures in the congressional leadership. As it turns out, all they had to do was ask nicely.
Keep reading here, as McKay tells the story of how Trump's famous promise to "drain the swamp" got turned on its head.
---
What Do You Know … About the State of the Union?
1. This year's "designated survivor"—the Cabinet member chosen to stay behind and assume the presidency in the event of an attack that killed the rest of the government—was ____________.
Scroll down for the answer, or find it here.
2. The Department of Energy's budget for clean coal, which is now more than $200 million, would be adjusted to $____________ under Secretary Rick Perry's most recent funding proposal.
Scroll down for the answer, or find it here.
3. ____________ U.S. troops are currently in Afghanistan, compared with 9,700 at the end of 2002, the first year the Afghan War was mentioned in the State of the Union address.
Scroll down for the answer, or find it here.
4. The longest-ever State of the Union address, lasting 1 hour and 28 minutes, was delivered by ____________.
Scroll down for the answer, or find it here.
5. When Trump vowed that "as long as we have confidence in our values, faith in our citizens, and trust in our God, we will not fail," he echoed the words of  ____________.
Scroll down for the answer, or find it here.
---
Reader Response
With the end of Trump's first year in office approaching, we asked readers to reflect on aspects of his presidency that have challenged their expectations. Taylor, a lawyer in New England, responds to the series, and to one comment about tax savings in particular:
Since you began running reader responses on Trump's one-year mark, your emails have quoted almost exclusively from male readers with white-sounding names …  I really wish you'd feature a more diverse range of voices …

I can assure you that I could not care less about saving whatever trivial amount of money I may save from the tax bill, but I do care that I have to look my undocumented teenage clients in the eye and tell them they might be deported to the country from which they fled—one in which they faced horrific abuse, neglect, and near-constant fear. And I think you do these kids a disservice when you constantly feature a bunch of presumably white dudes talking about how Trump really isn't all that bad because he's saving them a little bit of money.
A running list of reader responses is here. More than 1,500 people wrote back to our survey; the vast majority expressed shock and anger, and described Trump's presidency as worse than they had expected. The cross section in this newsletter includes some messages that challenged my own (Rosa's) expectations, but it isn't necessarily representative. Taylor's email was an important reminder for me: If you've got a perspective that hasn't been represented thus far, please email me.
---
Don't Miss
Here are five stories to take you outside of the U.S. political bubble:
2. The Surprising Ease of Buying Fentanyl Online
3. How Should Atheism Be Taught?
4. The Epic Grift of Dirty Money
---
Time of Your Life
Happy birthday to Grant's wife, Elizabeth (a year younger than The Simpsons); to Tina's husband (the same age as Madonna); to Neil (twice the age of Facebook); to Euna's father (a year younger than helicopters); and from Pop Pop to Jordan (the same age as Dolly the sheep's clone).
Do you or a loved one have a birthday coming up? Sign up for a birthday shout-out here, and click here to explore the Timeline feature for yourself.