The Atlantic Daily: When Trump Takes the Podium
Live blogging the State of the Union address, Twitter's marketplace of attention, and more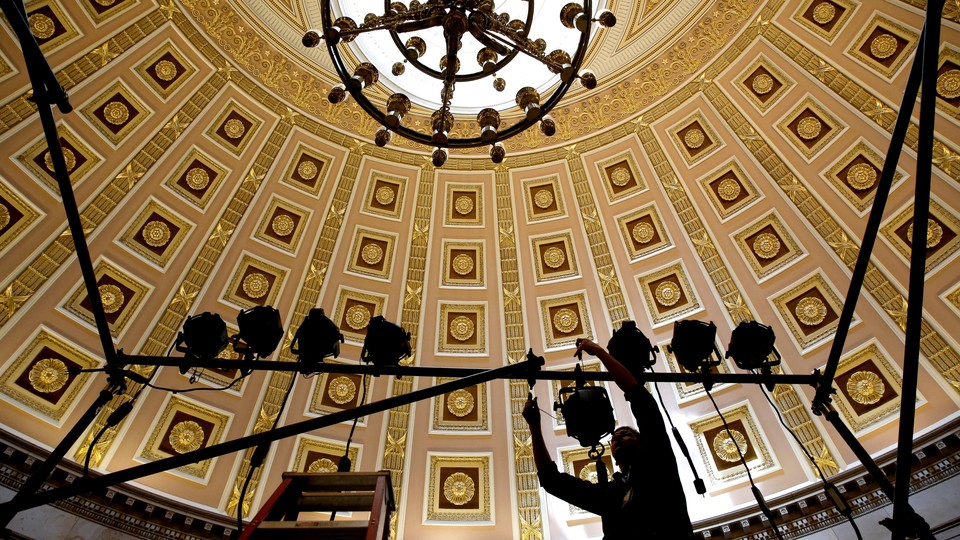 What We're Following
Investigation Intrigue: The House Intelligence Committee voted Monday night to release a controversial memo, drafted by Republican staffers, alleging that Justice Department officials carried out surveillance abuses while investigating Russian involvement in the 2016 presidential election. Though the DOJ says releasing the memo would be reckless, President Trump supports the move. The rift between them demonstrates a troubling collapse of norms, writes David A. Graham. Meanwhile, the recent revelation that Trump attempted to fire Special Counsel Robert Mueller led to speculation that the president could be indicted for obstruction of justice. Here's why that decision may rest on the shoulders of Deputy Attorney General Rod Rosenstein.
Corporate Care: Three corporate titans—Amazon, JP Morgan Chase, and the financial-services company Berkshire Hathaway—announced a plan to form a nonprofit entity that will provide health care for their employees. The goal is to bring down workers' health expenses, but how that will work is not clear. And the Facebook CEO Mark Zuckerberg has thrown his philanthropic weight behind an approach known as "personalized learning," yet the method—which presumes that average students can become exceptional ones with individual help—has little research to back it up.
The State of the Union: President Trump is addressing both houses of Congress tonight in the first State of the Union speech of his presidency. He's expected to call for some of the same policies he outlined to lawmakers a year ago, as these projects—including his promised infrastructure overhaul—have seen little progress. Follow along on our live blog here. Tomorrow, check your inbox for a special early edition of The Atlantic Daily, where we'll collect editors' analyses and reactions to the president's speech.
---
Snapshot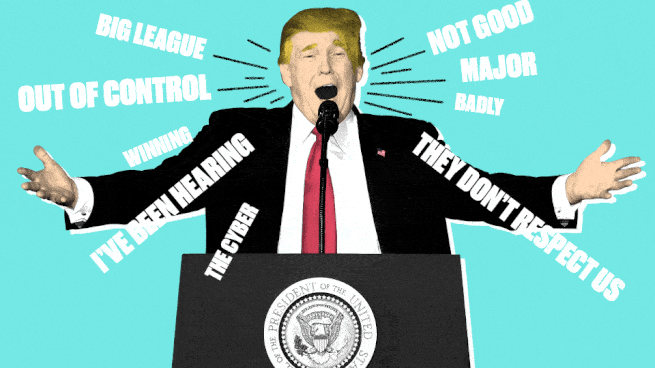 ---
Who We're Talking To
Colin Raunig, a former naval officer, describes what it's like to serve on a mission of nuclear deterrence: "You're preparing for a threat that may never come; conversely, to the other side, you are that very threat. The dissonance is equal parts absurd and terrifying."
Richard Nolle, the astrologer who coined the term supermoon, looks ahead to the rare celestial event taking place on January 31.
Louise Foxcroft, a historian, discusses the diet culture of ancient Greece on the Gastropod podcast. Listen here.
---
Evening Read
Ian Bogost on the black market for fake Twitter followers:
Last weekend, The New York Times … ran an extensive investigative report about the companies that sell Twitter followers and retweets, and the people who buy them. Many of those people are famous already: The Times story opens with geometrically fractured portraits of the model Kathy Ireland, the athlete Ray Lewis, and the actor John Leguizamo. They are presented like modern mug shots of fraudsters caught in the act.

The report exposes Twitter as willfully duplicitous to users, advertisers, and investors—revelations that could (and should) harm the company's value and reputation. But it also takes for granted that "real" followers are valid and valuable. The problem with Twitter—and with social media in general—isn't that influence can be faked. It's that it is seen to have so much significance in the first place.
Keep reading here, as Ian unpacks the dynamics of social media's "marketplace of attention."
---
What Do You Know … About Business?
Society's greatest problems and challenges can disproportionately affect the poor. Women working in agriculture for low wages suffer "epidemic" rates of sexual harassment—as many as 80 percent, according to one study. Large banks are offering fewer and fewer basic services such as checking accounts for free, putting even more pressure on underbanked populations. "Cheap" calories have helped chip away at hunger around the world, but that means developing countries are facing new public-health problems, including obesity and noncommunicable diseases. And organized-labor campaigns now advocate more successfully for educated white-collar workers than for their blue-collar counterparts.
Can you remember the other key facts from this week's business coverage? Test your knowledge below:
1. Though suffering financial troubles, the retailer ____________ boasts a toy-sales business more than twice as large as Amazon's.
Scroll down for the answer, or find it here.
2. The new ____________ convenience store in Seattle replaces checkouts with a sophisticated system of cameras that scan customers' every move.
Scroll down for the answer, or find it here.
3. A plan called ____________, meant to alleviate some of New York City's traffic problems, could lead to a charge as high as $11.52 to enter Manhattan during rush hour.
Scroll down for the answer, or find it here.
---
Urban Developments
Our partner site CityLab explores the cities of the future and investigates the biggest ideas and issues facing city dwellers around the world. Gracie McKenzie shares today's top stories:
The Amazon HQ2 Hunger Games have begun. We've created an exhaustive guide to each of the finalist cities' strengths and weaknesses, based on Amazon's initial selection factors, odds, and bid details. (Worried about the long-term impacts of the bidding process? You're not alone.)

Many Americans would be appalled to think that caste might exist in the supposedly meritocratic U.S. But is the country's persistent and entrenched inequality really so different?

It's not just the big-city budget-busters you hear about in the news—nearly all urban rail projects in the U.S. cost much more than their European counterparts. Why is American transit so expensive to build?
For more updates from the urban world, subscribe to one of CityLab's newsletters.
---
Reader Response
Yesterday, David in Pennsylvania expressed himself "more favorably disposed to Mr. Trump" after receiving a tax cut. Sophia in San Diego, California, has also seen the personal impact of Trump's presidency, but her experience is far from favorable:
The election took place while I was completing a postdoc in Geneva, Switzerland, and I remember being thankful that I was abroad so that I didn't have to experience the direct effects. However, as a direct result of this election my field, infectious-disease science, has suffered, and I returned to the states to find that the job I had waiting for me no longer existed due in large part to federal funding reallocations. My international work also felt the impact of the election, as the nonprofit I worked for had to scramble to find other sources of support in lieu of USAID funding, and as other US-based funders held their breath, waiting to see what the Trump presidency would mean for their budgets. I have never had an election affect me so directly in my life, and I am scared of what the coming three years will mean for me and other scientists.
Read more about how scientists reacted to the budget cuts Trump proposed last year here, and more on how researchers can pursue their work when governments are less than supportive here. And find more reader responses here.
---
Verbs
Texts misinterpreted, amnesia diagnosed, parenting scrutinized, Bhutan modernized.
---
Time of Your Life
Happy birthday to Lillie (a year younger than Amazon); to Cheryl's beautiful daughter Jana (13 years older than Ferris Bueller's Day Off); to Peter's wife (twice the age of the Disney Channel); and to our senior associate editor Marina (one-sixth the age of The Atlantic), who led the original Atlantic Daily team.
Do you or a loved one have a birthday coming up? Sign up for a birthday shout-out here, and click here to explore the Timeline feature for yourself.
---
Most Popular on The Atlantic
Here are five of the most-read articles on our site today:
1. There's No Way Mueller Will Indict Trump
3. The Republican Party Turns Against the FBI
4. How the Swamp Drained Trump
5. The Shallowness of Google Translate
---