The Atlantic Daily: 'It's Crazy, but There You Are'
Trump's latest threat to North Korea, his break with Steve Bannon, the case for a presidential psych evaluation, and more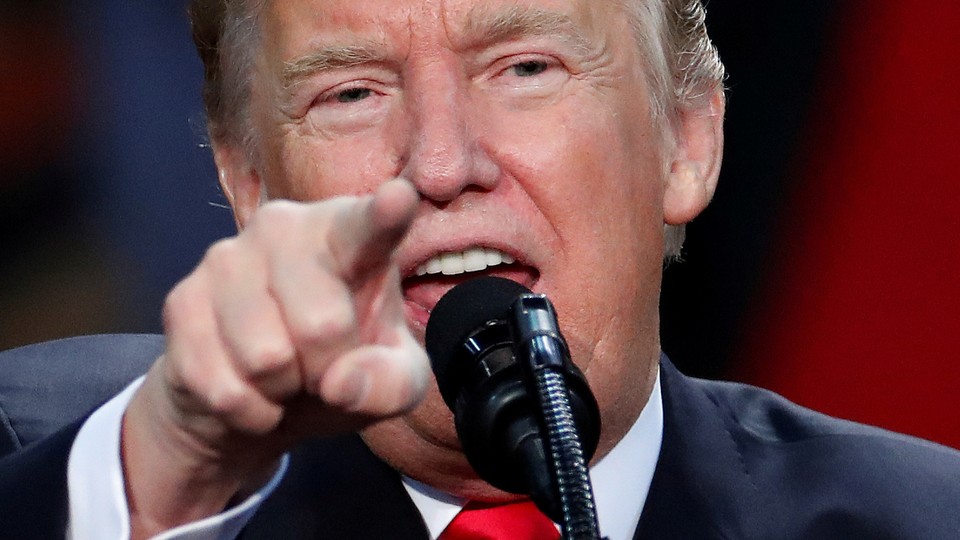 What We're Following
The 'Nuclear Button': President Trump responded to Kim Jong Un's boast of North Korea's nuclear program with a tweet that declared, "I too have a Nuclear Button, but it is a much bigger & more powerful one than his." While America's nuclear launch codes are actually contained in a briefcase, Trump's tweet summed up American strategists' long-held theory of nuclear deterrence. Yet Twitter—a platform that encourages glib and impulsive comments—adds an extra element of volatility to the delicate balance that deterrence requires. The president's comments could lead South Korea to decide that China is a more reliable ally. They could even, writes Eliot A. Cohen, be a sign of impending war.
Bannon Back-and-Forth:  A new book features quotes from Trump's former adviser Steve Bannon that describe the Trump campaign's July 2016 meeting with Natalia Veselnitskaya, a Russian lawyer, as "treasonous" and "unpatriotic." Trump responded with a harsh repudiation, claiming that Bannon "lost his mind" when he was fired. The high turnover in Trump's West Wing is notorious, but it's not uncommon for presidents to replace former campaign aides among their staff with more-experienced officials. Trump's just doing it a lot faster than others have.
Understanding  Trump: How to explain the president's unpredictable behavior? On the Atlantic Interview podcast, the journalist Maggie Haberman describes how Trump's experiences in New York City may have shaped his personality. And James Hamblin argues that it's time for a formal, independent evaluation of Trump's neurological health. Here's why.
---
Snapshot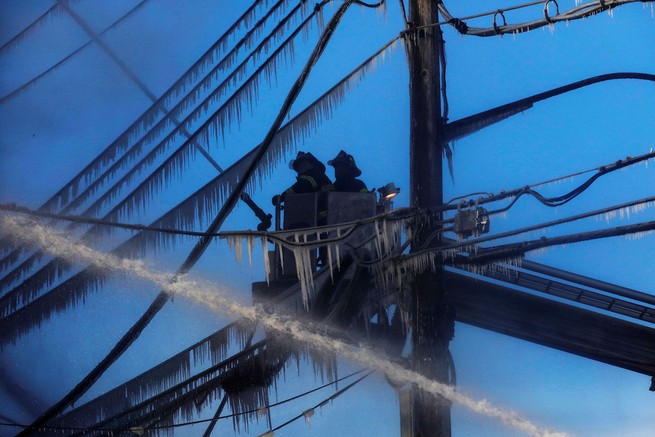 ---
Evening Read
Veronique Greenwood wonders: Why do living things sleep?
Ask researchers this question, and listen as, like clockwork, a sense of awe and frustration creeps into their voices. In a way, it's startling how universal sleep is: In the midst of the hurried scramble for survival, across eons of bloodshed and death and flight, uncountable millions of living things have laid themselves down for a nice long bout of unconsciousness. This hardly seems conducive to living to fight another day. "It's crazy, but there you are," says Tarja Porkka-Heiskanen of the University of Helsinki, a leading sleep biologist. That such a risky habit is so common, and so persistent, suggests that whatever is happening is of the utmost importance. Whatever sleep gives to the sleeper is worth tempting death over and over again, for a lifetime.
Keep reading here, as Greenwood joins an international team of scientists trying to solve the mystery of sleep.
---
What Do You Know … About Science, Technology, and Health?
Donald Trump's latest incendiary tweet about nuclear war with North Korea seems like a clear threat of violence. But when Twitter users reported it, the company responded that "no violation" had occurred, which suggests that Trump is exempt from new Twitter policies banning such threats. In another tweet, from last week, Trump pointed to record-breaking low temperatures as proof that global warming is not a threat to the planet, suggesting that he might not even be interested in understanding climate change.
Can you remember the other key facts from this week's science, tech, and health coverage? Test your knowledge below:
1. ____________ made the earliest literary reference to a telephone in an 1878 short story for The Atlantic.
Scroll down for the answer, or find it here.
2. In November, a woman gave birth to a baby who had been frozen as an embryo for ____________ years.
Scroll down for the answer, or find it here.
3. The first gene therapy to treat inherited ____________ could cost people as much as $1 million.
Scroll down for the answer, or find it here.
---
Look Back
In honor of The Atlantic's 160th anniversary, we're sharing one article every day to mark each year of the magazine's history. From 1897, W. E. B. Du Bois describes the internal conflict of his African American identity:
It is a peculiar sensation, this double-consciousness, this sense of always looking at one's self through the eyes of others, of measuring one's soul by the tape of a world that looks on in amused contempt and pity. One feels his two-ness,—an American, a Negro; two souls, two thoughts, two unreconciled strivings; two warring ideals in one dark body, whose dogged strength alone keeps it from being torn asunder. The history of the American Negro is the history of this strife,—this longing to attain self-conscious manhood, to merge his double self into a better and truer self. In this merging he wishes neither of the older selves to be lost. He does not wish to Africanize America, for America has too much to teach the world and Africa; he does not with to bleach his Negro blood in a flood of white Americanism, for he believes—foolishly, perhaps, but fervently—that Negro blood has yet a message for the world. He simply wishes to make it possible for a man to be both a Negro and an American without being cursed and spit upon by his fellows, without losing the opportunity of self-development.
Read more here, and see more from our archives here.
---
Reader Response
After Conor Friedersdorf called for readers' recollections of 1968, Jeffrey C. Wray remembers the day from that year when his father was murdered:
After a few minutes, my brother Joe asked [our mother] what was going to happen to us. [She] pulled the three of us in tight and said, "I don't know. I don't know what is going to happen to us."

That spring and summer were rough-and-tumble days of protests and movements; and brutal, violent assassinations of Martin Luther King in April and Robert Kennedy in June. We felt all of the stress, tension, and energy of the times in our small town and in our black neighborhood within that small town. It was in those times—in that climate—that my mother had to decide what to do next in her life and for us, her children.
Here's what Wray's mother did.
---
Verbs
Stories rejected, modernity sought, saga continued, mystery explained.
---
Time of Your Life
Happy birthday to Natalie (twice the age of Pokémon); to Renee (a year younger than Disneyland); and to Kathy (twice the age of MTV).
Do you or a loved one have a birthday coming up? Sign up for a birthday shout-out here, and click here to explore the Timeline feature for yourself.
---