The Atlantic Daily: Congress on Deadline, Unprecedented Oil Spill, Why One Trump Voter Feels Duped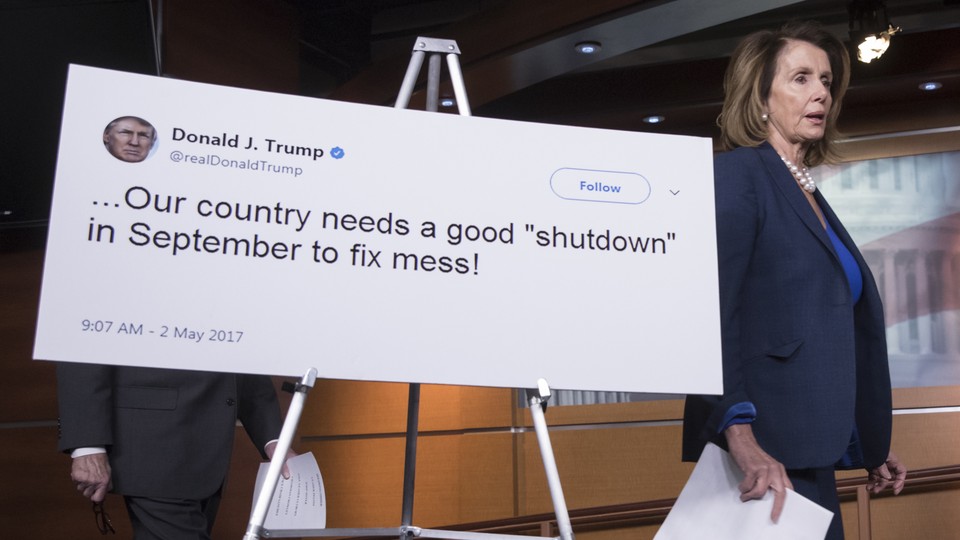 What We're Following
Down to the Wire: The House of Representatives voted Thursday night to pass a temporary spending bill, and President Trump met with Senate Minority Leader Chuck Schumer to discuss the issues holding up the Senate. But with hours to go before Congress's midnight deadline, there's still no sign of a deal to avert a government shutdown. We'll have the latest updates here.
Health Care: A new office at the Department of Health and Human Services will investigate conscience objections in health care, including those from employers and providers who refuse to perform abortions. The announcement doesn't change any laws but suggests the Trump administration will side more aggressively with conservatives on religious-freedom concerns. And a new study adds insight into how health-care costs contribute to income inequality, with some American families spending as much as two-thirds of their income on medical expenses.
Environmental Impact: The sinking of an oil tanker in the East China Sea has not only caused the presumed deaths of all 32 crew members aboard, but also flooded the surrounding water with condensate—a volatile substance whose effects will be unlike any that oil-spill cleanup crews have seen before. And a new report outlines the climate change–related threats faced by the Arctic's musk oxen, from malnourishment to "ice tsunamis" that can bury entire herds.
---
Snapshot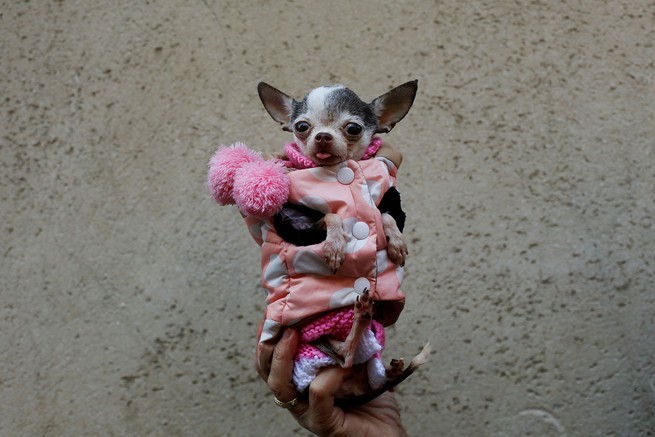 ---
Who We're Talking To
Jeff Flake, the Republican senator from Arizona, explains why he denounced Trump's "sustained attack on the truth"—even comparing the president to Stalin—in a Senate-floor speech this week.
Gillian B. White, an Atlantic business editor, discusses how Americans will shop in the future, and how those changes in the retail industry will affect the country, on the latest episode of Radio Atlantic. Listen here—and when you're done, we'd value your feedback on this short survey about the podcast.
---
Evening Read
Pascal-Emmanuel Gobry on the French president, Emmanuel Macron:
His views mirror those held by the elite class … But he doesn't just think like an elite. He embodies many elites' idealized lifestyle. He did very well academically (but not too well, having failed the entrance exam to the ultra-prestigious ENS civil service school), in a way that suggests some depth of mind (master's degree in philosophy), but also practical success (ENS's graduates run the country's public and private sectors), because come on, how many people actually want to be philosophers? He did very well in investment banking, but not too well. His marriage to a much older woman who was once his drama teacher is socially transgressive to just the right degree. He's handsome, but not too handsome.

In other words, Emmanuel Macron is the Donald Trump of the elite class. He's not just their representative—he's their avatar. Trump's die-hard followers love him with such devotion not just because they like what he says, but because his image is that of the guy they wish they were or could be. It's the same thing with Macron and his own elite base. And this is the stuff out of which Messianic movements are made.
Keep reading here, as Gobry explains what he wishes people outside France understood about Macron's role in the country's class structure.
---
What Do You Know … About Culture?
Much of the conversation surrounding the #MeToo movement this week centered on an anonymous woman's account of her date with the comedian Aziz Ansari, but other examples of gender inequality in Hollywood also surfaced. The discrepancy between Michelle Williams's and Mark Wahlberg's salaries for their latest film demonstrated how the business side of the industry is learning to react to the current moment. And though fictional depictions of relationships dangerously portray coercion and aggression as normal parts of a successful romance, they may be uniquely able to help further the conversation around sexual misconduct in the future.
Can you remember the other key facts from this week's culture coverage? Test your knowledge below:
1. Although widely associated with the film The Graduate, the Simon and Garfunkel song "____________" wasn't released in full until the April after the movie came out.
Scroll down for the answer, or find it here.
2. The director ____________ has said that his film Boyz n the Hood drew inspiration from the Breakfast Club director John Hughes.
Scroll down for the answer, or find it here.
3. Emma Lazarus wrote the sonnet "The New Colossus" in ____________ for an auction to raise money for the Statue of Liberty's pedestal.
Scroll down for the answer, or find it here.
---
Poem of the Week
From our January/February 2006 issue, "Key West," by Elizabeth Bishop:
They have set up the carnival, the carnival,
In the back lot of the burnt-out cigar factory.
And the high-diver, before he leaps to his canvas pool
From the ladder festooned with colored lights, can see
Down into the ruins, and then all over the town,
Over the tin roofs to the blacked-out ocean,
The surrounding water, like sheets of carbon paper,
Used and re-used. With displays of mock emotion
He sets a match to himself: flaming, he falls
Like a wagon of war past the gutted stucco walls.
---
Reader Response
Tomorrow marks the first full year since Donald Trump became president, and we asked readers to tell us whether his term so far has been different from what they expected. Dan, a father of five in North Dakota, says he's furious:
I voted for him because I believed that we had a worse-of-two-evils scenario at play: leaked emails, possible trials for not safeguarding classified information that led to a serious failure of leadership, versus the best businessman in the country. I'd assumed, as I am sure many assumed, that the "act" we saw during the election was going to wear off after he was sworn in. Instead, my patience has worn thin. You can say that it doesn't matter how he gets the job done (I've heard this from my father repeatedly), but I'd like him to get the job done; be ethical, someone worthy of our respect; and to stand up for the little guy …

I spent eight years serving our country on active duty at Minot Air Force Base. During this time, I was part of a very large force to protect and secure part of our nuclear triad. I took my job very seriously, and I hope that we never have to use these weapons. To have the president of the United States boasting on social media about how powerful our nuclear program is, then to taunt another nation … I can't believe it …

I feel duped. I have to exercise leadership every single day. I have to make decisions about what I do and the possible repercussions of my actions, not just on me, but on my family, city, and profession. He should too.
More reader reflections here, and more to come next week.
---
Verbs
Voters riled, trend bucked, voice interrogated, shark jumped.
---
Time of Your Life
Happy birthday to Suzie's daughter Iris (a year younger than hip-hop records); to Juliana's mom, Marie (twice the age of The Oprah Winfrey Show); to Rebecca's daughter-in-law Lena (who was 9 when the Berlin Wall collapsed); to Mary's son Max (a year younger than Shark Week); to Carolyn (twice the age of Microsoft Windows); to Euna's daughter (a year younger than Wikipedia); to Karen (a year younger than the computer mouse); and to Erik's son Milan, who at 6 is too young for the Timeline, but just the right age to get a call from an astronaut.
Tomorrow, happy birthday to Laura's son Dominic (who turned 6 when Barack Obama was sworn in as president); to Hildie (a year younger than the Beatles); and to Rebecca's daughter Sloan, who at 3 is too young for the Timeline, but just old enough to become a scientist.
Do you or a loved one have a birthday coming up? Sign up for a birthday shout-out here, and click here to explore the Timeline feature for yourself.
---
Most Popular on The Atlantic
Many of you have written in to ask what happened to the "Most Popular" list. Normally, that section gets added automatically, but there's a bug in the process, and we're still working on getting it fixed. In the meantime, here are five of the most popular articles on our site today:
1. The World Has Never Seen an Oil Spill Like This
2. Science Is Giving the Pro-Life Movement a Boost
3. Craft Beer is the Strangest, Happiest Economic Story in America
5. The Humiliation of Aziz Ansari
---