The Atlantic Daily: When a President Insults the World
Offensive remarks on immigration, U.S. nuclear policy, how the Trump presidency could end, and more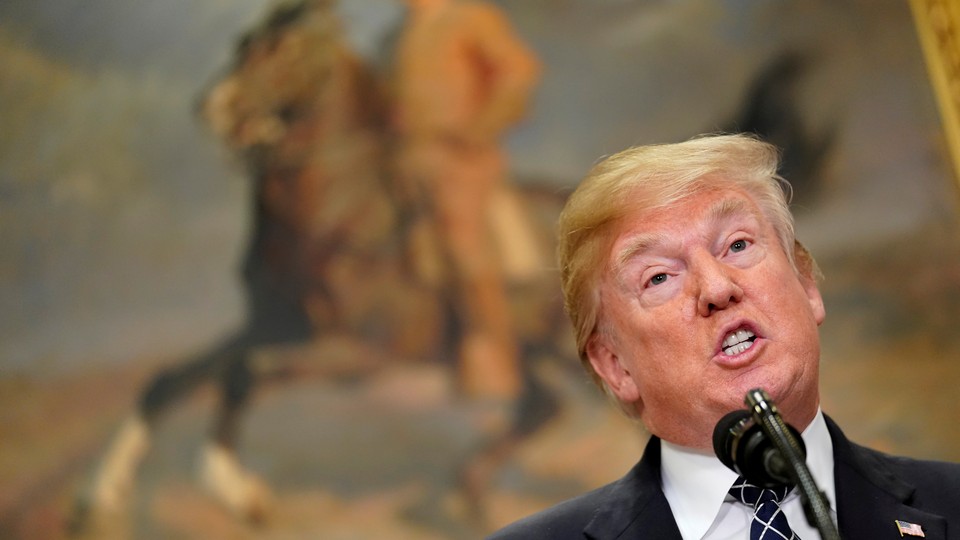 What We're Following
Trump's Offensive Comments: During a meeting Thursday with lawmakers about immigration policy, President Trump reportedly spoke disparagingly of immigrants from Haiti, El Salvador, and Africa, asking, "Why are we having all these people from shithole countries come here?" (He also reportedly said he'd prefer that more immigrants come from Norway, but not many are likely to do so.) Trump's rhetoric on immigration has long been incendiary, but as Adam Serwer writes, these remarks put a particularly ugly—and inescapable—face to the purpose of his presidency.
Matters of  State: Trump announced on Twitter that he is canceling his first official visit to London because he is "not a big fan" of the American embassy's new location. Although the reversal may in fact have had more to do with concerns the president would be met with protests, the public declaration of pique is unlikely to help his diplomatic goals. Meanwhile, the Pentagon is preparing to set the U.S. nuclear-weapons policy, and a leaked draft suggests the nation is moving to expand its arsenal.
Presidential Fitness: The latest crop of West Wing scandals has renewed the question of whether Trump is fit to serve as president—yet no matter how dysfunctional the situation in the White House, there are very few courses of action that could fix things. A Yale psychiatry professor explains why she's been telling lawmakers that Trump's mental state is "dangerous," even though she hasn't examined him. And on this week's episode of Radio Atlantic, James Fallows discusses what the nation should do about concerns like these. Listen here—and once you're done, we'd value your feedback on this short survey about the podcast.
---
Snapshot
---
Who We're Talking To
John Cook-Jong Lee, a South Korean trauma surgeon, describes how his team saved the life of a North Korean defector.
James Lankford and Tim Scott, two U.S. senators, call for Americans to commemorate Martin Luther King Jr.'s birthday by reaching out across racial divisions. (This newsletter won't publish on Monday due to the holiday, but we'll be back as usual on Tuesday, January 16.)
---
Evening Read
Ta-Nehisi Coates on the first white president:
It is insufficient to state the obvious of Donald Trump: that he is a white man who would not be president were it not for this fact. With one immediate exception, Trump's predecessors made their way to high office through the passive power of whiteness—that bloody heirloom which cannot ensure mastery of all events but can conjure a tailwind for most of them. Land theft and human plunder cleared the grounds for Trump's forefathers and barred others from it. Once upon the field, these men became soldiers, statesmen, and scholars; held court in Paris; presided at Princeton; advanced into the Wilderness and then into the White House. Their individual triumphs made this exclusive party seem above America's founding sins, and it was forgotten that the former was in fact bound to the latter, that all their victories had transpired on cleared grounds. No such elegant detachment can be attributed to Donald Trump—a president who, more than any other, has made the awful inheritance explicit.
Keep reading here, as Ta-Nehisi explains the role of racism in Trump's rise.
---
What Do You Know … About Culture?
This week was an especially charged one in the ongoing reckoning with sexual harassment in the entertainment and media industries. It began last Sunday, at a Golden Globes where women spoke out strongly on the red carpet in support of the Time's Up movement to fight such harassment (though their male colleagues remained largely silent on that subject). And it continued with the author of the revelatory Shitty Media Men list, Moira Donegan, outing herself after widespread concern that Harper's magazine was going to reveal her identity in an upcoming piece. The episode brought to light just how susceptible the current #MeToo moment is to backlash—but it also showed, as the movement repeatedly has, the power of telling a story.
Can you remember the other key facts from this week's culture coverage? Test your knowledge below:
1. In the last years of his life, David Bowie composed the music and lyrics for the theatrical production ____________.
Scroll down for the answer, or find it here.
2. Paddington 2 is the latest installment in the film series that follows the escapades of a marmalade-loving bear who came to England from "darkest ____________."
Scroll down for the answer, or find it here.
3. Last year, Derek Jeter bought the ____________, a baseball team, for $1.2 billion.
Scroll down for the answer, or find it here.
---
Poem of the Week
The late poet Philip Levine was born 90 years ago this week. Here's a poem of his from our November 1997 issue:
     Hamtramck hungered

for yellow freestone peaches, downriver
wakened from a dream of work, Zug Island danced
into the bright day glad to be alive.

Full-figured women in their negligees
streamed into the streets from the dark doorways
to demand in Polish or Armenian

the ripened offerings of this new world.
---
Reader Response
Members of The Masthead, our premium membership program, are discussing what made 1968 a pivotal year in American history. From Mark:
Despite all the horrible events of 1968, it was also a formative year for me as a young journalist. Working for the Ohio University Post at a time when protests against racism, the Vietnam War, women's hours, and other social issues were just starting to gel (a little behind the coasts) was an incredible introduction to newspaper writing. Just as importantly, people sometimes forget how divided campuses were then. There were large swaths of students who were conservative, pro-war (or politically disengaged), and being taught by fellow college journalists and the better professors how to seek the facts and report on these competing viewpoints, which shaped my idea of what responsible journalism was from then on.
To join in the conversation with fellow readers and Atlantic editors, you can sign up for The Masthead here.
---
Verbs
Oceans choked, earmarks boosted, industry excoriated, news feed reinvented.
---
Time of Your Life
Happy birthday to Jim's wife (twice the age of Microsoft); to Abby's husband, Martin (18 years older than G.I. Joe); to Shelagh's son Matt (a year younger than Star Trek); to Paul (8 years older than the moon landing); and to Olivia's husband, David (born around the time Franklin D. Roosevelt was sworn in for a third term as president).
Tomorrow, happy birthday from Larry to Jarrett (twice the age of YouTube); to Rebecca's co-grandmother Marcella (a year younger than microwave ovens); and to Susan (the same age as Michelle Obama).
Do you or a loved one have a birthday coming up? Sign up for a birthday shout-out here, and click here to explore the Timeline feature for yourself.
---