The Atlantic Daily: This Anxiety Is the Price of Convenience
A tentative DACA deal, a Senate bid from Joe Arpaio, a plan to stop rising sea levels, and more
What We're Following
'Agreement in Principle':  That's what six Democratic and Republican senators say they've reached on legislation to increase border security while giving young undocumented immigrants a path to citizenship through the Deferred Action for Childhood Arrivals program. Though a federal judge ordered the Trump administration to resume accepting renewal applications from DACA recipients earlier this week, the program is still in limbo. What's more, in a week when President Trump has repeatedly seemed to contradict his own positions, it's unclear whether the senators will be able to gain his support for their deal.
Who Leads the GOP? Joe Arpaio, the former Arizona sheriff known for his harsh immigration-enforcement practices that included racial profiling, is running for U.S. Senate. As nativist groups have gained influence within the Republican Party, he says he's optimistic about his chances. That outlook spells a reckoning for "NeverTrump" conservatives, who face a daunting fight in the upcoming primaries if they hope to regain control of their party. One data point they might welcome: New survey results show the president has lost some support among blue-collar whites.
Natural Disasters: At least 17 people have been killed and eight more are still missing after heavy rains on wildfire-damaged hillsides caused torrential mudslides in California earlier this week. See photos of the destruction here. As warming oceans melt the world's glaciers, the rise in global sea levels could soon become catastrophic. One glaciologist hopes to slow the damage by changing the topography of the ocean floor. Here's how.
---
Snapshot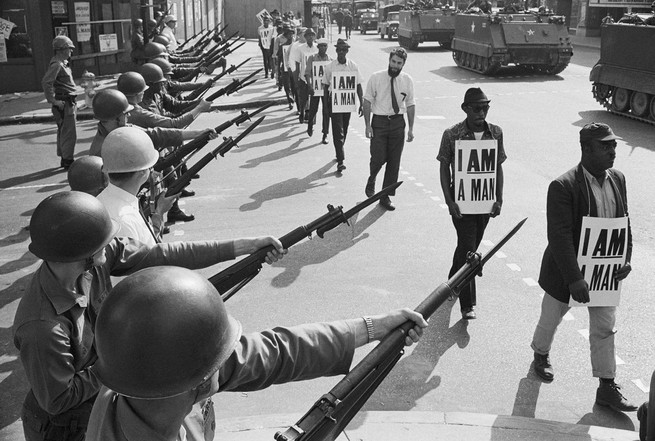 ---
Evening Read
Julie Beck on the luxury of leaving texts unanswered:
People don't need fancy technology to ignore each other, of course: It takes just as little effort to avoid responding to a letter, or a voicemail, or not to answer the door when the Girl Scouts come knocking. As Naomi Baron, a linguist at American University who studies language and technology, puts it, "We've dissed people in lots of formats before." But what's different now, she says, is that "media that are in principle asynchronous increasingly function as if they are synchronous."

The result is the sense that everyone could get back to you immediately, if they wanted to—and the anxiety that follows when they don't. But the paradox of this age of communication is that this anxiety is the price of convenience. People are happy to make the trade to gain the ability to respond whenever they feel like it.
Keep reading here, as Julie explores why people's favorite thing about instant communication might be the ability to ignore it.
---
What Do You Know … About Global Affairs?
Recent protests in Iran against the ruling political establishment did not escalate into the massive popular uprising that some analysts had predicted, partly because the country's president still enjoys affluent urbanites' support. While some experts fear that overt American support does more harm than good to protesters living under anti-American regimes, Shadi Hamid argues that the United States has a moral responsibility to speak up for democratic change. President Trump is expected to announce new sanctions on Iran for human-rights violations related to the protests; however, he's reportedly planning to waive nuclear-related sanctions, continuing America's participation in the Iran deal.
Can you remember the other key facts from this week's global coverage? Test your knowledge below:
1. A total of ____________ French women signed an op-ed calling for moderation in the movement to hold perpetrators of sexual harassment accountable.
Scroll down for the answer, or find it here.
2. A survey of 37 countries put Trump's global popularity at ____________ percent.
Scroll down for the answer, or find it here.
3. The United States has given more than $____________ billion in economic assistance to Pakistan since 9/11.
Scroll down for the answer, or find it here.
---
Urban Developments
Our partner site CityLab explores the cities of the future and investigates the biggest ideas and issues facing city dwellers around the world. Adam Sneed and Gracie McKenzie share today's top stories:
For more updates from the urban world, subscribe to one of CityLab's newsletters.
---
Reader Response
A reader named Lloyd wrote in recently to push back on our recent coverage:
I subscribe to The Atlantic and voted for Hillary, and probably would today, too. But I must admit that Trump's first year has been extremely successful.
Lloyd wrote that people where he lives are feeling more confident, so I (Rosa) asked what he's seen in his area to show the positive change. He replied:
I am in the machine-tool business in Chicago and spend my days talking to people who turn metal into product. Since Donald Trump was elected my clients have become much more optimistic … Their view is confirmed by records almost daily in the stock markets … fewer citations from zealous regulators, and a favorable tax bill for capital investment.
Meanwhile, new survey results say that some members of Trump's base are backing away. And David Frum argues that Americans have become too accepting of Trump's breaches of political norms. Lloyd's email got me thinking: Have you changed your mind—for better or for worse—about President Trump during his first year in office? If so, we'd like to hear from you. Fill out the form here to share your thoughts, and we'll feature some of the responses in upcoming editions of the newsletter.
---
Nouns
Forthcoming movies, dystopian nightmares, rushed solutions, responsible tweets.
---
Time of Your Life
Happy birthday to Nancy's cousin Vivian (a year younger than LP records); to Edirin's mother (twice the age of websites); to Maria (a year younger than the Super Bowl); and to Sahiba (twice the age of Twitter).
Do you or a loved one have a birthday coming up? Sign up for a birthday shout-out here, and click here to explore the Timeline feature for yourself.
---