The Atlantic Daily: When Judges Took On Gerrymanders
Legal battles about voting rights, Trump's deposition persona, backlash to the #MeToo movement, and more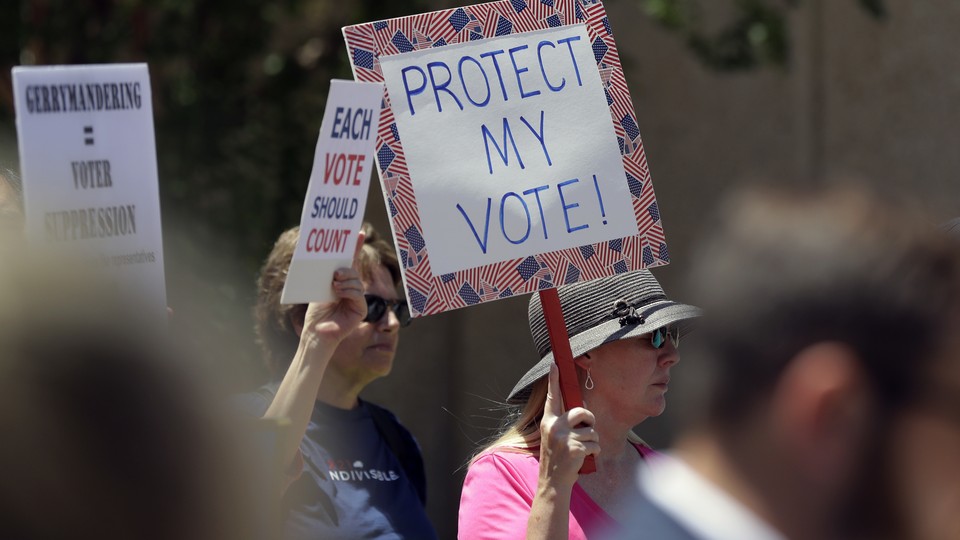 What We're Following
Voting Rights: A panel of judges struck down North Carolina's map of congressional districts, ruling that the plan, which lawmakers acknowledge was designed to favor Republican candidates, violates the Constitution. The Supreme Court is considering whether Ohio's procedure of removing people who haven't voted in two years from the voter rolls violates federal law, with potentially far-reaching consequences. And the Department of Justice cited voting rights in a request that the Census Bureau collect data on citizenship—but census experts and civil-rights advocates say that adding such a question would obscure more than it would reveal.
West Wing Scandal: Fire and Fury, Michael Wolff's book about President Trump and his staff, is topping bestseller lists around the world—and although Trump has railed against the book, its success plays into his penchant for commanding attention. The tome also recalls the controversy surrounding another provocative document: the intelligence dossier on Trump's ties to Russia that came back into public view this week when Senator Dianne Feinstein released the transcript of an interview describing its conception. Trump will likely be asked to give his own testimony on Russia and other matters in the investigation being conducted by Special Counsel Robert Mueller. The president's previous depositions provide some clues for how the meeting will go.
The #MeToo Movement: Reports that Harper's magazine planned to publish a story identifying—and potentially endangering—the woman who anonymously created a spreadsheet to warn women in media about predatory male colleagues caused outrage on Twitter this week. The controversy, writes Megan Garber, illustrates the fragility of what's seemed to many like a watershed moment for women's empowerment. Indeed, 100 notable women in France have signed an open letter arguing that the wave of retribution for sexual harassment hinders everyone's sexual freedom. The story of Recy Taylor, a rape survivor whose campaign for justice shaped the civil-rights movement, reveals the progress and the challenges of the fight for gender equality.
---
Snapshot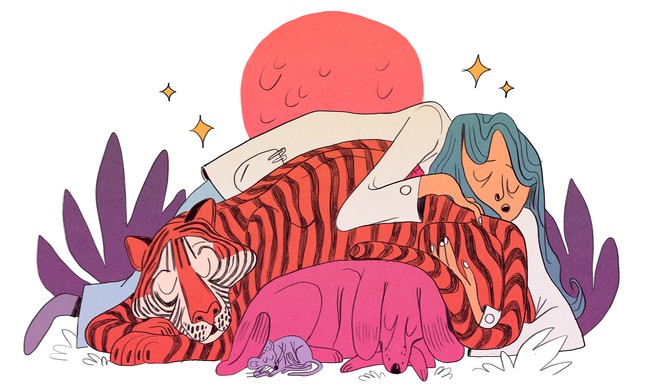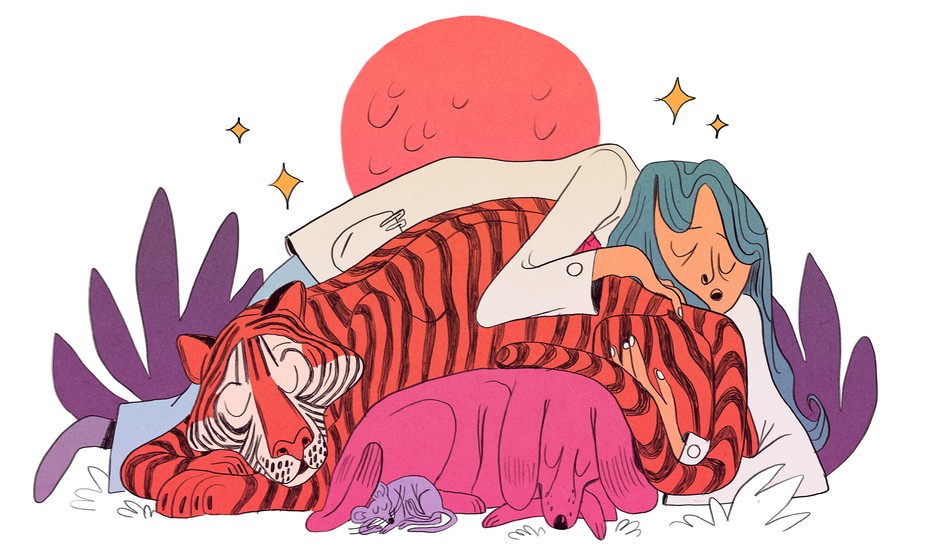 ---
Who We're Talking To
Robert Siegel, the longtime host of NPR's All Things Considered, discusses his retirement and his 30-year career in public radio on the newest episode of The Atlantic Interview. Listen and subscribe to the podcast here.
Rebecca Stern, a filmmaker, explores the whimsy, creativity, and passion of competitive dog grooming in a short documentary. Watch here.
Nathan Ceddia, a video artist, explains the concept behind his cringeworthy viral video "Cooking With Your Mouth."
---
Evening Read
Alexis C. Madrigal on the retailers (you might have seen them on Instagram) that make their money without ever touching the products they advertise:
All these sites use a platform called Shopify, which is like the Wordpress or Blogger of e-commerce, enabling completely turnkey online stores. Now, it has over 500,000 merchants, a number that's grown 74 percent per year over the last five years. On the big shopping days around Thanksgiving, they were doing $1 million dollars in transactions per minute. And the "vast majority" of the stores on the service are small to medium-sized businesses, the company told me.

Shopify serves as the base layer for an emerging ecosystem that solders digital advertising through Facebook onto the world of Asian manufacturers and wholesalers who rep their companies on Alibaba and its foreigner-friendly counterpart, AliExpress.

It's a fascinating new retail world, a mutation of globalized capitalism that's been growing in the cracks of mainstream commerce.

Here's how it works.
Keep reading here as Alexis explains.
---
What Do You Know … About Science, Technology, and Health?
This week, The Atlantic's science team took a deep dive into waterways. Scientists are examining the bacteria that live on grains of sand on the seafloor in hopes of learning more about how they help the world's oceans absorb carbon dioxide. A study published Thursday found that coral-bleaching events are now occurring five times as often as they did in the 1980s. Meanwhile, thanks to road salting and other human activities, rivers in the U. S. are getting saltier—an effect that could corrode pipes and put more harmful metals in drinking water.
Can you remember the other key facts from this week's science, tech, and health coverage? Test your knowledge below:
1. People are most likely to run marathons when their ages end in the number ____________ .
Scroll down for the answer, or find it here.
2. In 2015, the publication ____________ created an entire section devoted to gratitude.
Scroll down for the answer, or find it here.
3. The first headphone concert in the U.S. was held by the band ____________ in 1999.
Scroll down for the answer, or find it here.
---
Look Back
In honor of The Atlantic's 160th anniversary, we're sharing one article every day to mark each year of the magazine's history. From 1902, Rollo Ogden imagines how the banker J.P. Morgan might have tried his hand at diplomacy:
"It was a pity that you did not have at the Hague Congress a modern man of business … An up-to-date financier would have put the matter in its true light. He would have shown you that war is waste,—the most baleful form of competition. He would have driven home the community-of-interest idea in international relations, and could have worked out such a plan for division of territory and of profits, for allotment of influence and of stock, that European armies would have been resolved into productive laborers like magic, and swords would have been beaten into shares without the plough."
Read more here, and find more stories from our archives here.
---
Reader Response
Members of The Masthead, our premium membership program, are discussing what made 1968 a pivotal year in American history. (Here's a photographic reminder.) Bob writes:
The world seemed to be turning upside down. I was 19 and dropped out of college. I enlisted in the Navy. Tet Offensive. Inflection point in the U.S. view of its role in the world. Capture of USS Pueblo by North Korea. Assassinations of King and Kennedy. Riots, and Army armored vehicles on the streets of my town. 1968 Democratic Convention—a police riot encouraged by Mayor Daley.

My father, a gentle, peaceful man, talked of buying a gun to defend our house. (He didn't.) Many were drafted into the military by the Selective Service System. The unfairness of the draft and the ease with which some of my friends avoided it led me to question my fundamental belief in the responsibilities of U.S. citizenship.
To join in the conversation with fellow readers and Atlantic editors, you can sign up for The Masthead here.
---
Nouns
Ghost bikes, blockchain boom, cosmic conundrum, mischievous bear.
---
Time of Your Life
Happy birthday to Carol's husband, David (a year younger than The Cat in the Hat); from Gabriel to Daniel (twice the age of the euro); to Maureen (the same age as Serena Williams); to Mike's "first and only wife" (twice the age of MTV); and to our own photo editor Alan (one-third the age of The Atlantic).
Do you or a loved one have a birthday coming up? Sign up for a birthday shout-out here, and click here to explore the Timeline feature for yourself.
---