The Atlantic Daily: How the World Works
Brexit's way forward, Trent Franks's resignation, a software revolution, and more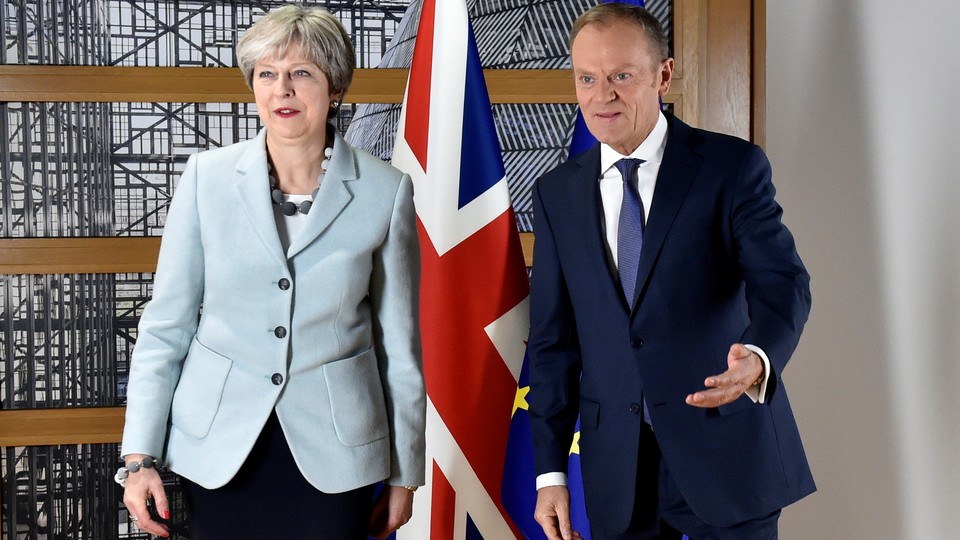 What We're Following
Balancing Powers: After several months of setbacks, British Prime Minister Theresa May announced that her country had achieved "sufficient progress" in Brexit talks with the European Union to move on to the next phase of negotiations, which may prove even more challenging than the first. In Germany, the two most powerful political parties are stuck in a stalemate over whether to form a coalition government, with the potential rise of the populist far right hanging in the balance. And in Spain, the Catalan independence movement is gaining momentum—although its supporters can't quite agree on what independence means. Rachel Donadio went to Barcelona to try to understand what the separatists want.
Open Seats: Representative Trent Franks is the latest congressman to resign in the face of an ethics investigation over alleged sexual misconduct. The Arizona Republican acknowledged that he had approached two female staffers about serving as a surrogate mother for his children, and the women said his advances suggested that he was asking for sexual intercourse. Such violations aren't the only reason lawmakers are planning to step down ahead of the midterm elections, and this year's wave of retirees could change the political landscape. Here's a running list of all the Republicans and Democrats who—because of alleged misconduct, differences with President Trump, or frustration with Congress—will not seek reelection in 2018.
Government Oversight: New figures from the Pentagon say that about 2,000 American troops are currently fighting ISIS in Syria, raising questions about the risks and costs of their open-ended mission, which Congress has not yet approved. A stalled effort to establish new safety rules for portable electric generators illustrates the potential costs of the Trump administration's rollback of federal regulations. And observers have long worried about the president's physical and mental health—but the answers to their questions are unlikely to come.
---
Snapshot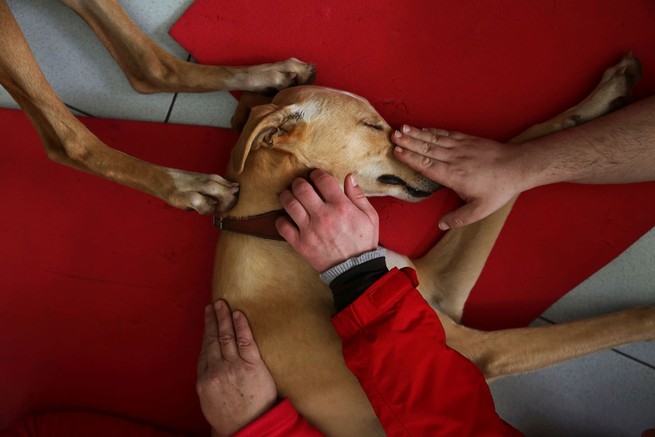 ---
Evening Read
Caroline Mimbs Nyce sets the scene for a turning point in programming history:
Snowbird, Utah, is an unlikely place to mount a software revolution. Around 25 miles outside Salt Lake City, Snowbird is certainly no Silicon Valley; it is not known for sunny and temperate climes, for tech-innovation hubs, or for a surplus of ever eager entrepreneurs. But it was here, nestled in the white-capped mountains at a ski resort, that a group of software rebels gathered in 2001 to frame and sign one of the most important documents in its industry's history, a sort of Declaration of Independence for the coding set. This small, three-day retreat would help shape the way that much of software is imagined, created, and delivered—and, just maybe, how the world works.
Keep reading here, as Caroline outlines the history of Agile—a software-development philosophy you've probably encountered, even if you don't recognize its name.
---
What Do You Know … About Culture?
Pop culture is always trying to grapple with the way the world is changing—especially, in the digital age, through rapid advances in technology. Robin Sloan's novel Sourdough examines how online social networks have affected the sharing of culture, while the film Personal Shopper adeptly portrays the act and psychology of texting. But relics of the past haven't stopped inspiring new and interesting artworks: Take, for example, Frank Lloyd Wright's architecture and classical instruments.
Can you remember the other key facts from this week's culture coverage? Test your knowledge below:
1. The documentary Voyeur tells the story of a former motel owner who spied on his guests and of his relationship with ____________, the journalist who exposed him.
Scroll down for the answer, or find it here.
2. The first recorded use of the phrase "bad faith" in English was in a book dating back to the year ____________.
Scroll down for the answer, or find it here.
3. For her recent British Vogue cover, Taylor Swift submitted a ____________ instead of sitting for a profile.
Scroll down for the answer, or find it here.
---
Poem of the Week
From our May 1885 issue, "Her Explanations," by E. R. Sill:
So you have wondered at me, — guessed in vain
What the real woman is you know so well?
I am a lost illusion. Some strange spell
Once made your friend there, with his fine disdain
Of fact, conceive me perfect.
Read more here.
---
Reader Response
Matt Barnum wrote about new research suggesting that two different ways of measuring teachers' performance—by their impact on students' test scores, or by their impact on students' attitudes—may not point to the same conclusions about teachers' effectiveness. A reader reflects:
Oftentimes, students don't realize how great teachers who pushed them were until after those students are done with their classes … Back in high school, I had an English teacher that everyone (including myself) hated because she worked us to the bone. However, after our first years at college, almost all of us came to the conclusion that she was the best teacher we had ever had. We were all leaps and bounds ahead of everyone in terms of writing, and her teaching allowed us to thrive in that environment.

While difficult, I think it would be better to evaluate teachers a few years after the fact. Sometimes we don't truly appreciate a great educator until he or she is gone from our lives.
More students and teachers look back on the lessons they learned from one another in the What My Students Taught Me podcast, here.
---
Verbs
Gift giving optimized, skating fans scandalized, planet hypothesized, fossil fakes disguised.
---
Time of Your Life
Happy birthday to Margaret's nephew Jimmy Two Names (born around the time that President Ronald Reagan was reelected) and to John (a year younger than Nineteen Eighty-Four).
Tomorrow, happy birthday to Lyn's best friend Ilene (18 years older than the Environmental Protection Agency); to Sandra's grandson Alan (who was 4 when Barack Obama was elected president); and to Jun's friend Caitlin (a year younger than texting).
Do you or a loved one have a birthday coming up? Sign up for a birthday shout-out here, and click here to explore the Timeline feature for yourself.
---