The Atlantic Daily: Down the Rabbit Hole
Al Franken's resignation, Michael Flynn's motivation, California's firefighters, and more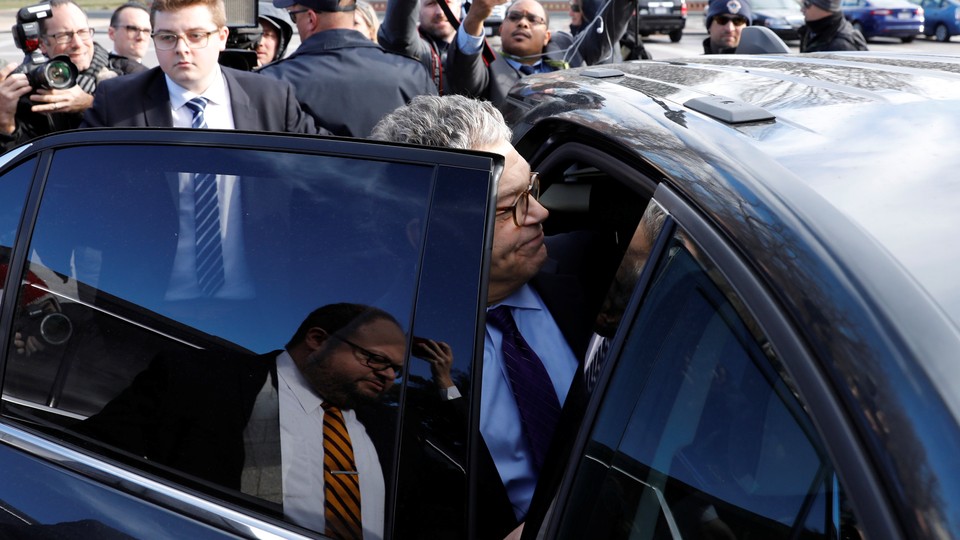 What We're Following
Washington's Reckoning: Senator Al Franken of Minnesota announced his decision to resign under pressure from his fellow Democrats, following allegations from several women that he groped or tried to kiss them without their consent. Yet Roy Moore, the Senate candidate from Alabama, hasn't lost support from conservative Christians amid reports of his own sexual misconduct, perhaps in part because voters on the religious right prioritize candidates' personal morality less than they used to. Indeed, since before his election, President Trump has faced accusations of sexual misconduct from at least 19 women, who describe a wide range of incidents spanning the last three decades. Here are all their stories.
The Mueller Probe: An account from an anonymous whistleblower could explain why former National Security Adviser Michael Flynn lied to the FBI about his contacts with Russia: He may have been working to remove sanctions on Russia in order to push a business deal forward. Meanwhile, the revelation that Peter Strzok, an FBI agent, was reassigned away from Special Counsel Robert Mueller's team because he'd written texts critical of Trump has prompted calls to end Mueller's probe, though there's no proof Strzok did anything wrong. For his part, Trump has responded to the escalating investigation with a strategy that parallels former President Richard Nixon's—and thatstrategy just might work.
California Burning: The hot, dry, Santa Ana winds are the most immediate cause for the massive wildfires in Southern California, but several other factors,  including climate change, are likely contributing to 2017's prolonged and serious fire season. Inmates from California prisons have been on the front lines of fighting the fires, but as the state works to decrease its prison population, there may soon be fewer firefighters available. For now, Conor Friedersdorf describes the scene in Los Angeles as the city waits out the unpredictable winds.
---
Snapshot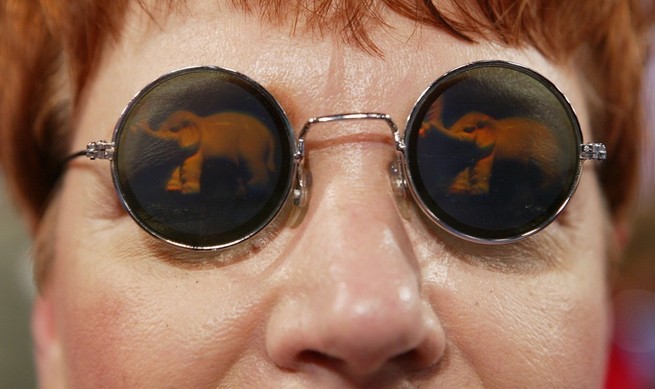 ---
Evening Read
Lauren Michele Jackson on the short life cycles of internet memes:
At a glance—even from a digital native—meme death seems like a much less mysterious phenomenon than meme birth. While tracing the origin of any individual meme requires a separate trip down the rabbit hole, it makes sense to assume that memes die because people get tired of them. Even as a concept such as "average attention span" is not incredibly useful to psychologists who study attention (different tasks require different attention strategies), there's a general assumption that this number is shrinking. "Everybody knows" a generation raised on feeds and apps must have focus issues, and that assessment isn't totally false. Our devices are "engineered to chip away at [our] concentration" in what's called the "attention economy," writes Bianca Bosker in The Atlantic, and apps such as Twitter keep us anxious for the next big thing in news, pop culture, or memes. Our overextended attention leads to an obvious explanation for meme death: We are so overstimulated that what brings us joy cannot even hold our focus for long. But is that really why memes die?
Keep reading here, as Jackson draws on studies of jokes and behavioral science to develop a unified theory of meme death.
---
What Do You Know … About Global Affairs?
In the wake of President Trump's inflammatory announcement that he is recognizing Jerusalem as Israel's capital, the perceived threat to the city's religious sites will be one of the biggest drivers of violence, Emma Green writes from Jerusalem. In Lebanon, Prime Minister Saad Hariri put an end to a three-week-long crisis by revoking his mysteriously issued resignation, thanks in part to the intervention of French President Emmanuel Macron. In Egypt, President Abdel Fattah El-Sisi is cracking down on dissent, including by targeting libraries and confiscating books that could be used as a tool of protest. And in Yemen, former President Ali Abdullah Saleh was killed in an attack by his previous Houthi allies; the new balance of power in the Middle East has made shifting political alliances ever more dangerous.
Can you remember the other key facts from this week's global affairs coverage? Test your knowledge below:
1. The International Olympic Committee banned ____________ from the 2018 winter games because of its state-sponsored doping program.
Scroll down for the answer, or find it here.
2. The United Nations estimates that ____________ migrants came to Europe across the Mediterranean Sea in 2017.
Scroll down for the answer, or find it here.
3. The conflict in Yemen has displaced about ____________ million people since 2015.
Scroll down for the answer, or find it here.
---
Urban Developments
Our partner site CityLab explores the cities of the future and investigates the biggest ideas and issues facing city dwellers around the world. Gracie McKenzie shares today's top stories:
For more updates from the urban world, subscribe to one of CityLab's newsletters.
---
Reader Response
Bryan Caplan, an economics professor, argues that a college education doesn't serve the needs of many students—and may even waste their time and money. This reader sums up the debate:
A lot of innovators today use cross-disciplinary methods, so clearly some people are getting something out of a liberal arts education ... At the same time, lots of people are going to college just because that's what they are supposed to do. Our current situation stipulates that to do well you simply must have a degree. The fact that a lot of people aren't getting out of the college experience what they should is probably a failure on multiple levels.

You'll never find me arguing that higher education doesn't need to change or that we can't teach in high school a lot of what we teach in college. There should absolutely be more ways to do well in today's economy, preferably ones that don't rack up tons of debt. I don't think crippling the minds of the citizenry by eliminating arts and humanities is the answer though.
More reader discussion here.
---
Verbs
Democracy drafted, ghost texted, DNA analyzed, fast food transformed.
---
Time of Your Life
Happy birthday to Brian (a year younger than websites); to LaWanda's boyfriend of eight years, Shawn (twice the age of Amazon); to Krishna's daughter Meghana (a year younger than the 24-hour news cycle); from Claire to Chris (13 years older than Grease); to Natasha's boyfriend (the same age as text messages); and to Jasprit's daughter Caroline, who at 7 is too young for the Timeline, but just the right age to become an art prodigy.
Do you or a loved one have a birthday coming up? Sign up for a birthday shout-out here, and click here to explore the Timeline feature for yourself.
---