The Atlantic Daily: Nightmare Scenario
Trump's Jerusalem announcement, new allegations against Al Franken, California's wildfires, and more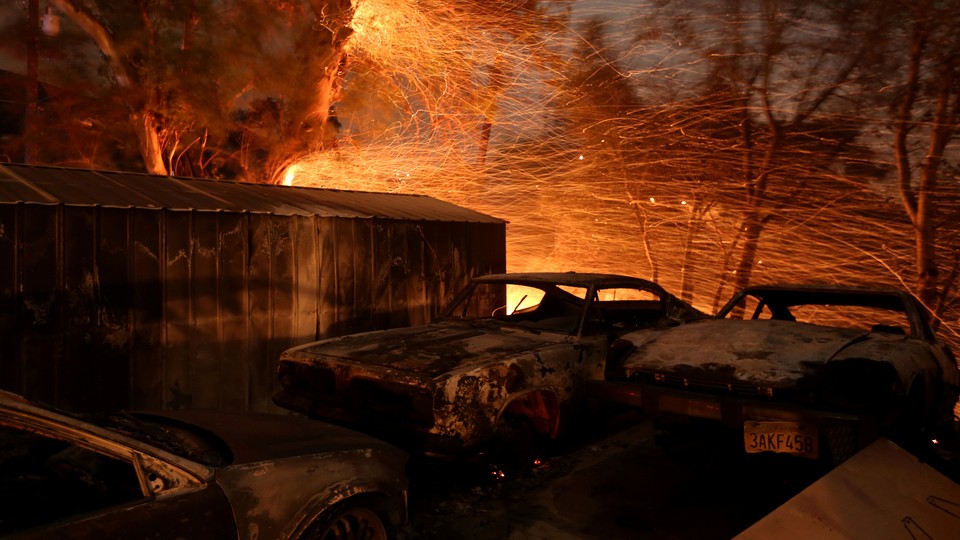 What We're Following
Trump's Big Move: The president officially announced the U.S.'s recognition of Jerusalem as Israel's capital as well as his intention to move the U.S. embassy there from Tel Aviv.  The decision, which could spark unrest and hamper peace negotiations between Israel and Palestine, is highly controversial, although it is unlikely to anger America's Arab allies much. Trump may have timed the announcement to distract from domestic political problems. He may even be provoking Muslim violence in order to use it as a political tool. Gary M. Burge, a conservative evangelical Christian, argues that the embassy move is misguided, but Einat Wilf, a former member of the Israeli Knesset, argues that it's only logical—and, what's more, that it's a necessary step toward peace.
Franken's Future: Kirsten Gillibrand of New York and several other Democratic women senators led their colleagues in calling for Minnesota Senator Al Franken to resign after more allegations emerged from women who said he sexually harassed them. Adding to these stories, the writer Tina Dupuy shares her own experience with Franken: "He wanted to cop a feel and he demonstrated he didn't need my permission."
The Distant Past: Astronomers have discovered the most distant supermassive black hole yet. It's 13 billion light-years away, meaning the image that scientists now see of the quasar that surrounds the black hole is from a time when galaxies were only just beginning to take shape. And a swimming, fish-eating species of dinosaur has been newly identified; it looks so strange that scientists initially thought it was a fake.
---
Snapshot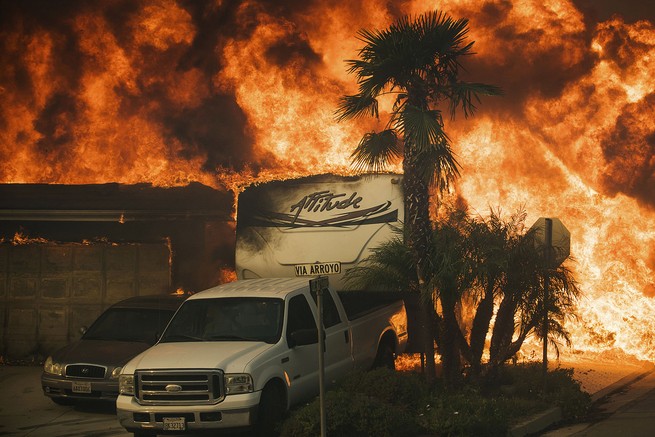 ---
Who We're Talking To
Nikole Hannah-Jones, a journalist, shares her ideas for how to give America's kids more-equal access to education on the latest episode of The Atlantic Interview. Listen here.
Bob Thomas, one of three nonincumbent Republicans to win a seat in Virginia's legislature this year, explains how he campaigned amid a wave of Democratic energy.
Lisa Pierce, the editor of the trade publication Packaging Digest, discusses what innovations in product packaging reveal about the retail industry. For instance: "Tuna in a pouch was a huge disrupter."
---
Evening Read
Why did Russia develop the state-sponsored doping program that led the International Olympic Committee to ban the country from the 2018 games? Julia Ioffe traces the story back to an embarrassing failure at the 2010 Winter Olympics, in Vancouver, Canada:
Shamed and pilloried, the head of the Russian Olympic Committee resigned, and Russian leadership spoke of serious reform. "The place we got in Vancouver is not worthy of our country," said Vitaly Mutko, the sports minister at the time and a friend of Putin. "We have to do everything we can to restore our leadership in world sports." He promised to take "personal control" over the preparations for the Sochi Olympics, where the stakes would be far higher and which were just four years away. What if Russian athletes flopped on their home turf? It was a nightmare scenario.

This is how we got to Tuesday's ban of the entire Russian team and various Russian officials, including Mutko, from the 2018 Winter Olympics, just two months before the opening ceremony, in South Korea. There is a straight line from Vancouver to Pyeongchang, with a sordid stop in Sochi.
Keep reading here, as Julia recounts how the Kremlin tried and failed to rig the Olympic Games.
---
What Do You Know … About Science, Technology, and Health?
Saturday was the 75th anniversary of the Chicago Pile experiment, the breakthrough that proved for the first time that an atomic bomb could exist. That makes this week a fitting time to reflect on ethics in science, including the shady practices of the journalists who covered the Chicago Pile and other nuclear research projects. Today, breast-milk banks are struggling with the question of whether donors should be paid, an incentive that could encourage more people to participate but also tempt mothers to donate more milk at their own babies' expense. And a Florida emergency room recently encountered a patient with the phrase DO NOT RESUSCITATE tattooed on his body, presenting a legal and moral quandary.
Can you remember the other key facts from this week's science, tech, and health coverage? Test your knowledge below:
1. Researchers found 12,554 species of bacteria in swab samples collected from ____________.
Scroll down for the answer, or find it here.
2. ____________ have dozens of eyes, each of which contains a segmented mirror made of layered guanine crystals.
Scroll down for the answer, or find it here.
3. Car sales overall are down this year, but ____________ sales are up by 6 percent.
Scroll down for the answer, or find it here.
---
Look Back
For our 160th anniversary, we're sharing one article every day to mark each year of the magazine's history. From 1880, here's an excerpt from The Portrait of a Lady, Henry James's classic novel, which was first serialized in The Atlantic:
The poor girl liked to be thought clever, but she hated to be thought bookish; she used to read in secret, and, though her memory was excellent, to abstain from quotation. She had a great desire for knowledge, but she really preferred almost any source of information to the printed page; she had an immense curiosity about life, and was constantly staring and wondering. She carried within herself a great fund of life, and her deepest enjoyment was to feel the continuity between the movements of her own heart and the agitations of the world. For this reason she was fond of seeing great crowds and large stretches of country, of reading about revolutions and wars, of looking at historical pictures, — a class of efforts as to which she had often gone so far as to forgive much bad painting for the sake of the subject.
Read more here, and find more stories from our archives here.
---
Reader Response
Emma Green wrote about how American activists on both ends of the political spectrum have called for policies that would address the country's falling birth rate. This reader thinks declining fertility isn't necessarily a bad thing:
People have more options for social acceptance and meaning in life than ever before, so it is not surprising that what used to be people's only option has lost market share.

This is just a reality we have to adapt to. It will have some benefits (such as less environmental strain) and some costs (such as the risk of a Japan-style economic stagnation). On balance, I believe that the benefits will probably outweigh the costs, and that we will be able to avoid Japan-style economic problems. We are more receptive to immigration in the short term, and improving automation will allow us to improve our living standards without needing as much human labor in the long term. This will let us focus on increasing quality and not quantity of life.
Alana Semuels wrote about Japan's economic challenges and why its birth rate is falling here.
---
Verbs
"Bad faith" explained, depravity embraced, media managed, bodies misunderstood.
---
Time of Your Life
Happy birthday from Neil and Micah to Jolie (a year younger than Toy Story); to Andrew's twin sons, Nicholas and Nathan (twice the age of YouTube); to Ron (18 years older than Doctors Without Borders); and to Michael (who was 23 when the Berlin Wall collapsed).
Do you or a loved one have a birthday coming up? Sign up for a birthday shout-out here, and click here to explore the Timeline feature for yourself.
---