The Atlantic Daily: The Heights of Power
John Conyers's retirement, Trump's planned announcement on Jerusalem, Mike Pence's test of faith, and more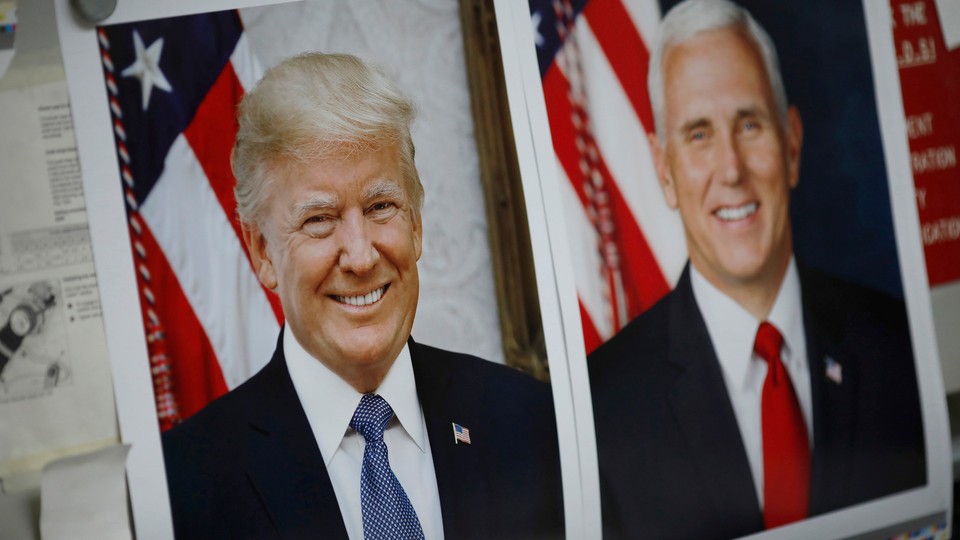 What We're Following
Misconduct in Congress: Democratic Representative John Conyers of Michigan announced his immediate retirement after allegations that he sexually harassed former staffers surfaced, prompting calls for him to resign. Republican leaders are gradually restoring their support for Roy Moore, the senatorial candidate from Alabama, as the mounting accusations that he pursued and harassed teenage girls failed to prevent him from regaining his lead in Alabama polls. And the systemic problems that foster sexual misconduct in Congress run deeper than a few individuals' bad behavior: Michelle Cottle maps out a taxonomy of creepiness on Capitol Hill.
Trump in Turmoil: President Trump is reportedly planning to declare that Jerusalem is the capital of Israel and, eventually, to move the U.S. embassy there from Tel Aviv—an announcement that, when it comes, is likely to spark violent protests and hamper Israeli–Palestinian peace negotiations. Back home, Trump's comments on Michael Flynn's indictment for lying to the FBI renewed concerns that the president may have obstructed justice, but Alan Dershowitz, a lawyer, recently defended Trump against those critiques. Dershowitz's argument, writes David Frum, has dangerous implications.
Violence Prevention: House Republicans plan to vote this week on a bill that would significantly loosen gun laws by making concealed-carry permits from individual states valid in other states as well—and hope to attract support by attaching a bipartisan measure to strengthen the federal background-check system. Meanwhile, as high-profile police shootings have focused public attention on racial biases in the criminal-justice system, Taylor Hosking retells the history of how black police officers have worked to reform their departments from within.
---
Snapshot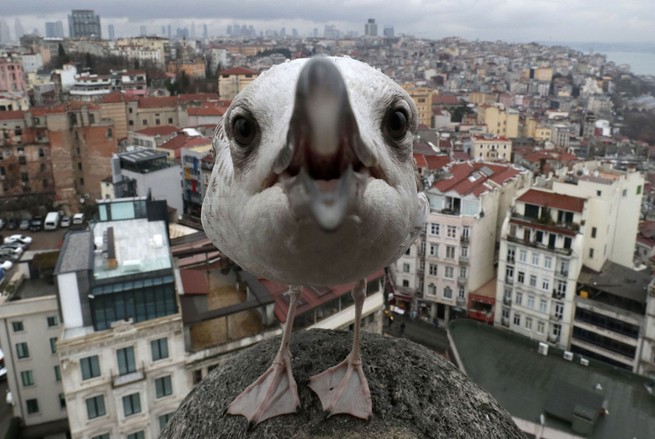 ---
Evening Read
How does Vice President Mike Pence reconcile his devout personal values with his role as Trump's most stalwart apologist? McKay Coppins reports:
Over the past several months, I've spoken with dozens of people who have known the vice president throughout his life—from college fraternity brothers and longtime friends to trusted advisers and political foes. (Pence himself declined my requests for an interview.) While many of them expressed surprise and even bewilderment at the heights of power Pence had attained, those who know him best said he sees no mystery in why he's in the White House. "If you're Mike Pence, and you believe what he believes, you know God had a plan," says Ralph Reed, an evangelical power broker and a friend of the vice president's.

Pence has so far showed absolute deference to the president—and as a result he has become one of the most influential figures in the White House, with a broad portfolio of responsibilities and an unprecedented level of autonomy. But for all his aw-shucks modesty, Pence is a man who believes heaven and Earth have conspired to place him a heartbeat—or an impeachment vote—away from the presidency. At some crucial juncture in the not-too-distant future, that could make him a threat to Trump.
Keep reading here as McKay recounts how Trump's behavior may have already led Pence to contemplate a coup—during the campaign—and considers where the vice president's ambition might lead him next.
---
What Do You Know … About Business?
December marks the 10-year anniversary of the Great Recession, and its scars remain in a sicker, more unequal, more racially divided country. The Santillan family, profiled by Alana Semuels, is one of millions that suffered long-term disruption in the effort to become homeowners and build wealth. Despite Republican arguments to the contrary, nonpartisan analyses suggest that the GOP tax plan would do little to help such families, funneling far more money to the wealthy and corporations than to people in middle- and low-income brackets.
Can you remember the other key facts from this week's business coverage? Test your knowledge below:
1. ____________ percent of 40-year-old inventors today are male.
Scroll down for the answer, or find it here.
2. ____________ U.S. states have fewer residents than L.A. County.
Scroll down for the answer, or find it here.
3. The digital currency ____________ was developed from a 2008 white paper written under the pseudonym Satoshi Nakamoto.
Scroll down for the answer, or find it here.
---
Urban Developments
Our partner site CityLab explores the cities of the future and investigates the biggest ideas and issues facing city dwellers around the world. Gracie McKenzie shares today's top stories:
For more updates from the urban world, subscribe to one of CityLab's newsletters.
---
Reader Response
Olga Khazan wrote about a Pew Research Center poll that finds that Americans' perspectives on gender roles differ sharply along partisan lines. One of our readers, Skip, posits an explanation:
I think income and geography play a huge role in this. My brother and brother-in-law are stay-at-home dads. They both have really traditional families; it is just that the wives make a ton of money … Many liberals see different roles being portrayed by wealthy people with strong families. In rural areas and less-developed parts of the U.S., most nontraditional families are poor … It makes sense that people would see this and get scared.

It reminds me of a guy I worked with from the South. He asked me whether a multimillion-dollar condo building was public housing. I could not stop laughing, but to him only poor people lived in apartments. He could not believe that people would pay more than 1 million dollars for a one-bedroom, or many millions for a massive unit.
See the survey results here.
---
Verbs
Philanthropy demonized, houseguest hypnotized, storytelling valued, sourdough nurtured.
---
Time of Your Life
Happy birthday to Beth's friend Verna (a year younger than the Walt Disney Company); to Michelle's mother (twice the age of MTV); to Wendy (a year younger than VCRs); to Nancy's friend Susan (twice the age of Microsoft Windows); and to Debra's grandson Neil, who at 7 is too young for the Timeline, but just the right age to become an art prodigy.
Do you or a loved one have a birthday coming up? Sign up for a birthday shout-out here, and click here to explore the Timeline feature for yourself.
---