The Atlantic Daily: Malady and Cure
A massive derailment in Washington State, Trump's "National Security Strategy," the new Star Wars movie, and more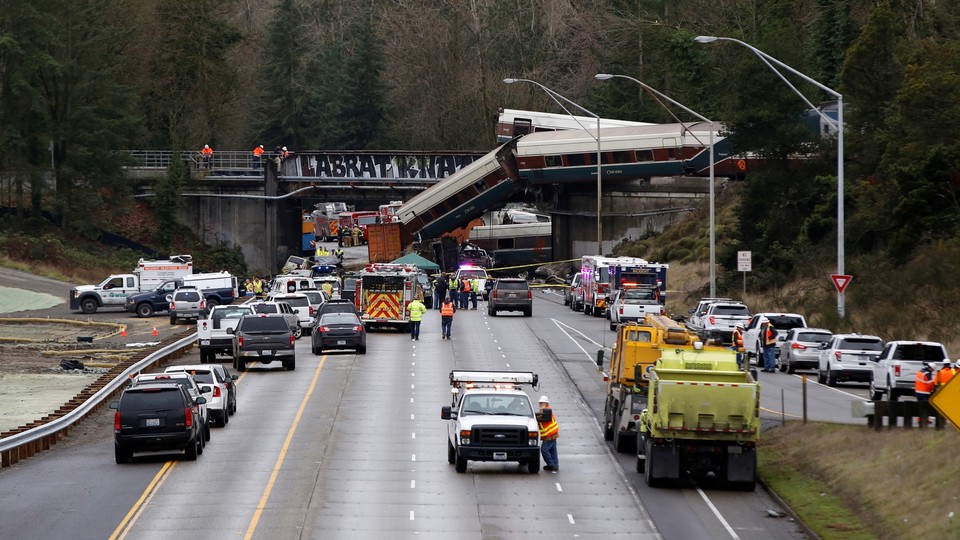 What We're Following
Fatal Wreck: A high-speed Amtrak train carrying 78 passengers and five crew members derailed south of Tacoma, Washington, leaving cars dangling from an overpass and striking vehicles on Interstate 5 below. At least 77 people were reportedly hospitalized, and officials said multiple people on the train were killed. The train was on its way from Seattle to Portland, Oregon, on the first day of service on a new high-speed route. Here's what we know.
Policy Plans: The Trump administration released its "National Security Strategy," a document that's drafted as a weighty and comprehensive plan, but it may reveal more about the administration's internal contradictions than about concrete policies and actions. And Congress expects to vote on the GOP tax bill this week after negotiators nailed down a series of compromises on key provisions. Russell Berman explains the details of the final plan.
The Last Jedi: The latest, widely anticipated installment of the Star Wars series was released on Friday to positive reviews; Christopher Orr says it may even be the best the franchise has offered since The Empire Strikes Back. What exactly makes it work? Spencer Kornhaber breaks down how Rian Johnson's film puts a new spin on a classic franchise, while David Sims analyzes its approach to oppression and resistance.
---
Snapshot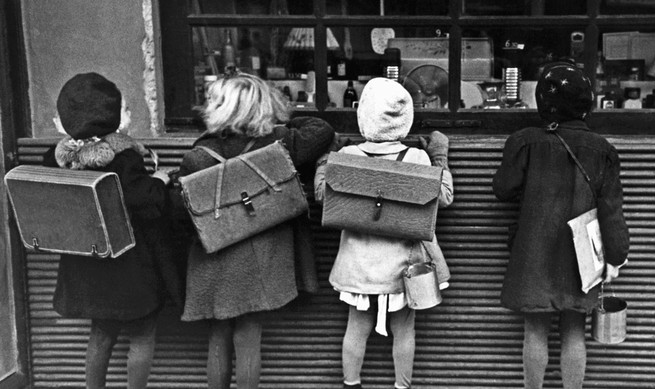 ---
Evening Read
Why Bianca Bosker downloaded WeCroak, an app that reminds users five times a day that they're going to die:
I welcomed these grisly reminders into my life in the hope that WeCroak, along with half a dozen other mindfulness apps, could help transform my iPhone from a stressful distraction into a source of clarity and peace. According to a study by a research firm called Dscout, Americans check their phone an average of 76 times a day for a cumulative two and a half hours—and while many would like to cut back, simple willpower isn't always enough. Amid growing concerns over our phone fixation, Silicon Valley has, in typical fashion, proposed technology as the solution; there are now more than 1,000 mindfulness apps designed to help us disconnect.

"You can become a master of this powerful device rather than a slave to it," says Michael Acton Smith, a co-founder of Calm, an app that offers guided meditation and soothing soundtracks and has surpassed 14 million downloads. Headspace, a rival app that provides meditation sessions led by a former Buddhist monk, has been downloaded more than 18 million times. There are apps to improve your breathing; apps that track the time you spend on other apps; and apps to teach you to be mindful while running, eating, giving birth, browsing the web, or, per the Buddhify app, "waiting around." I decided to test whether technology could be both malady and cure.
Keep reading here for Bosker's results.
---
What Do You Know … About Education?
Educational inequality can creep up in subtle ways. California community colleges are placing students of color in remedial classes at a disproportionate rate, making it harder for them to graduate. School segregation persists even in the most liberal communities. And these photos of backpacks from around the world highlight what kids of all backgrounds have in common—and show a glimpse of where their experiences differ.
Can you remember the other key facts from this week's education coverage? Test your knowledge below:
1. The child psychologist Alicia Lieberman told The Atlantic a story about her grandson teaching another toddler to play the __________.
Scroll down for the answer, or find it here.
2. California schools have recently debated how to teach about the Gold Rush–era stagecoach driver Charley ____________, who may have been a transgender man.
Scroll down for the answer, or find it here.
3. The Career Choice program, started by the company ___________, prepays for 95 percent of an employee's tuition for certificate and associate's degree programs in high-demand occupations.
Scroll down for the answer, or find it here.
---
Look Back
In honor of The Atlantic's 160th anniversary, we're posting  one article every day to mark each year of the magazine's history. From 1888, Lillie B. Chace Wyman reports on life in New England's cotton-manufacturing villages:
The manufacture of cotton into various fabrics for personal wear has this peculiarity, that it employs as laborers great numbers of women and children. As a consequence, it affects the family life of its operative class more closely than those industries do in which men principally are employed. Various circumstances have contributed to increase this influence on the family life beyond the measure which the bare statement of the case naturally makes apparent at once. The laissez-faire principles commonly accepted by the last two generations have led to the result that this influence has practically become something like control, and that it has been largely unregulated by law and largely unperceived by the people in general.
Read more here, and find more stories from our archives here.
---
Reader Response
A new book by the Buddhist monk Matthieu Ricard and the neuroscientist Wolf Singer discusses how the human brain responds to meditation. This reader, Mo, had a positive experience with that practice:
Having been badly abused as a child, I entered my postadolescent years as a walking raw nerve, incapable of functioning in society, well along on the path to harming myself or others, and quickly heading toward that well-known conclusion of being dead or in prison.

Without meditation I would not have been able to control myself well enough to do anything—no program, no external or internal system, nothing until I could control my reactions to the intrusive memories and rage within me.

I'm 60 and have raised a family and am a basically happy, well-functioning person. I have had a good life, and I have not harmed others … Years of work in my 20s did this, but it all started with meditation … 45 years of meditating and I take great joy in it.
More on how some at-risk high-school students have benefited from meditation here.
---
Nouns
Breitbart News Christmas, hurricane music, secret identity, panda pregnancy.
---
Time of Your Life
Happy birthday to Rachel's husband, Arash (a year younger than commercial bar-code scanning); to JoBeth (19 years older than the moonwalk); to Mike's wife, Kate (a year younger than The Godfather); from Papa to Robin (the same age as Barack Obama); to Bernadette's wife, Ashley (twice the age of American Idol); to Naitnaphit's husband (a year younger than mass-produced personal computers); to Craig (twice the age of the Disney Channel); and from Amanda to Tharpa (twice the age of the International Space Station).
From yesterday, happy birthday to Nicole's brother (a year younger than Google); to Chris (twice the age of texting); and to Paula's son Matthew (a year younger than MTV).
Do you or a loved one have a birthday coming up? Sign up for a birthday shout-out here, and click here to explore the Timeline feature for yourself.
---