The Atlantic Daily: Far Trickier to Measure
The odds of a U.S. strike on North Korea, Republican prospects for 2018, the impact of nonfatal shootings, and more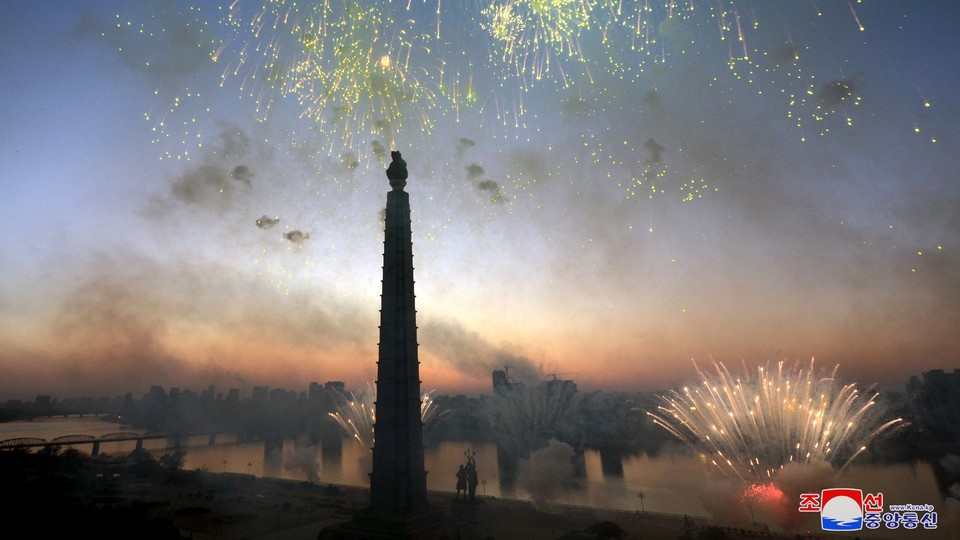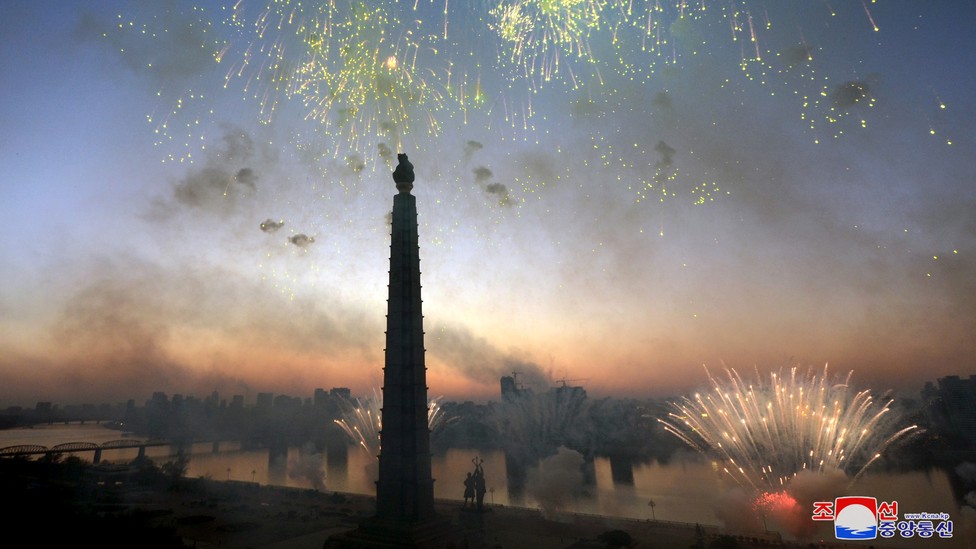 What We're Following
Rising Tension: Senator Lindsey Graham of South Carolina told The Atlantic that he estimates the chances that the U.S. will strike North Korea at 30 percent—or even 70 percent if the country conducts another nuclear test. Read Uri Friedman's interview with Graham here. Donald Trump has often been criticized for his aggressive tweets about North Korea, but these aren't the only comments by him that have made an impression on authoritarian leaders. Here's how dictators around the world have echoed Trump's "fake news" rhetoric.
The Tax Bill : Senator Marco Rubio of Florida is threatening to vote against his party's tax plan if his fellow Republicans don't agree to add an expanded child tax credit to the bill. Rubio's proposal would provide an important benefit to working families in a plan that currently favors corporations and wealthy Americans—even more so after party leaders agreed on Wednesday to lower the tax rate for top earners further than they'd originally planned.
Midterm Elections: Representative Blake Farenthold of Texas announced that he will not run for reelection in the wake of allegations that he sexually harassed and verbally abused former staffers, adding to the list of Republican seats that will open in Congress next year. Populist candidates are also expected to challenge Republicans up for reelection—and Roy Moore's defeat in Alabama on Tuesday suggests that they'll put the GOP in a difficult position.
---
Snapshot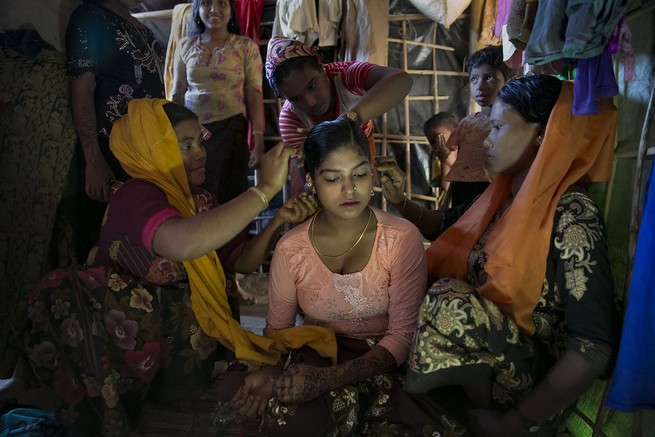 ---
Evening Read
David S. Bernstein on some of the hundreds of wounded people who survived the Las Vegas massacre, in October:
A 28-year-old woman who was shot in the head at the concert is undergoing aggressive rehab after spending nearly two months in the hospital. A 41-year-old man is learning how to drive with his hands after he was paralyzed from the waist down. And many victims have relied on money raised through GoFundMe to support their medical care …

Fatal gun violence is often categorized in ways that make it easy to track and study. That's how researchers know that the murder rate in the United States has declined steadily over the past three decades. But what about gun violence that does not result in death? That is far trickier to measure. That's because nonfatal gun violence has mostly been ignored.
Keep reading here, as Bernstein explains why the lack of attention to nonfatal shootings obscures the nature of gun violence in America. And on the fifth anniversary of the shooting at Sandy Hook Elementary, watch these first responders tell their stories and advocate for reform.
---
What Do You Know … About Global Affairs?
An administration official who reviewed the Trump team's "National Security Strategy" described the document as "divorced from the reality" of the president's first year in office: It highlights foreign-policy strengths and strategies that his actions and statements have undermined. David Frum argues that in some ways, the strategy will reflect Trump's "America First" worldview, as a preview from National-Security Adviser H. R. McMaster omitted the emphasis on values usually associated with American foreign policy. The realignment comes at a time when many of the world's conflicts are predicted to escalate in 2018, especially the risk of nuclear conflict with North Korea or Iran.
Can you remember the other key facts from this week's global-affairs coverage? Test your knowledge below:
1. By 2060, ____________ percent of Japan's population will be older than 65.
Scroll down for the answer, or find it here.
2. The United Nations Development Program currently manages a total of ____________ aid projects in Iraq.
Scroll down for the answer, or find it here.
3. During a 1976 Ebola Virus outbreak in the Democratic Republic of the Congo, ____________ percent of those infected survived; their blood is now being used to research a cure for the disease.
Scroll down for the answer, or find it here.
---
Urban Developments
Our partner site CityLab explores the cities of the future and investigates the biggest ideas and issues facing city dwellers around the world. Gracie McKenzie shares today's top stories:
In Tuesday's special U.S. Senate election, in Alabama, black voters helped Democrat Doug Jones win despite voter suppression, not because they were spared from it. Here's what went down.

Track changes: Switzerland has opened the world's only trinational streetcar system, connecting Basel to its neighbors in France and Germany. Meanwhile, Maryland is playing host to what could become a "battle of the supertrains."

"The city was handed lemons and made lemonade." Roanoke, Virginia, has become what many cities of its size, geography, and history want to be. How did this happen?
For more updates from the urban world, subscribe to one of CityLab's newsletters.
---
Reader Response
After Erika Christakis argued that "we ignore public schools' civic and integrative functions at our peril," Julian Bull, a reader in Los Angeles, offers "a broader and timelier conclusion":
We ignore the civic and integrative functions of any American school, public or private, at great peril to our democracy.

The private school where I work includes a more diverse student body than public schools that secede from larger systems to avoid desegregation. Our liberal faith-based school promotes open inquiry into the role of religion and spirituality in American civic life, an urgent topic that many public schools can't touch. Many private schools are more dedicated to teaching students critical-thinking skills for intelligent democratic policy making than are public schools that prohibit accurate teaching of climate and evolutionary science. We will have different models of financing and organizing schools in this country for the foreseeable future. Let's support all schools preparing students to participate civilly and productively in our wonderfully chaotic democratic conversation, and call out those public and private schools prioritizing narrower political ends that further imperil our already fragile future.
The reporter Nikole Hannah-Jones and The Atlantic's editor in chief Jeffrey Goldberg discussed whether private schools play a role in school segregation on a recent episode of The Atlantic Interview. Read a transcript of their conversation here.
---
Verbs
Christmas stolen, asteroid analyzed, artifacts evacuated, graffiti displayed.
---
Time of Your Life
Happy birthday from Kak to Ellen (a year younger than LP records); to Reynaldo (twice the age of the 24-hour news cycle); to Mimi's friend Chantal (a year younger than the Beatles); to Melissa, who shares a birthday with Guillermo's daughter (both are 13 years older than Modern Family); to Mirdhula's sister Aishwarya (a year younger than Microsoft Windows) and her friend Vrinda (twice the age of iTunes); and to Candy's great grandson, who at 3 is too young for the Timeline, but just the right age to become a scientist.
Do you or a loved one have a birthday coming up? Sign up for a birthday shout-out here, and click here to explore the Timeline feature for yourself.
---