The Atlantic Daily: The Shock of the New
Disturbing allegations against Roy Moore, next steps on tax reform, Trump's visit to Beijing, and more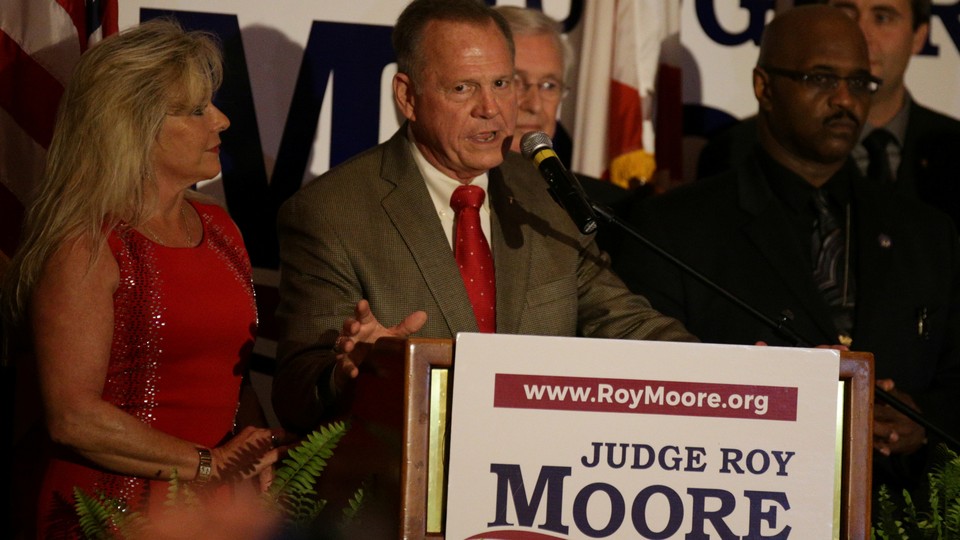 What We're Following
Disturbing Allegations: The Washington Post reported that Roy Moore, the Republican candidate for Senate in Alabama, had sexual contact with a 14-year-old girl and pursued three other teenagers in the 1970s, when he was in his 30s and serving as an assistant district attorney. Many GOP senators are calling for him to drop out of the race if the accusations are true. Meanwhile, following numerous allegations of predatory behavior against the actor Kevin Spacey, his scenes in an upcoming film are being removed and reshot weeks before its release. And another round of allegations implicates the comedian Louis C. K. in sexual misconduct toward a series of female colleagues.
Party Priorities: What accounts for the wave of Democratic successes in Tuesday's elections? Health care was a key issue in Virginia, as well as in Maine, where voters chose to expand Medicaid under Obamacare. Some voters may have been motivated by the sense that their values were threatened by President Trump's authoritarian rhetoric. None of this seemed to faze Steve Bannon, a former Trump adviser, who spoke before a Michigan crowd to celebrate "the first anniversary of the high holy day of MAGA." And Republicans in Congress face some obstacles to their next big goal, tax reform: The House bill undercuts some key party positions, and the Senate just unveiled a competing plan.
Trump's Trip: Despite his heavy criticism of China during last year's campaign, the president toned down his rhetoric dramatically during a visit to Beijing, continuing a pattern of extreme shifts between insults and praise. Tone aside, the summit may not result in much more cooperation on North Korea policy, as the U.S. and Chinese views of the situation are fundamentally different.
---
Snapshot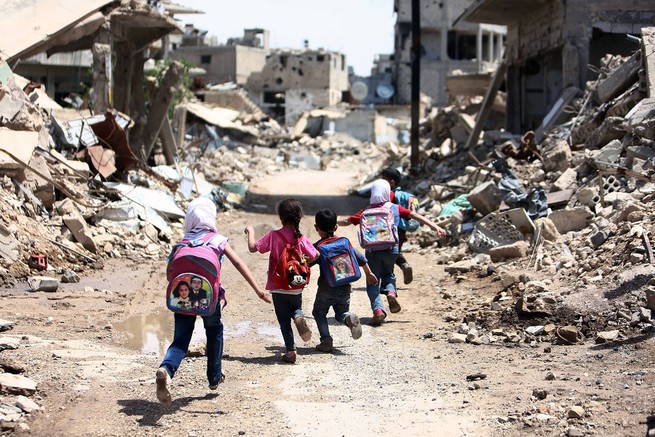 ---
Evening Read
Caitlin Flanagan explores the cutthroat world of Steve Harvey's Funderdome:
In fact, the ABC show, which completed its first season this fall, has a specific and narrow focus: Aspiring inventors pitch their products to the host and his audience in hopes of winning funding for further development. The premise is hardly daisy-fresh—Shark Tank, which made the format famous, is now in its ninth season—but we have never looked to the ubiquitous host-comedian Steve Harvey for the shock of the new. His career secret is to heave his enormous personality against time-honored formulas at Mach speed, and see which ones are strong enough to survive the hit. That he has chosen to fill his Funderdome with the risks and rewards of entrepreneurship tells us that the golden age of capitalist reality television is truly upon us.
Keep reading here, as Caitlin considers what Funderdome, Shark Tank, and their ilk reveal about American entrepreneurship.
---
What Do You Know … About Global Affairs?
Saudi Arabia saw a major purge last weekend when Crown Prince Mohammed bin Salman, also known as MbS, had 11 prominent businessmen and politicians arrested on anticorruption charges. The move is a sign of MbS's strategy to consolidate power, but the high-stakes gamble could ultimately undercut his authority. MbS may also have been involved in the resignation of Lebanese Prime Minister Saad Hariri: Lebanon has become a proxy battleground for Saudi Arabia and Iran, as has Yemen, where a Saudi-led coalition is struggling to defeat a rebel group and its Iranian backers.
Can you remember the other key facts from this week's global affairs coverage? Test your knowledge below:
1. Two cabinet ministers in ____________ resigned within a week of each other.
Scroll down for the answer, or find it here.
2. The signature glass dome of the soon-to-open Louvre Abu Dhabi Museum weighs more than ____________ tons.
Scroll down for the answer, or find it here.
3. The population of Norilsk, Russia—an isolated, heavily polluted mining city—is ____________ people.
Scroll down for the answer, or find it here.
---
Urban Developments
Our partner site CityLab explores the cities of the future and investigates the biggest ideas and issues facing city dwellers around the world. Gracie McKenzie shares three of today's top stories:
London's Oxford Street is (finally) being pedestrianized after years of discussion. The plan shows that even the busiest roads can ban vehicles—but there's one major misstep.

After this year's elections, there will have been at least a 25 percent jump since last year in female mayors in the 100 largest U.S. cities. Since 2011, that number is up 177 percent.

The tragedy of the bus: As soon as someone invents a cool one, we insist on calling it something else (in this case, a "trackless train"). Why the antibus bias?
For more updates from the urban world, subscribe to CityLab's daily newsletter.
---
Reader Response
This reader brings a scientific perspective to James Fallows's ongoing discussion of whether tribal is the appropriate word for unbending political partisanship:
As a biologist, I take a different connotation of the word tribal.  We are, like our closest primate relatives, tribal animals in that we tend to live in small selective groups. Chimpanzee and ape tribes exhibit many of the same behaviors seen in human tribes, including often instant and irrational violence against outsiders.  For those of us who see humans as an evolutionarily related group of animals, rather than as divine creations, describing our social behavior as tribal is simply stating the obvious.
More reader responses here.
---
Verbs
Bird murders staged, cocktail napkins declined, female surfers empowered, self-doubt vanquished.
---
Time of Your Life
Happy birthday to Brenda's father, Bob (born around the time President Calvin Coolidge was reelected to a second term); to Jeanne's adopted daughter Ellen (a year younger than Barbie); to Charles (twice the age of CD players); and from Ovadya to Helga (born the same year as Martin Luther King Jr.).
Do you or a loved one have a birthday coming up? Sign up for a birthday shout-out here, and click here to explore the Timeline feature for yourself.
---