The Atlantic Daily: Learned the Hard Way
Democrats' successful night, Theresa May's cabinet crisis, China's search for extraterrestrial life, and more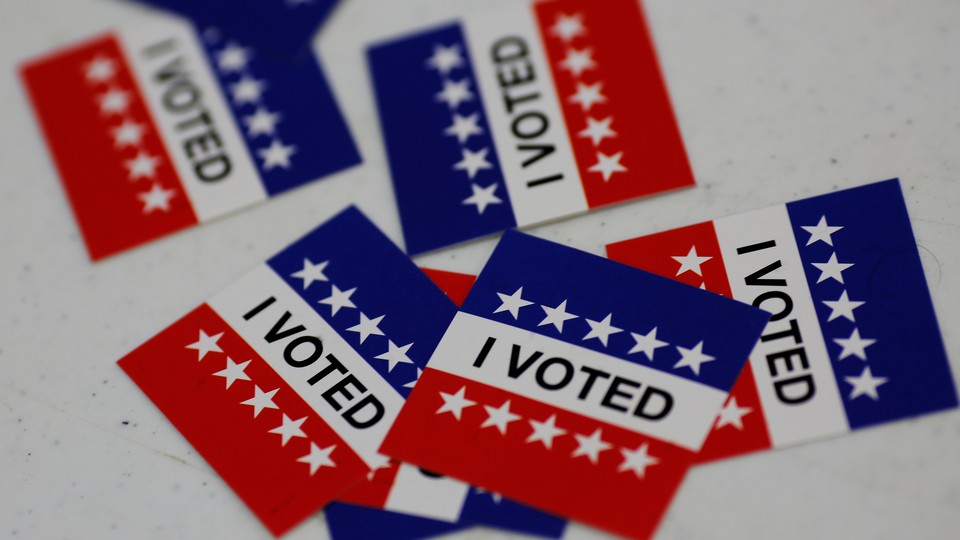 What We're Following
Election Day: Voters in Virginia, New Jersey, and several other states brought a wave of Democrats into office in Tuesday's gubernatorial and legislative races. The results are being interpreted as a referendum on the Trump presidency—which, by a number of measures, hasn't been going well. For the Democratic Party, the victories could foreshadow a path to regain control of Congress, though Republicans' strong coalition of older, white, blue-collar voters will likely remain an obstacle in 2018. For all Americans, writes Eliot A. Cohen, the current political moment is a challenge to recover civic courage.
Crisis at Westminster: Chris Pincher, a conservative member of parliament, stepped down over allegations that he made an unwanted sexual advance toward a former Olympic rower, joining several British politicians who have been suspended amid the international outcry over sexual harassment. The U.K. secretary of state, Priti Patel, also resigned over a separate breach of the country's ministerial code, leaving Prime Minister Theresa May with a seriously weakened government.
Health and Medicine: A new report finds that lead-contaminated water in Flint, Michigan, may have caused a 58 percent increase in the fetal death rate among the city's residents, as well as other long-term health effects for children. A short film about the heavily polluted city of Norilsk, Russia, provides a haunting look at life in a deadly industrial wasteland. New research on angioplasty—a common treatment for heart disease—suggests that the invasive procedure may not help patients as much as doctors previously believed. And a stem-cell treatment for a rare genetic skin disorder has saved one young boy's life.
---
Snapshot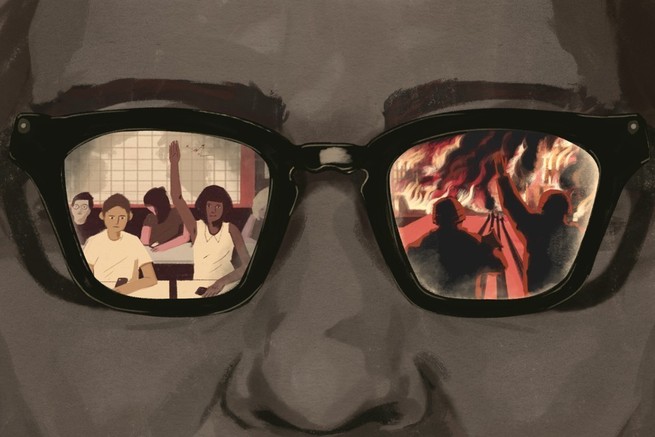 ---
Who We're Talking To
Chimamanda Ngozi Adichie, the novelist, talks to The Atlantic's editor in chief, Jeffrey Goldberg, about race and identity on the first episode of our new podcast, The Atlantic Interview. Listen and subscribe here.
Barbara Simons, a computer scientist, explains why she believes paper ballots are the only safe voting technology.
Anna Phillips, the curator of the National Parasite Collection, shares what it's like to preside over hundreds of jars full of parasitic creatures. "You can make a lot of food references," she says. "I try to avoid that, because it ruins food for people."
---
Evening Read
Ross Andersen on China's search for extraterrestrial intelligence:
China has learned the hard way that spectacular scientific achievements confer prestige upon nations. The "Celestial Kingdom" looked on from the sidelines as Russia flung the first satellite and human being into space, and then again when American astronauts spiked the Stars and Stripes into the lunar crust.

China has largely focused on the applied sciences. It built the world's fastest supercomputer, spent heavily on medical research, and planted a "great green wall" of forests in its northwest as a last-ditch effort to halt the Gobi Desert's spread. Now China is bringing its immense resources to bear on the fundamental sciences. The country plans to build an atom smasher that will conjure thousands of "god particles" out of the ether, in the same time it took CERN's Large Hadron Collider to strain out a handful. It is also eyeing Mars. In the technopoetic idiom of the 21st century, nothing would symbolize China's rise like a high-definition shot of a Chinese astronaut setting foot on the red planet. Nothing except, perhaps, first contact.
Keep reading here, as Ross explores the site of China's new SETI observatory—and what it could mean if the country becomes the first to make contact with aliens.
---
What Do You Know … About Science, Technology, and Health?
Last Thursday, a major climate-science report from the British medical journal The Lancet claimed that global warming is already having public-health consequences around the world. The next day, the U.S. "Climate Science Special Report," which was drafted by four government agencies, affirmed the past 20 years of consensus from climate scientists that humans are warming the world. If global temperatures continue to rise, one especially grotesque effect could be a resurgence of long-dead diseases, freed from the Arctic permafrost and ready to infect the global population. Even so, the Trump administration has rejected the Paris Agreement on climate change—making the U.S. the only country to do so now that Syria has joined the accord.
Can you remember the other key facts from this week's science, tech, and health coverage? Test your knowledge below:
1. Self-driving cars are now available as a mobility service in a suburb of ____________.
Scroll down for the answer, or find it here.
2. When you fast, your body produces chemicals called ____________, which some researchers claim can improve focus and athletic performance.
Scroll down for the answer, or find it here.
3. The Smithsonian's National Parasite Collection was founded in the year ____________ and is now one of the largest in the world.
Scroll down for the answer, or find it here.
---
Look Back
In honor of The Atlantic's 160th anniversary, we're sharing one article every day to mark each year of the magazine's history. From 1859, an unnamed author offers a satiric critique of women's unequal access to education:
We venture to assert, then, that woman's social inferiority, in the past, has been, to a great extent, a legitimate thing. To all appearance, history would have been impossible without it, just as it would have been impossible without an epoch of war and slavery. It is simply a matter of social progress, a part of the succession of civilizations. The past has been, and inevitably, a period of ignorance, of engrossing physical necessities, and of brute force,—not of freedom, of philanthropy, and of culture. During that lower epoch, woman was necessarily an inferior,—degraded by abject labor, even in time of peace,—degraded uniformly by war, chivalry to the contrary notwithstanding. Behind all the courtesies of Amadis and the Cid lay the stern fact,—woman a child or a toy. The flattering troubadours chanted her into a poet's paradise; but, alas! That kingdom of heaven suffered violence, and the violent took it by force. The truth simply was, that her time had not come.
---
Reader Response
In response to recent student protests, Michelle Nijhuis wrote about what she learned from a core humanities class focusing on Western civilization. This reader agrees:
It is important for universities to teach the history of Western civilization, not to the exclusion of other histories, but because the United States is part of Western civilization. The Founders read the classics and were influenced by those ideas. To understand American history, you must understand where they got their inspiration. How can you understand the Declaration of Independence if you haven't read John Locke? How can you understand John Adams's adamant support for the creation of the U.S. Navy if you don't remember the Greek history that inspired his decision? None of this means you should not study other traditions—because you should.
Read Nijhuis's essay here.
---
Nouns
Election memories, zombie supernovas, steady marvels, literary luminaries.
---
Time of Your Life
Happy birthday to James (twice the age of Macintosh computers); to Janice's son Kelly (13 years older than Saved by the Bell); to Amy (a year younger than the Super Bowl); to Phil (twice the age of Pokémon); to Steve (a year younger than microwave ovens); to Bhagyashree's son Amal (a year younger than Wikipedia); to Isabel (who was 12 when the Berlin Wall collapsed); to Judith's stepson's girlfriend, Nicole (a year younger than Amazon); to Lynne (seven years older than the moon landing); and to Jennifer (a year younger than James Bond).
Do you or a loved one have a birthday coming up? Sign up for a birthday shout-out here, and click here to explore the Timeline feature for yourself.
---