The Atlantic Daily: Evolve and Unify
A Trump aide's testimony, the Virginia governor's race, why Congress hasn't acted on guns, and more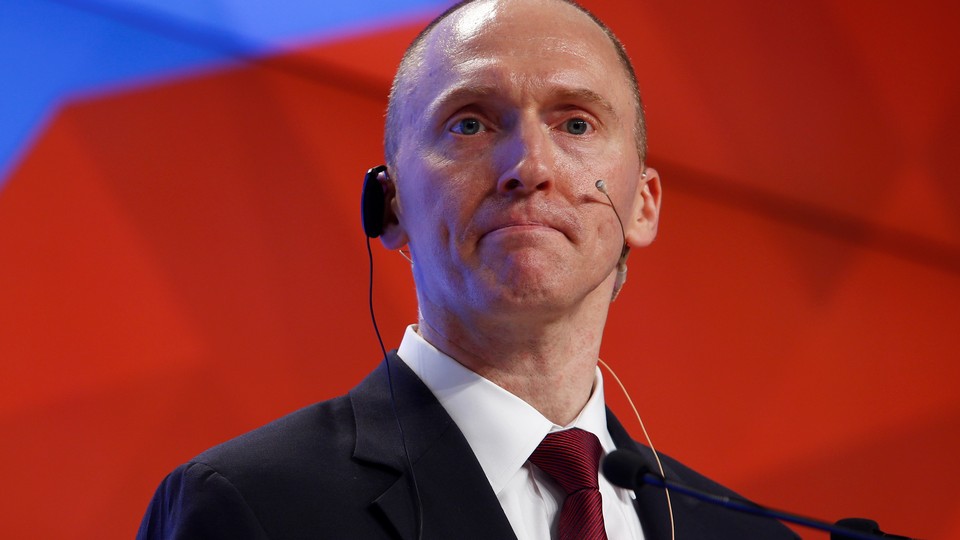 What We're Following
Election Ups and Downs: Newly released Congressional testimony from Carter Page, a former Trump campaign aide, reveals an extensive, complex, and at times contradictory web of connections between Page and Russia. Meanwhile, turning to this year's campaign, Democrat Ralph Northam is facing off against President Trump's pick Ed Gillespie in a high-stakes governor's race in Virginia. We'll be tracking the latest updates here.
Congressional Action: Sunday's deadly mass shooting at a church in rural Texas raised questions again about why lawmakers have been unable to prevent these attacks through better gun regulation. The answer lies partly in the vocal activism of those who oppose restrictions on gun use. Politicians have been criticized for offering "thoughts and prayers" instead of policy changes—but there might be a way for gun-control advocates to turn such prayers into action.
Tax Havens: A series of leaked financial documents known as the Paradise Papers show how more than 120,000 individuals and businesses hold their assets in offshore havens, preventing governments from taxing them. Though such revelations tend to provoke outrage, the leak may not result in many changes. Most of the activities described in the papers are technically legal, even if they're morally murky—and nearly every developed country can act as some form of tax haven for another.
---
Snapshot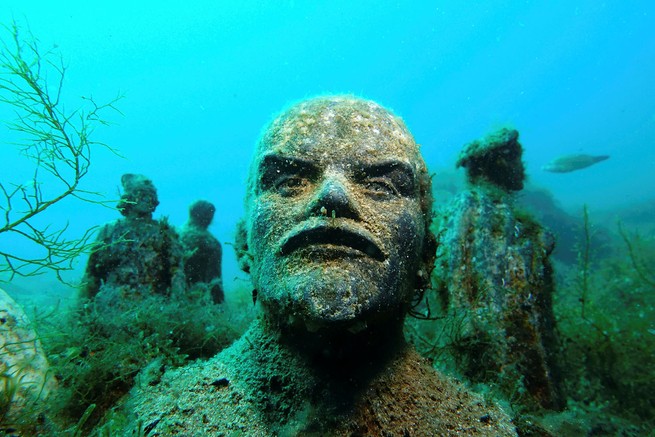 ---
Evening Read
Jon Batiste, the jazz musician (and The Atlantic's new music director), describes some of his musical influences:
My first experience participating in a march came a few years later in 1996 when I began playing in the John Quincy Adams middle-school marching band in Metairie, Louisiana. We were working on songs like "Hot Cross Buns," "Way Down Yonder in New Orleans," "Eye of the Tiger," and whatever else was the latest radio hit. Admittedly, sitting through band rehearsals wasn't always the most fun—especially after experiencing what it was like to march in a parade! The band room felt drab in comparison to seeing the crowds react as we marched down the main drag of Veterans Memorial Boulevard, blaring a well-practiced song through our horns. Witnessing that power was a revelation.

I thought of those marches as I reimagined the "Battle Hymn." While honoring its origin, it was important to me to showcase musically how patriotism can simultaneously evolve and unify people across cultural differences.
Read more about the inspiration behind Batiste's version of the "Battle Hymn of the Republic"—and listen to the final product—here.
---
What Do You Know … About Business?
Consumer and worker protections often come through a patchwork of protest before they're solid practice. Many of the food regulations Americans take for granted today, for instance, came about through the action of "citizen housewives" throughout the 20th century. Today, Uber and Lyft drivers are among the gig-economy workers pushing for more dependable benefits; one solution, they say, could be to tax transactions to fund "portable benefits" like paid sick leave. But as advances in automation transform the labor market, it may take more action from policy makers to adequately prepare.
Can you remember the other key facts from this week's business coverage? Test your knowledge below:
1. Disney was reportedly in talks recently to buy the entertainment company ____________.
Scroll down for the answer, or find it here.
2. Japanese brands account for ____________ percent of the U.S. automobile market.
Scroll down for the answer, or find it here.
3. In October, the U.S. economy added 261,000 jobs—fewer than expected, but enough to reach the lowest unemployment rate since the year ____________.
Scroll down for the answer, or find it here.
---
Urban Developments
Our partner site CityLab explores the cities of the future and investigates the biggest ideas and issues facing city dwellers around the world. Gracie McKenzie shares three of today's top stories:
For more updates from the urban world, subscribe to CityLab's daily newsletter.
---
Reader Response
After reports on Special Counsel Robert Mueller's probe suggested Trump had made false statements about his campaign's contacts with Russia, Conor Friedersdorf asked the president's supporters why they're willing to put up with his untruths. This reader, James, says he "couldn't bring myself to vote for Trump, but … ended up being happy that he was elected":
It may help to think of Trump's public comments like Yelp restaurant reviews. I read them, and rely on them, not because I "trust" the reviewers and depend on the "truth" of their reviews, but because I have a reliable understanding of how Yelp reviews tend to correspond with reality. In the same way, I never rely on Trump to tell the literal truth, but I've found that the truth I can assemble from his comments is pretty reliable. To put it another way, I have not yet been deceived by Trump: He hasn't said anything that I've initially believed which has turned out false. Which is more than I can say about Bill Clinton and his sexual relations with that woman, or George W. and his Nigerian yellowcake, or Barack Obama about keeping your doctor ...

So ultimately, I don't care if Trump lies because everybody lies, and anyway Trump is more predictably dishonest than most politicians and thus more reliable as a source of truth than most politicians. Not ideal, but Trump isn't the first liar in politics. He's just the first to not be embarrassed about it.
Read more readers' thoughts, and Conor's responses, here.
---
Verbs
Roads roamed, reputation marred, fasting mimicked, friends hired.
---
Time of Your Life
Happy birthday to Trinia (a year younger than cellphones); to Zenko's son Themba (13 years older than Revenge of the Nerds); to Carla's friend Liz (twice the age of Microsoft Windows); and to our politics editor Nora (one-sixth the age of The Atlantic).
Do you or a loved one have a birthday coming up? Sign up for a birthday shout-out here, and click here to explore the Timeline feature for yourself.
---