The Atlantic Daily: Power to Test the Faith
The deadly mass shooting in Texas, why the White House should worry about Michael Flynn, women's anger in the wake of Harvey Weinstein, and more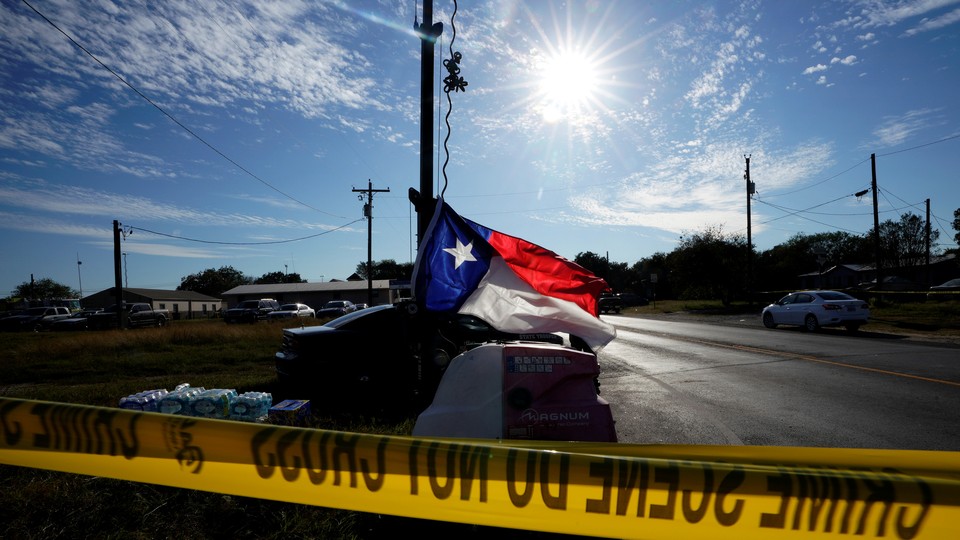 What We're Following
The Church Shooting in Texas: Twenty-six people were killed when a gunman opened fire on congregants at a rural church in Sutherland Springs, Texas. The alleged shooter has been identified as 26-year-old Devin Patrick Kelley. In the hours after the attack, conspiracy theories about his motivations crept into Google's search suggestions, leading its algorithm to unintentionally promote misinformation even after more-reputable reports had been published. This shooting is the second in two months to kill more than two dozen people, which suggests a worrying trend: Some research indicates that mass killings can spread like an epidemic.
Team Trump: A report from NBC News this weekend said that Special Counsel Robert Mueller's team has enough evidence to indict Michael Flynn, President Trump's former national-security adviser, as part of its wide-ranging Russia probe—a prospect that could point to serious trouble for the White House. For now, Trump is on a nine-day trip to Asia, where one of his biggest priorities will be addressing North Korea's growing weapons program—and it may be more important to guard against nuclear accident than nuclear war.
Anger and Speech: Amid heated debates over the discriminatory effects of some policies supported by the Republican Party, Peter Beinart argues that liberals should tone down their rhetoric in order to bring more conservatives to their side. And Megan Garber writes that women have long been subject to social pressure to hide their anger, but the rising backlash against a culture of sexual harassment in American workplaces has led to a greater acceptance of female rage.
---
Snapshot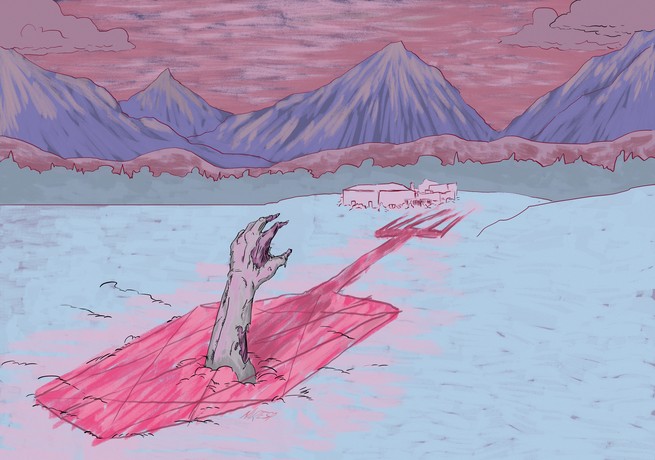 ---
Evening Read
Emma Green on the little-known religious-freedom fight over zoning laws:
Fights over religious liberty tend to run hot. They are ignited by disputes over speech and sexuality, hate crimes and school vouchers—issues that divide the American public. But the slow burn of bureaucratic tedium has equal power to test the faith of a congregation. Zoning and land-use conflicts consistently rank among the top reasons why religious organizations end up in court, according to the legal newsletter Church and Tax Law. These fights matter because physical spaces matter: They can determine who makes the drive to morning services and who stays home; who remains in the fold and who grows disconnected from their faith; and whether people of all races, classes, and backgrounds are truly welcomed in, or whether the church doors are just too far away for some people to reach.
Keep reading here, as Emma explains how zoning laws can be used to discriminate against religious institutions.
---
What Do You Know … About Education?
The obstacles to teaching and learning in the U.S. take different shapes and forms—from tangible to intangible, public to private. Sexual harassment in academia is rampant, but many of its victims fear the potentially career-damaging consequences of speaking out. Student activists at Reed College saw opposition from their peers when they disrupted freshman lectures to protest what they saw as racial bias in the curriculum. And a comic strip illustrates how the mental-health problems of a family member affect one 13-year-old's ability to focus in school.
Can you remember the other key facts from this week's education coverage? Test your knowledge below:
1. Jessica Carlson, a teacher, reunited with a rebellious student from her English class after several years via the social network ____________.
Scroll down for the answer, or find it here.
2. In Spain, many people speak minority languages, such as Catalan, Galician, and Basque, that are called lenguas propias—Spanish for their "____________ language."
Scroll down for the answer, or find it here.
3. In the Industrial Age, English workers known as ____________ destroyed cotton and woolen mills out of fear that machines would eliminate their jobs.
Scroll down for the answer, or find it here.
---
Look Back
On this day in 1860, Abraham Lincoln was elected president. In our October issue of that year, James Russell Lowell gave him this endorsement:
We are persuaded that the election of Mr. Lincoln will do more than anything else to appease the excitement of the country. He has proved both his ability and his integrity; he has had experience enough in public affairs to make him a statesman, and not enough to make him a politician. That he has not had more will be no objection to him in the eyes of those who have seen the administration of the experienced public functionary whose term of office is just drawing to a close. He represents a party who know that true policy is gradual in its advances, that it is conditional and not absolute, that it must deal with fact and not with sentiments, but who know also that it is wiser to stamp out evil in the spark than to wait till there is no help but in fighting fire with fire. They are the only conservative party, because they are the only one based on an enduring principle, the only one that is not willing to pawn tomorrow for the means to gamble with today.
In honor of The Atlantic's 160th anniversary, we're sharing one article on our site every day to mark each year of the magazine's history. Read them all here.
---
Reader Response
For the Big Question in our December issue, we asked readers: What was the most significant event to happen on a holiday? Astrid K. Redmond in Caracas, Venezuela, writes:
George Washington crossed the Delaware River on the night of December 25, 1776, to launch a surprise attack the next morning on an isolated garrison of Hessian troops, who had spent the night celebrating Christmas. The quick victory upped morale and encouraged Continental soldiers to reenlist.
Robert C. Hodge in Madison, Wisconsin, nominates a very different wartime holiday:
The Christmas truces that began on the Western Front in 1914, wherein British and German soldiers left their trenches to sing carols together and exchange small gifts.
Read more responses, and vote for your favorite, here.
---
Nouns
Marvel bubble, gig economy, machete sport, breakout star.
---
Time of Your Life
Happy birthday to Paula (a year younger than color-TV broadcasting); to Mary (the same age as Meryl Streep); to David's wife (a year younger than The Lord of the Rings); and to Fritz (the same age as UNESCO).
From yesterday, happy birthday to Tim (twice the age of The Oprah Winfrey Show); from Lisbeth to Steve (a year younger than Sesame Street); to Kim's brother (who was 14 when the Berlin Wall collapsed); and to Anna's husband, Hicham (a year younger than hip-hop records).
Do you or a loved one have a birthday coming up? Sign up for a birthday shout-out here, and click here to explore the Timeline feature for yourself.
---