The Atlantic Daily: A Long, Faint Sigh
Trump's anti-Muslim retweets, the firings of Lauer and Keillor, North Korea's "completed" nuclear program, and more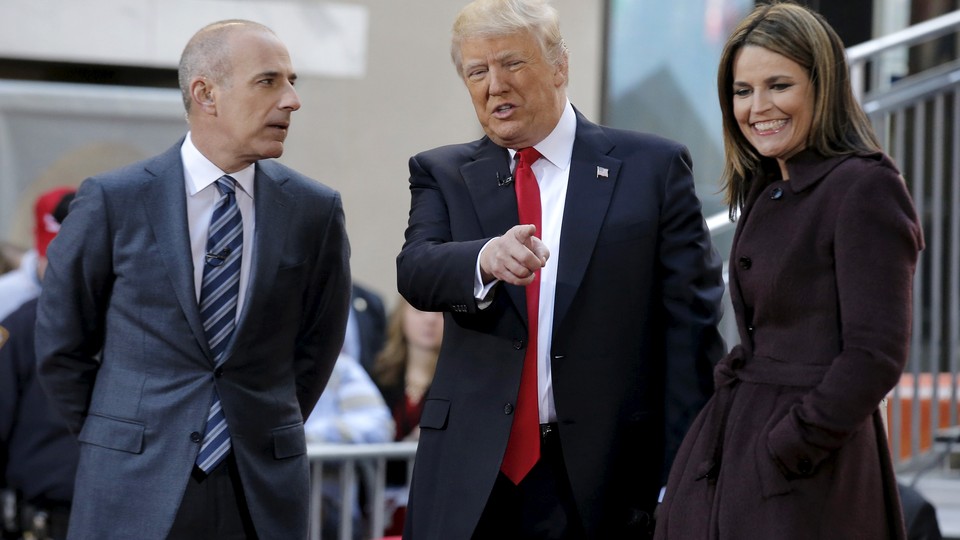 What We're Following
Far-Right Retweets: President Trump retweeted three anti-Muslim videos from the account of Jayda Fransen, a British ultranationalist leader, raising the profile of her group and its extreme anti-Islam and anti-immigration views. The unverified videos purport to show acts of violence committed by Muslims. As Peter Beinart writes, Trump has long played on fear and hatred of Muslims to gain political support. But that doesn't necessarily mean his actions are purely politics; as David A. Graham writes, the tweets add to a growing body of evidence that Trump's apparent bigotry isn't an act.
The Weinstein Effect: NBC announced that it had fired Matt Lauer, a longtime host of the Today show, after a colleague brought an allegation of sexual misconduct against him, prompting shocked reactions on air from his co-hosts. And Minnesota Public Radio cut ties with Garrison Keillor, the creator of A Prairie Home Companion, over a similar allegation, putting an end to the brand of wholesome nostalgia that he had cultivated.
North Korea: The country's latest test of an intercontinental ballistic missile was its longest-ranging yet, but hasn't prompted a change in the Trump administration's strategy: Secretary of State Rex Tillerson emphasized that the U.S. will continue to seek full disarmament. Yet it's likely too late to achieve that goal; on Wednesday, Kim Jong Un claimed to have "finally realized the great historic cause of completing the state nuclear force." So what happens now?
---
Snapshot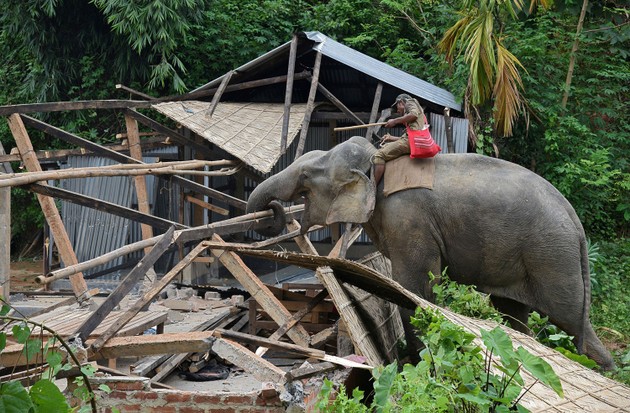 ---
Who We're Talking To
Thomas Hargrove, the founder of the Murder Accountability Project, explains how he created an algorithm that can help catch serial killers.
Joel Fleishman, the director of Duke University's Center for Strategic Philanthropy and Civil Society, describes—and critiques—philanthropists' recent shift toward donating their wealth before they die.
Eric Garcetti, the mayor of Los Angeles, discusses what people misunderstand about his city and whether a mayor could win the presidency on the latest episode of The Atlantic Interview. Listen and subscribe here.
---
Evening Read
James Winnefeld remembers the last photograph taken of his son:
We had moved him into his dormitory room only that morning. I remember how sharp he looked in the outfit he had selected, and his eagerness to start class and make new friends. We were happy, relieved, and, knowing what we thought he had overcome, proud. At lunch, I asked Jonathan whether he thought he was ready for the coming school year. "Dad, I can handle it as long as I continue my recovery," he said. "Everything flows from that."

Only three days later, Jonathan was found unresponsive in his dormitory-room bed, one of several victims of a fentanyl-laden batch of heroin that had spread through the Denver area that week.
Keep reading here as Winnefeld shares his family's experience with the opioid epidemic, and the painful lessons it taught him.
---
What Do You Know … About Science, Technology, and Health?
When Dolly the cloned sheep died young, her fate sparked a narrative that clones age faster than their nonclone counterparts—but new evidence suggests that concerns were greatly exaggerated. More uses for genetic technology in the animal world: Mitochondrial DNA proved that a collection of "yeti" specimens had actually come from Himalayan brown bears, while the DNA of New York City's rats can be used to distinguish between uptown and downtown rodents.
Can you remember the other key facts from this week's science, tech, and health coverage? Test your knowledge below:
1. Certain flavors of ____________ may be more toxic than others.
Scroll down for the answer, or find it here.
2. A new survey from the MUSE space telescope found a total of ____________ galaxies that have never been seen before.
Scroll down for the answer, or find it here.
3. ____________ percent of all hummingbird species live in the Andes Mountains of South America.
Scroll down for the answer, or find it here.
---
Look Back
The author Louisa May Alcott was born on this day in 1832. From our November 1863 issue, here's a story she wrote—about two brothers, one white and one black, narrated by a Civil War nurse:
He put his hand upon his brother's throat, and, watching the white face before him, muttered low between his teeth, —

"I'm lettin' him go too easy; there's no pain in this; we a'n't even yet. I wish he knew me. Marster Ned! it's Bob; where's Lucy?"

From the captain's lips there came a long faint sigh, and nothing but a flutter of the eyelids showed that he still lived. A strange stillness filled the room as the elder brother held the younger's life suspended in his hand, while wavering between a dim hope and a deadly hate. In the whirl of thoughts that went on in my brain, only one was clear enough to act upon. I must prevent murder, if I could, —but how?
---
Reader Response
Dominick Tao wrote about how his military service—and the Veterans Affairs health coverage he acquired as a result—convinced him that universal health care would benefit all Americans. This reader enthusiastically agrees:
While I was in the Navy, I went to medical because of a pain in my left eye. It turns out that I had a corneal infection. It took two weeks of round-the-clock hospital care to save the eye. And once the eye healed, I was given Lasik free of charge to ensure that I'd never have to wear contacts (the cause of the injury) again.

If I had incurred the exact same injury a year earlier, as an uninsured civilian, there's no way I would have gone to the hospital when the pain started. I'd quite likely be wearing an eye patch right now. As far as I'm concerned, all Americans deserve that same type of medical treatment.
Read Tao's essay here.
---
Nouns
Sumptuous romance, unyielding paranoia, media apocalypse, major gamble.
---
Time of Your Life
Happy birthday to Roxanne (a year younger than fiber-optic communication); to Max's son (twice the age of Google); to Isser's son Yair (a year younger than hip-hop records); and from Bill to Cassidy, who shares a birthday with Lois's son Matthew (both are twice the age of YouTube).
Do you or a loved one have a birthday coming up? Sign up for a birthday shout-out here, and click here to explore the Timeline feature for yourself.
---
The newsletter dated November 27, 2017, misstated the location of Lake Tahoe. It is on the border of California and Nevada, not in Utah. Our apologies for the error, and thanks to the readers who pointed it out.
---