The Atlantic Daily: Bridge That Divide
North Korea resumes missile testing, Mick Mulvaney takes the lead at CFPB, Democrats back out of a meeting, and more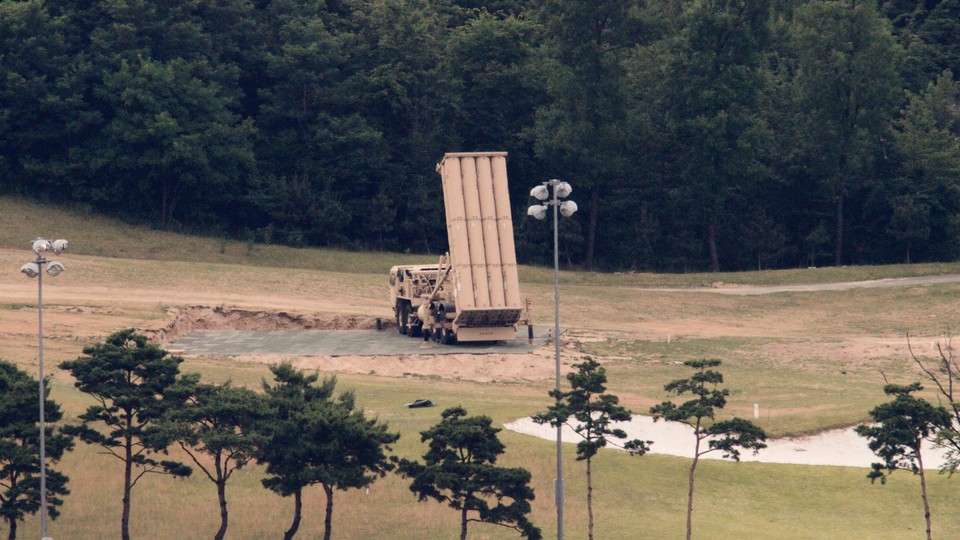 What We're Following
Missile Test: North Korea resumed its missile testing program after a two-and-a-half-month pause, sending what the Pentagon identified as an intercontinental ballistic missile in the direction of Japan. Some observers had interpreted the pause as a signal that the country was ready to open talks regarding its nuclear program, but—as the new test affirms—North Korea isn't likely to negotiate on the U.S.'s terms. Washington also sees Beijing as a crucial partner in its North Korea strategy, but there are fundamental differences in the two governments' view of the crisis—starting with why they think Pyongyang wants nuclear weapons in the first place.
The CFPB: A federal judge denied the request from Leandra English, deputy director of the Consumer Financial Protection Bureau, to block President Trump from installing Mick Mulvaney as the bureau's acting head. Mulvaney had already begun making changes in spite of the legal dispute. The conflict illustrates a broader split between Republicans and Democrats over which pieces of America's political process need fixing. But whether English or Mulvaney is the agency's rightful leader, its future will depend on its employees.
Congressional Tension: Senate Minority Leader Chuck Schumer and House Minority Leader Nancy Pelosi refused to attend a White House summit aimed at averting a government shutdown after Trump tweeted that he didn't expect the meeting to result in a deal. Meanwhile, Senate Republicans moved closer to passing their tax bill as two key holdouts dropped their objections.
---
Snapshot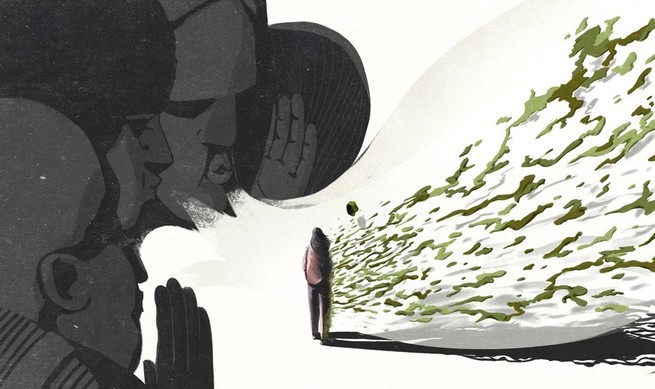 ---
Evening Read
Asher Elbein on the dinosaur murals at Chicago's Field Museum:
Originally painted by the famed wildlife artist Charles R. Knight in the late 1920s, each of the hall's 28 murals presents an elegantly composed moment in time: armored squid tossed onto a desolate Ordovician beach, a duel between Tyrannosaurus and Triceratops, saber-toothed cats snarling at flocks of giant vulture-like Teratornis. There's a dreamy quality to the images, impressionistic landscapes blending with vibrant animal figures. It doesn't quite matter that the renderings are now scientifically out of date; they're convincingly alive.

Such works of paleoart—a genre that uses fossil evidence to reconstruct vanished worlds—directly shape the way humans imagine the distant past. It's an easy form to define but a tricky one to work in …  Depictions of extinct animals exist in the gap between the knowable and the unknowable, and two recent books, Paleoart: Visions of the Prehistoric Past and Dinosaur Art II: The Cutting Edge of Paleoart, probe the different ways creators have tried to bridge that divide.
Keep reading here, as Elbein explores the evolution of paleoart.
---
What Do You Know … About Business?
Harmful notions of masculinity can have economic consequences for both women and men. Gender stereotypes are one likely reason why girls have long outperformed boys academically, a gap that's particularly consequential for lower-income kids. In the workplace, hypermasculine, hierarchical organizations can stifle gender equality. Marianne Cooper offers some solutions to rectify this problem.
Can you remember the other key facts from this week's Business coverage? Test your knowledge below:
1. Charities are expected to raise about $____________ on this year's Giving Tuesday.
Scroll down for the answer, or find it here.
2. The U.S. has approximately ____________ nonprofit organizations.
Scroll down for the answer, or find it here.
3. Providing workers in the apparel industry with a living wage would cost an extra $____________ per garment.
Scroll down for the answer, or find it here.
---
Urban Developments
Our partner site CityLab explores the cities of the future and investigates the biggest ideas and issues facing city dwellers around the world. Gracie McKenzie shares today's top stories:
For more updates from the urban world, subscribe to one of CityLab's newsletters.
---
Reader Response
After James O'Keefe, a right-wing media figure known for his "stings" against liberal organizations, was exposed attempting to feed a false story to The Washington Post, Rosie Gray and McKay Coppins argued that O'Keefe had made himself irrelevant with blunders such as this one. A reader disagrees:
As the headline in Breitbart ["James O'Keefe and Washington Post Bust Each Other"] makes clear, if his scams against PP or ACORN left any doubt, it simply doesn't matter whether he ACTUALLY exposes any wrongdoing or not.

If he provides a sensational-sounding story from time to time that hits all the right notes about whatever bogeyman the GOP base is riled up about that month, he will continue to be relevant and rich regardless of whether he's debunked later.
Conor Friedersdorf describes how O'Keefe tried to use the botched plan to gain support from his audience here.
---
Adjectives
Obsolete tech, algorithmic detective, dangerous flavors, culinary resistance.
---
Time of Your Life
Happy birthday to Graham's partner and soul mate, Sylvia (a year younger than It's a Wonderful Life); to Patricia (twice the age of websites); from Bill to Caroline (a year younger than Harry Potter); to Lynne's high school friend Pam (20 years older than the moon landing); and to Patrick's sister Ellen (the same age as NASA).
Do you or a loved one have a birthday coming up? Sign up for a birthday shout-out here, and click here to explore the Timeline feature for yourself.
---