The Atlantic Daily: Something That Never Existed
A leadership dispute at the CFPB, the deadly attack in Egypt, the legacy of John Wayne, and more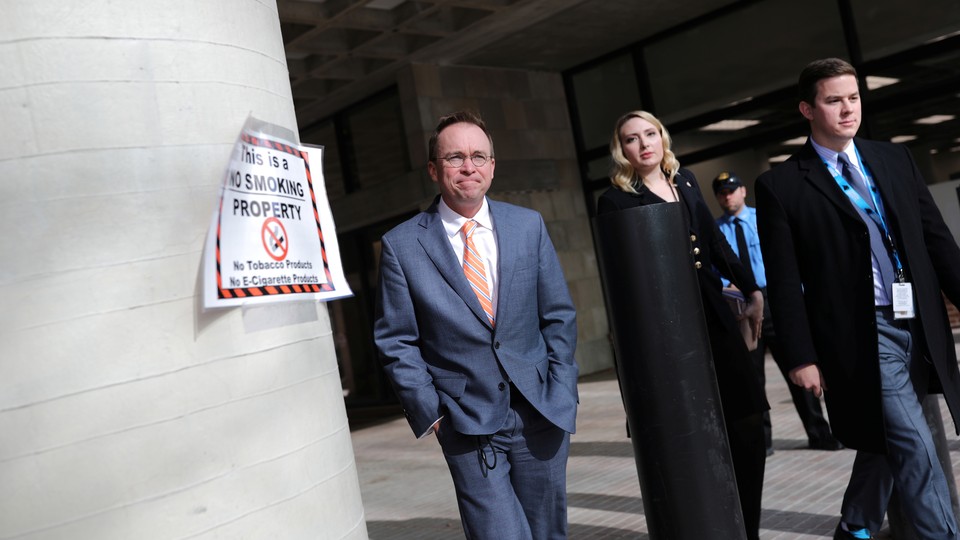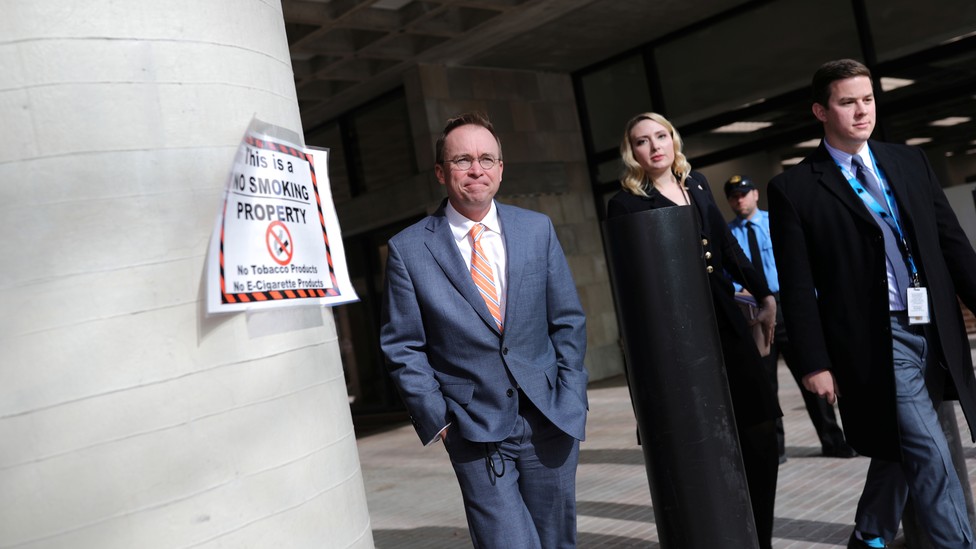 What We're Following
Regulatory Controversy: Two would-be acting directors showed up for work at the Consumer Financial Protection Bureau on Monday morning. The agency's deputy director, Leandra English, has filed a lawsuit arguing that President Trump does not have the right to install Mick Mulvaney, the director of the Office of Management and Budget, in the post. Meanwhile, as the Justice Department attempts to block the merger of AT&T and Time Warner, the parent company of CNN, Trump's continued Twitter attacks on the news network are casting the government's motives in a sinister light.
The Bombing in Egypt: More than 300 people were killed last Friday in an attack on a mosque in Egypt's Sinai peninsula, where worshippers were targeted by a bomb during prayers and then shooters attacked the fleeing victims and first responders. Though no group has claimed responsibility, the massacre fits ISIS's pattern of attempting to demonstrate its strength with extreme violence against those it deems heretical, including Sufi Muslims, with whom the mosque is affiliated. However, Sufism is not so heterodox as its detractors—and many of its Western admirers—assume, and the aftermath of the attack has revealed widespread misconceptions about Sufi beliefs.
Trump Talk: The president used his offensive "Pocahontas" nickname for Senator Elizabeth Warren of Massachusetts, who has described herself as part Cherokee, at an event honoring the Navajo code talkers of World War II. He has also reportedly expressed doubts about the authenticity of the Access Hollywood tape, in which he was recorded boasting about groping women without their consent, despite having acknowledged and apologized for the tape during the presidential campaign.
---
Snapshot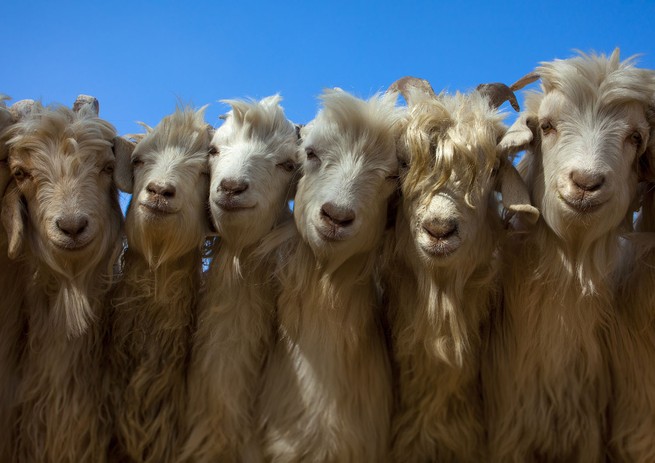 ---
Evening Read
Stephen Metcalf reviews a new book by Nancy Schoenberger on the friendship between the director John Ford and the actor John Wayne:
Schoenberger, an English professor at William & Mary, gamely argues that the masculine ideal, as championed by Ford and embodied by Wayne, is still salvageable, honorable even, and she cites her admiration for her own father, a test pilot. Stoic, humble, gallant, self-sufficient, loyal—put that way, who could disagree?

But that is not the whole story. Schoenberger has hidden a provocative thesis inside a Christmas present for Dad. She asks us to remember the beauty of masculine self-mastery as Ford presented it in his very best films. And yet, from the bulk of the evidence here, masculinity (like the Western) is a by-product of nostalgia, a maudlin elegy for something that never existed—or worse, a masquerade that allows no man, not even John Wayne, to be comfortable in his own skin.
Listen to Metcalf discuss how Wayne came to define a toxic version of masculinity on the latest episode of Radio Atlantic, and read about a new, subversive take on the Western here.
---
What Do You Know … About Education?
Good teaching moves with the times, and California teachers are using the past year's plethora of natural disasters to revitalize classroom lessons about history and environmental science. But is there such a thing as too much innovation too soon? As one Colorado school district replaces parent–teacher conferences with an online data system, parents and teachers worry that the change will widen the gap between engaged parents and absent ones, and isolate parents who don't speak English.
Can you remember the other key facts from this week's education coverage? Test your knowledge below:
1. In a letter urging Donald Trump to support worker-training programs, Ammar Campa-Najjar noted that these programs—known as ___________—sound a bit like Trump's reality-TV series.
Scroll down for the answer, or find it here.
2. As part of their science curriculum, elementary-school students in the region of California near Lake Tahoe monitor the activity of ___________ to see how humans affect these animals' habits.*
Scroll down for the answer, or find it here.
3. The online system that Colorado's Adams 14 school district is using to offer parents information about their kids' schoolwork is called ___________Campus.
Scroll down for the answer, or find it here.
---
Look Back
In honor of The Atlantic's 160th anniversary, we're sharing one article every day to mark each year of the magazine's history. From 1873, James Parton breaks down how Thomas Jefferson succeeded as president:
The Jeffersonian theory of government is precisely the one that tasks the intellect and stirs the passions least, because it excludes even from consideration seven tenths of the questions which usually most perplex governments, its chief object being to protect rights, not interests. Interests are complex; rights are simple ...

But there never was a time when the politics of the world were so difficult as then. "Every country but one," as Jefferson said, "demolished; a conqueror roaming over the earth with havoc and destruction, a pirate spreading misery and ruin over the face of the ocean. Indeed, my friend, ours is a bed of roses. And the system of government which shall keep us afloat amidst this wreck of the world will be immortalized in history." It was a bed of roses, because the simple aim of the Republican administration was to have nothing whatever to do with this prodigious and astounding broil, except to sell refreshing provisions to both combatants, and pick up anything in the way of a Louisiana or so that might get loose in the contest.
Read more here, and find more stories from our archives here.
---
Reader Response
After Adam Serwer argued that white nationalism can't deliver the prosperity that its supporters want, one reader reflects:
I'm not sure the promise of white nationalism is prosperity. Its real promise is the privilege of feeling superior to someone else—or at least the privilege of blaming others for your personal failures.
Another reader adds:
Or simply being respected as champions with legitimate grievances, kind of like how Trump pumped his crowds. It doesn't take much.
Yoni Appelbaum wrote about "The Banality of White Nationalism" here.
---
Verbs
Landmark politicized, deception democratized, boys surpassed, prince engaged.
---
Time of Your Life
Happy birthday from Fernando to Suzan (twice the age of Macintosh computers); to Ray's wife, Ruth (a year younger than the Beatles); to Daphna's daughter Shira (twice the age of Wikipedia); and to our business fellow, Steven (one-seventh the age of The Atlantic).
From yesterday, happy birthday to Zen's mother, Purita (one-third the age of The Atlantic); to Shari (born around the time that Franklin Roosevelt was elected to a fourth term as president); and to Cynthia, the mother of our copy editor Jake (a year younger than The Cat in the Hat).
And from Saturday, happy birthday from Amelie to Dorothy (who was 18 when Angela Merkel became Germany's first female chancellor); to Glauber's daughter Laura (a year younger than the International Space Station); to John (a year younger than sunscreen); and from Shelly to Bellah, who at 12 is too young for the Timeline, but just the right age to go to college.
Do you or a loved one have a birthday coming up? Sign up for a birthday shout-out here, and click here to explore the Timeline feature for yourself.
---
Meet The Atlantic Daily's team here, and contact us here.

Did you get this newsletter from a friend? Sign yourself up here.
---
* This newsletter originally stated that Lake Tahoe is in Utah. We regret the error.