The Atlantic Daily: A Place at the Table
The trend in Trump's Twitter feuds, the blind spot of #MeToo, the myths you learn in health class, and more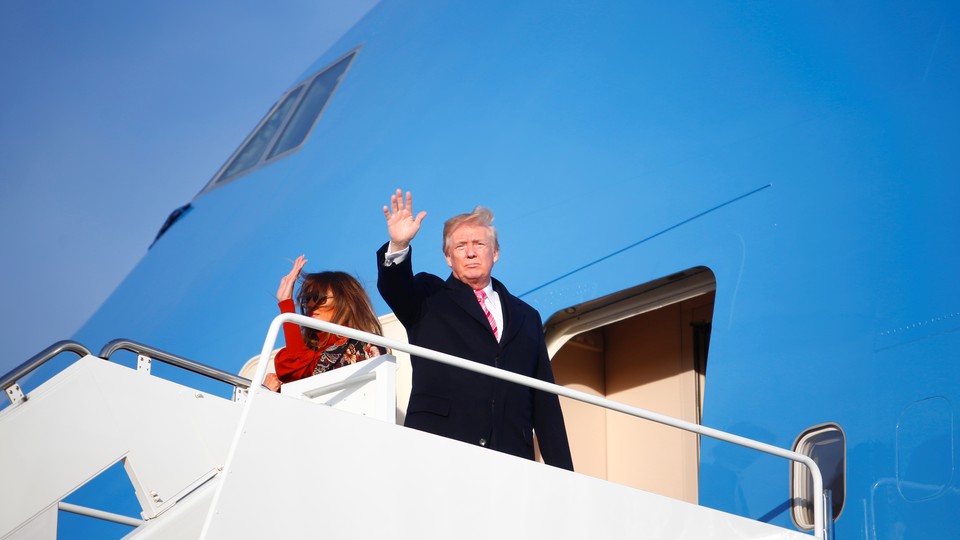 What We're Following
Trump's Troubles: President Trump escalated his Twitter feud with LaVar Ball, the father of one of the UCLA basketball players released after being arrested in China for shoplifting, calling Ball an "ungrateful fool" for failing to thank him enough—and continuing a pattern of attacks on outspoken black people. Meanwhile, Trump's presidency has energized Democratic women, and it has exacerbated an existing gender gap among Republicans. Can the GOP win women back?
The #MeToo Movement: As more and more powerful men are accused of sexual misconduct, some observers have expressed worry that the tide of allegations has turned into unjust hysteria —but as Caitlin Flanagan argues, such critiques play into the same forms of sexism that perpetuate harassment. A closer look at some of the victims' stories that have been questioned reveals a worrying double standard: Throughout American history, women of color have been less likely to be believed.
Kids' Health: The Children's Health Insurance Program is running out of money as Congress has failed to reauthorize it for almost two months, leaving doctors and families uncertain whether the 9 million low-income kids it covers will continue to have access to health care. And the first video in our School Myths series addresses the misinformation that's often taught in health classes. Watch it here.
---
Snapshot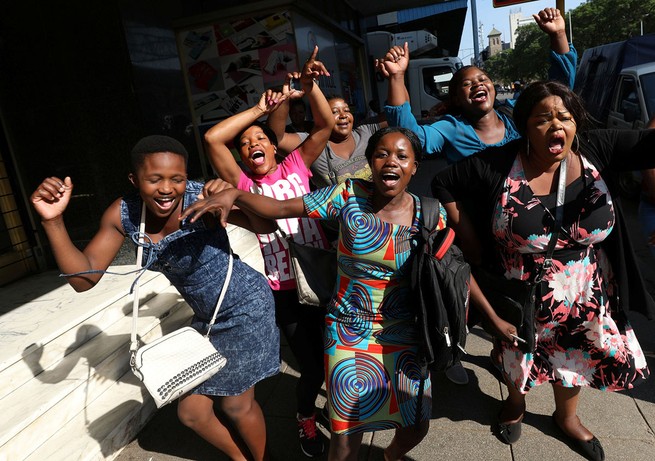 ---
Who We're Talking to
Masha Gessen, the author and activist, discusses what Russian President Vladimir Putin wants on the latest episode of The Atlantic Interview. Listen and subscribe here.
Cullen Murphy, an author and former managing editor of The Atlantic, describes his experiences growing up in a community of cartoonists—and, later, writing the comic strip Prince Valiant with his father.
Nicole Johnson, a Butterball Turkey Talk-Line expert, explains the appeal of over-the-phone advice for anxious cooks.
---
Evening Read
Sarah Maples on what it's like to be a woman veteran of the military:
The military doesn't just urge women, it requires them—especially if they want to succeed—to view themselves on the same playing field as their male counterparts. They are also expected to behave and perform in traditionally masculine ways—demonstrating strength, displaying confidence in their abilities, expecting to be judged on their merits and performance, and taking on levels of authority and responsibility that few women get to experience …

When many women leave the service, they expect that being a woman in the civilian community will be easier, but that isn't always the case. They have to prove their abilities all over again, earn their place at the table again. As veterans, they're not afraid to prove themselves. They proved themselves in boot camp. They proved themselves at tech training. They proved themselves every time they arrived at a new duty station. They have plenty of practice proving themselves. They can prove themselves one more time. The difference, this time, is that the individuals on the other end are not prepared for them to do so.
Keep reading here, as Maples describes the particular challenges women veterans face when they return to civilian life.
---
What Do You Know … About Science, Technology, and Health?
Four days after the Keystone Pipeline System spilled more than 200,000 gallons of oil in South Dakota, the Nebraska Public Service Commission agreed to approve the construction of the system's newest phase, Keystone XL—as long as TransCanada adds a 63-mile detour to the pipeline route. The Federal Communications Commission yesterday announced its plans to roll back Obama-era rules on net neutrality, meaning that internet providers will be much less regulated, but Ian Bogost argues that the internet's problems run deeper than what net neutrality can address. And Uber paid off hackers to cover up a data breach, while Fox News told its Twitter followers that they should decide for themselves whether the moon landing was a hoax.
Can you remember the other key facts from this week's science, tech, and health coverage? Test your knowledge below:
1. Wine from Trump Winery was spotted being sold at a hotel in ____________ National Park.
Scroll down for the answer, or find it here.
2. The average turkey weighed ____________ pounds in 1960.
Scroll down for the answer, or find it here.
3. Last year, the Butterball Turkey Talk-Line received a total of ____________ calls.
Scroll down for the answer, or find it here.
---
Look Back
In honor of The Atlantic's 160th anniversary, we're sharing one article every day to mark each year of the magazine's history. From 1871, John Fiske investigates the roots of popular superstitions:
Jean Grenier was a boy of thirteen, partially idiotic, and of strongly marked canine physiognomy; his jaws were large and projected forward, and his canine teeth were unnaturally long, so as to protrude beyond the lower lip. He believed himself to be a werewolf …

Being brought before the parliament of Bordeaux, he stated that two years ago he had met the Devil one night in the woods and had signed a compact with him and received from him a wolf-skin. Since then he had roamed about as a wolf after dark, resuming his human shape by daylight. He had killed and eaten several children whom he had found alone in the fields, and on one occasion he had entered a house while the family were out and taken the baby from its cradle. A careful investigation proved the truth of these statements, so far as the cannibalism was concerned. There is no doubt that the missing children were eaten by Jean Grenier, and there is no doubt that in his own mind the half-witted boy was firmly convinced that he was a wolf.
Read more here, and find more stories from the archives here.
---
Reader Response
After David A. Graham made the case for embracing political conversations at Thanksgiving, readers are debating whether politics should have a place at the table. Ronnie's advice:
I'm tired of seeing people take some of the happiest days of the year, and some of the best opportunities for engaging with others, and use them as an excuse to b**** and moan. It's likely that if you can't handle conversations in which people don't automatically agree with you, you yourself are at fault to some degree. You are probably not trying hard enough to engage civilly, to listen, or to understand others.

And if someone is truly being belligerent or disrespectful, then end the conversation with a contrived excuse, steer it away from hot topics, or show some decorum and politely say that you see no point in continuing … Find something to be grateful for, engage others around you, and don't get bent out of shape if not everyone caters to your every opinion and preference.
Read David's essay here. We'll be celebrating the holiday too, so The Atlantic Daily will be on hiatus until Monday, November 27. Until then, you can find plenty to read (and debate) in our December issue. And be sure to check out the turkey-themed quiz in our Instagram story through Thursday afternoon.
Dear Readers: We're thankful for you. See you in a few days!
---
Verbs
Conferences digitized, drama deepened, crisis weathered, questions answered.
---
Time of Your Life
Happy birthday from Jon to Lee (twice the age of MTV); to Diane's husband, Jim (born around the time Franklin Roosevelt was elected to a fourth term as president); to Jane (a year younger than Captain America); to Margaret (twice the age of the euro); to Kak's sister Jan (a year younger than The Lord of the Rings); to Joyce (twice the age of Macintosh computers); to Emilio's wife, Anne (twice the age of the 24-hour news cycle); to Sandra's treasured friend Karen (a year younger than microwave ovens); and to Matt (13 years older than My So-Called Life).
Tomorrow, happy birthday to Patrice's best friend, Brad (a year younger than NASA); to Tatiana's significant other, Jeremy (twice the age of YouTube); and to Thomas (17 years older than the moon landing). And I, Abdallah, would like to wish a happy birthday to my dear aunt Ghudaf (one-third the age of The Atlantic).
And for Friday, happy birthday to Duffy's brother Drew (twice the age of the World Wide Web); to Colleen's father (a year younger than sunscreen); to Deborah (13 years older than The Monkees); to Krishna's sister Swarna (the same age as Hillary Clinton); to Rachel's boyfriend, Herman (who was 12 when the Berlin Wall collapsed); and to Pat's brother (the same age as UNESCO).
Do you or a loved one have a birthday coming up? Sign up for a birthday shout-out here, and click here to explore the Timeline feature for yourself.
---